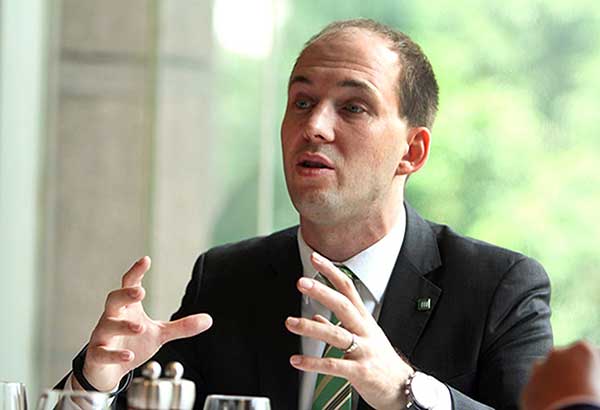 Manulife strengthens presence in Phl
MANILA, Philippines - Spurred mainly by the growing middle class wealth, the Philippines is now an active battlefield for players in the insurance industry.
Insurance firms have been releasing new products and improving their services to capture the large untapped market in the country as they believe there is still room for growth amid the opportunities presented by the rapidly growing economy.
"The way I look at it, there's a lot of opportunity. There's just a tremendous amount of opportunity," Ryan Charland, president and chief executive officer of Manufacturers Life Insurance Co. (Phils) Inc. (Manulife Philippines), said in an interview.
"The Philippine economy is growing rapidly – it's one of the fastest growing economies in Asia – and the average age here is 23, employment rate is high. All these factors lead to a lot of growth going forward and it's exciting," Charland said.
To take advantage of the opportunities presented by the favorable economic environment in the country, Charland said Manulife wasted no time in understanding and focusing on the needs of Filipinos. "We believe that focusing on the customer is critically important – understanding what they want, what they need," he said.
This principle, which he said guides the company's performance, will also be reflected in Manulife's celebration of its 110th anniversary this year.
"When we celebrate that, it will absolutely be about our customers. Everything will be about the customer," Charland said.
With this philosophy, Manulife expanded its network to 44 branches, excluding its head office in Makati City, with 10,255 agents nationwide.
Last year, the company generated P16.60 billion in premium income, 19.25 percent up from the P13.92 billion recorded in 2015, making it the sixth largest life insurance firm in the country based on premium income.
"We had an incredibly good year and we're looking to sustain that momentum," Charland said.
Innovative products
To better serve its customers, Charland spearheaded projects such as the #StartYourStory, ManulifeMOVE and the Manulife Investor Sentiment Index (MISI).
The #StartYourStory initiative is a brand campaign which encourages Filipinos to secure their future and pursue their goals with the help of Manulife while ManulifeMOVE is a customer program which enables users to avail of discounts on their annual insurance premiums for living an active lifestyle.
"It was a very innovative program. That rewarded people for being healthy and leveraged gadgets and an application on your phone. So I think focusing on the customer will be critical to having success here," Charland said.
MISI, on the other hand, is a survey which tracks investors' views and issues related to personal financial planning.
"Another example of something that we've done is the manulife MISI, which tries to better understand the psyche or what people are thinking about, what worries them, what are their concerns," Charland said.
For this year, in line with its 110th anniversary in the country, Manulife launched the Powerhouse Fund which gives investors an opportunity to earn higher through investments in the top Philippine Stock Exchange-listed companies.
"The Powerhouse Fund is an exciting new fund that selects and curates what we believe to be the top 15 stocks in the PSE. That's something that we launched in early January" Charland said.
Going forward, Charland said Manulife Philippines is set to release new products and services that are catered toward the needs of Filipino investors.
The company, he said, will also be leveraging the use of technology to better serve its customers.
"I think, absolutely, the future is in digital technology, and not only in the purchase, but also in the post-sale servicing. So I think you're gonna see a lot of innovation happening in that space," he said.
Manulife Philippines is also celebrating this year the 10th anniversary of its partnership with China Banking Corp.
Last year, Manulife Chinabank Life Assurance Corp. generated P7.27 billion in premium income, rising up as the 9th top life insurer in the country from 11th in 2015.
"We've been in partnership with China Bank for 10 years now and we continue to take advantage of their branch network. As they grow their branch network, that presents a natural opportunity for us," Charland said.
"We're also now selling through their subsidiary China Bank Savings Inc. We just want to service as many China Bank customers as we can through our partnership," he said.