Coca-Cola Philippines launches new recycled PET plastic bottles along with consumer engagement initiative
September 22, 2023 | 11:04am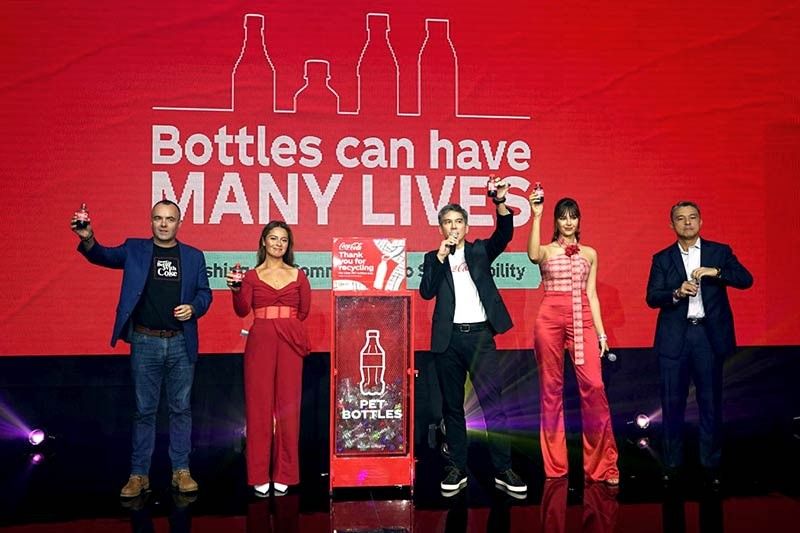 MANILA, Philippines — Coca-Cola Philippines is taking another step toward a circular economy for plastic packaging by introducing more bottles made from 100% recycled PET plastic (rPET), excluding caps and labels.
The rPET packaging is now available for Coca-Cola Original in 190ml and 390ml and Wilkins Pure in 500ml, in addition to Sprite 500ml, which was introduced in 2019.
Coca-Cola's rPET bottles maintain high-quality standards that consumers expect from the company and comply with local regulations as well as The Coca-Cola Company's strict global standards for food-grade rPET packaging.
Coca-Cola Philippines has also established over 2,800 recycling drop-off points across the country, making it more convenient for consumers to return their empty bottles. The initiative encourages consumers to join recycling efforts, helps small store owners grow their businesses, and helps prevent plastic waste from ending up on dumpsites or the oceans.
Additionally, the company's collaboration with Plastic Bank Philippines has led to the activation of 38 recyclable waste collection branches in Cavite and Laguna.
Since 2021, the partnership resulted in the collection of 546,000kg of post-consumer bottles for recycling while also enhancing the livelihood of informal waste sector workers.
"In line with our commitment to helping build a circular economy in the country, we are working to offer innovative packaging design, expand collection and recycling programs, and forge strategic alliances with stakeholders—including government agencies, industry partners and local organizations," Coca-Cola Philippines president Tony del Rosario said.
"We will also use our brand power to engage consumers in collection and recycling initiatives and build awareness that used plastic bottles can have many lives," he added.
Coca-Cola Philippines is working to further increase the amount of recycled content used in its plastic packaging by building a sustainable pipeline of high-quality recycled material.
Its bottling partner, Coca-Cola Beverages Philippines Inc. (CCBPI), established PETValue Philippines through a joint venture with Indorama Ventures, a global leader in green technology and packaging solutions.
This bottle-to-bottle recycling facility started operations in October last year and is expected to recycle 2 billion pieces of collected post-consumer PET plastic bottles per year.
The company has also launched "May Ikabobote Pa," its new consumer engagement initiative to inform and engage consumers about the actions they can take to recycle their empty plastic bottles.
May Ikabobote Pa will be brought to life through the following activities, which are also intended to inspire action from consumers and like-minded organizations:
New rPET labels: Coca-Cola and Wilkins Pure bottles made from 100% food-grade rPET, excluding caps and labels, now have a call to action "Recycle Me Again" message on their labels. A QR code that will lead to information about the company's recycling program is also included on each label.

Enhanced consumer recycling experiences: Engaging activities on recycling will be featured at Coca-Cola's on-ground events.

Digital-led communications for consumers: Coca-Cola Philippines will partner with groups and community leaders to co-create educational content for a wider audience and advocate for sustainable practices.

Partnership with 7-Eleven and Shell: The company is partnering with 7-Eleven stores and Shell stations to create programs that make recycling more convenient and rewarding for consumers.
These activities bring people together and remind consumers about the importance of recycling their empty plastic bottles because #MayIkabobotePa (Bottles Can Have Many Lives).
All are aligned with The Coca-Cola Company's ambitious sustainable packaging strategy, where it aims to make 100% of its packaging recyclable globally by 2025, use at least 50% recycled plastic in its packaging by 2030, collect and recycle the equivalent of every can and bottle it sells by 2030, and bring people together to support a healthy, debris-free environment.