A taste of Filipino excellence recognized at 6th Burj CEO Awards
September 4, 2023 | 4:00pm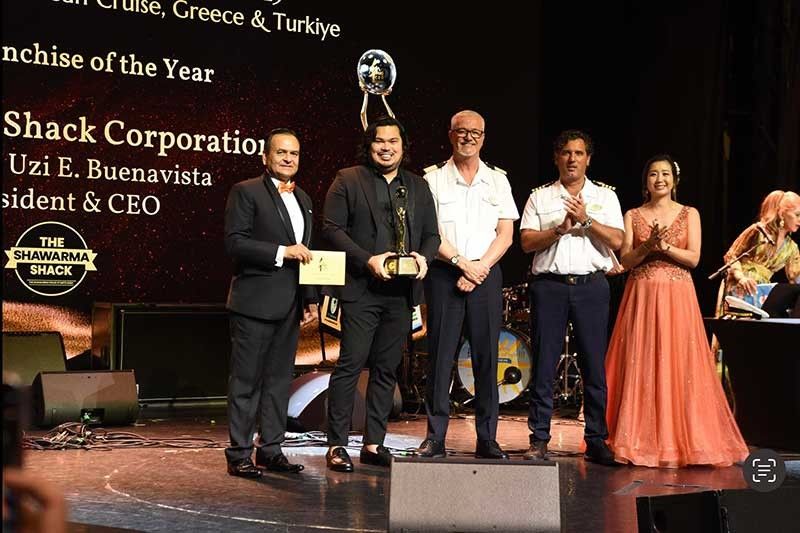 MANILA, Philippines — Entrepreneurs, humanitarian and business leaders from around the globe were honored at the 6th Burj CEO Awards and Business Summit 2023 held recently on an exclusive Mediterranean cruise from Greece to Turkey.
The luxurious event was held under the patronage of Sheikh Juma Bin Maktoum Juma Al Maktoum, a royal family member of Dubai, UAE, and sponsored by global online-trading platform GTC. It recognized outstanding individuals and organizations across more than 50 different categories.
Bringing pride and glory to the Philippines is Shawarma Shack Corporation for winning this year's award for the "Best Franchise of the Year," which was received by its president and CEO, Walther Uzi Buenavista.
Other awardees from different countries such as Arjodita Mustali, CEO and co-founder of Vigan Group; Hatem Elsafty, CEO of Business Link; Dr. William Wraith III, chairman and CEO of The Wraith Group Inc.; Nazih Antonios Moufarrej, CEO of Business Experts Gulf; Brian Poe Llamanzares, president of Pantheon Holdings; Patrick Mensah, chairman and CEO of Wallstreet Investment; Dr. Nadiraa Iqbal, managing director of Nadiraa Couture & Hothur Ispat India; Senem Anataca, founder of 180UTC; Ralph Clemens Martin, Founder & CEO of O! Millionaire and many others.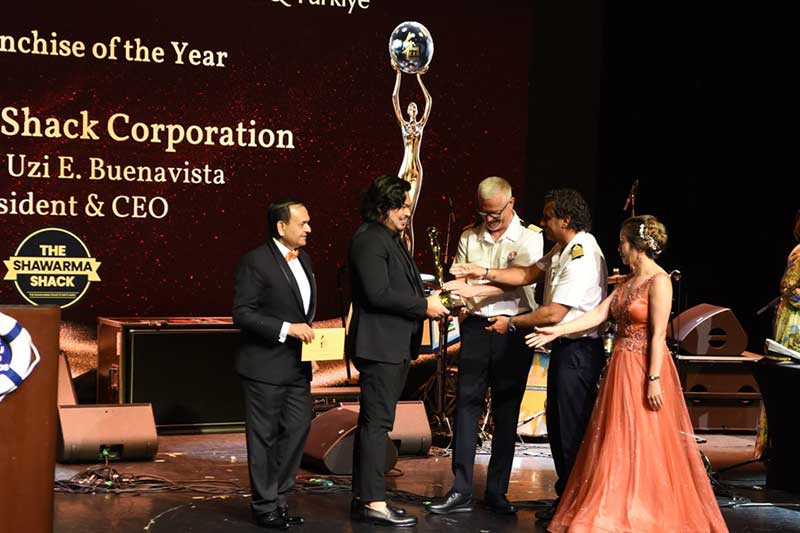 Walther Buenavista is a Filipino entrepreneur who founded and leads Shawarma Shack in 2015, a prominent shawarma chain in the Philippines, which pioneered the "Buy 1 Take 1" shawarma concept.
Despite not completing his bachelor's degree due to his pursuit of a basketball career, he discovered his faculty for business through dedicated effort and determination.
Shawarma Shack takes pride in offering a delectable array of Mediterranean cuisine infused with unique Filipino nuances, all priced affordably for our valued customers.
The company's mission goes beyond food—the company is committed to fostering employment, offering training and education opportunities, and nurturing entrepreneurship among the Filipino community.
Through its distinctive business model, Shawarma Shack aims to make a meaningful impact on the lives of enterprising individuals across the nation.
Over time, Shawarma Shack has expanded rapidly, boasting over 750 stores across the Philippines. It has gained widespread acclaim for delivering affordable, top-quality food.
Renowned for staging extraordinary celebrations to honor infuential fgures in global industry, the Burj CEO Awards is often referred to as the Oscars of the business world. The event was pioneered by CEO Clubs Network Worldwide, an award-winning, membership-based international organization with representatives from various industries and chapters across the globe.
The Burj CEO Awards gala was launched in 2016 in Washington DC, USA, with succeeding editions in UK, China and Mauritius, while its fifth edition was part of Expo 2020 Dubai. Over the years, the events have recognized and awarded more than 300 business leaders and organizations for their outstanding achievements.
Speaking about the signifcance of the awards, Dr. Tariq Nizami, founder and CEO of CEO Clubs Network Worldwide, said, "Excellence is never an accident. It is the result of high intention, sincere effort, intelligent direction, skillful execution and the vision to see obstacles as opportunities. We celebrate the extraordinary achievements of international leaders who have embraced excellence and made a lasting impact on the world through their dedication, innovation and unwavering commitment to success in business and other sectors."
Attended by over 100 award nominees, VIP guests, senior government officials, CEOs and entrepreneurs from the international business community, this year's Burj CEO Awards took participants on a unique journey, taking in beautiful destinations such as Athens, Mykonos, Bodrum and Marmaris.
Delegates also joined the Burj CEO Summit, which staged a series of stimulating panel discussions and various industry-focused sessions, as well as powerful networking opportunities and nightly star-studded concerts, as part of the frst-of-its-kind awards event.
---
Editor's Note: This press release is sponsored by Shawarma Shack. It is published by the Advertising Content Team that is independent from our Editorial Newsroom.
---