TOYM alumni, Cebuana Lhuillier Foundation mount first TOYM Impact Summit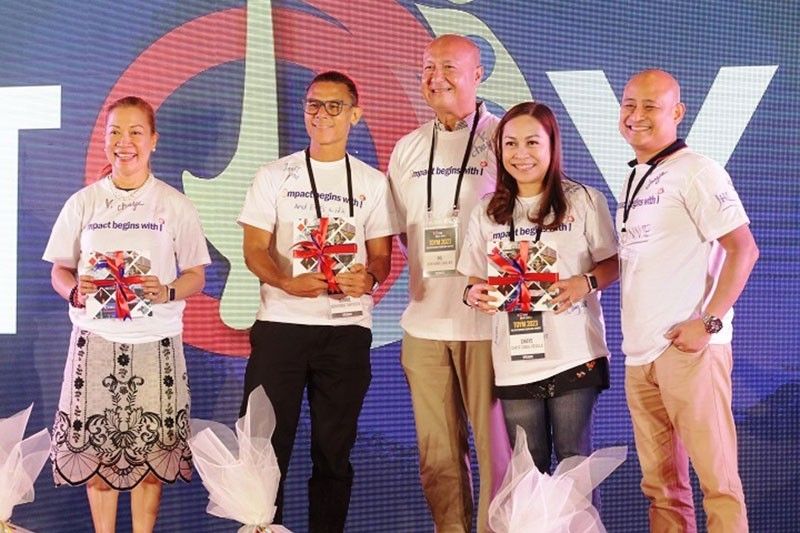 Alumni of The Outstanding Young Men (TOYM), led by TOYM Chairman Bienvenido "Donnie" Tantoco III, TOYM Foundation Inc. President Chaye Cabal-Revilla, Department of Migrant Workers Undersecretary Ma. Anthonette Velasco-Allones, and Cebuana Lhuillier Foundation Inc. (CLFI) held the first-ever TOYM Impact Summit at Lakehall at Nena's Sanctuary at the Sta. Elena Golf & Country Estate in Sta. Rosa, Laguna.
The one-day summit served as a venue for the past TOYM honorees to come together and collaborate on possible projects in which they can work together within the next six to 12 months.
The TOYM honorees used the summit's theme, "Impact Begins with I," and sub-themes—Imagine, Inspire and Ignite—to identify which of their diverse disciplines can be maximized in these projects.
Some notable TOYM honorees present were Ryan Cayabyab (1978), Dr. Carmencita Padilla (1994), Menardo "Butch" Jimenez (1998), Dr. Jonas del Rosario (2004), Alfred Vargas (2019), Samira Gutoc (2019) and Manix Abrera (2022).
Gawad Kalinga Founder Antonio Meloto and 1992 TOYM honoree Senator Loren Legarda were also present to deliver their key messages.
"I was inspired by each awardee's outstanding work and contribution in their respective fields when I was one of the judges during the latest TOYM awards. I decided to hold this summit because I believe that events like these provide a unique opportunity for us to work collectively toward a common goal and create something truly impactful," Cebuana Lhuillier President and CEO Jean Henri Lhuillier said.
Lhuillier also added that this summit will continue and evolve into something bigger and better. "There is a lot that we can do together. Together as one, we heal and multiply—multiply ideas, projects, leaders, mentors and entrepreneurs."
Tantoco expressed his excitement and gratitude during the summit. "It really means so much to us that the previous TOYM awardees are here at the first-ever summit of its kind. There is such a diversity of amazing men and women that are present in this room," he said.
"We feel your giftedness. We are inspired by your track record. We feel your enthusiasm and patriotism. We feel your individual excellence, and we believe that collectively, we are even more special and even more powerful."
Lhuillier also emphasized the importance of working together. "We are all interconnected, and our collective efforts can have a much greater impact than our individual ones. We are here to ignite our collective initiative and develop ideas or projects that we can work on together as a community," he continued.
"We have to do something together as a TOYM tribe and family. If we were able to be amazing together and do it for God's purpose, for the greater glory, and for the good of others, then TOYM will actually have an impact," Revilla added.
The summit was made possible with the collaborative efforts of the CLFI, Total Exhibit & Expo Solutions Inc. and Lakehall at Nena's Sanctuary.