PayMaya Enterprise rebrands to Maya Business, recognizes trailblazing partners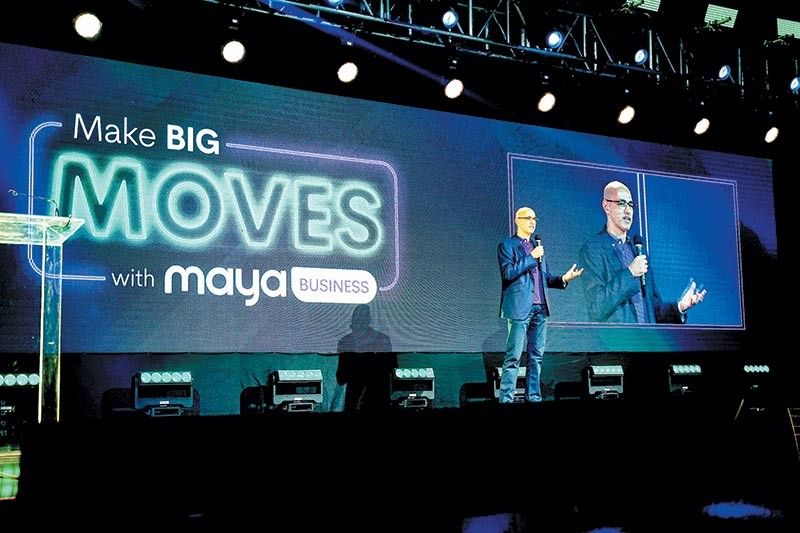 MANILA, Philippines — Businesses, big or small, need to adapt to modern times to stay competitive. Part of this is to take advantage of financial technology (fintech), as more and more consumers find cashless services more practical and convenient.
Fintech plays a big role in today's society, which is what Maya Business wants to bolster as entrepreneurs move forward with the times.
PayMaya, the country's largest processor of merchant payments, has relaunched its enterprise brand as Maya Business.
The new Maya Business seamlessly integrates omnichannel payment acceptance solutions, B2B and B2G payments, with digital banking services powered by Maya Bank, including a high-interest business deposit account and a range of credit products for enterprises and their customers.
To celebrate and showcase its newest offers, Maya Business made the rebrand official last July 28 at the Grand Ballroom of Shangri-La at The Fort in Bonifacio Global City, Taguig.
During the event, keynote speakers Department of Trade and Industry Secretary (DTI) Alfredo Pascual and Bangko Sentral ng Pilipinas (BSP) Governor Felipe Medalla emphasized the need to accelerate the digital transformation of businesses as critical components of sustainable economic growth and inclusion.
With the slogan "Make Big Moves With Maya Business," Maya's enterprise solutions unit reintroduced itself to the public.
The only end-to-end provider of fintech solutions
In his opening remarks, PayMaya CEO-Founder and Maya Bank Co-Founder Orlando B. Vea shared how fintech has played a role in the growth of every business and how it has become a growing requirement for many.
"In this age of digital technology, digital consumers and digital connectivity, fintech becomes a basic requirement for any enterprise to stay in the game. It's a basic necessity," he said.
"And for the more progressive enterprise, it's an opportunity to get ahead," he added.
Moreover, Vea highlighted how Maya has been at the forefront of fintech solutions in the country and how it welcomes its current and future partners to collaborate with them.
"Maya is now the center of excellence, the foremost purveyor of these enabling fintech solutions in the Philippines and we are happy to partner with you, our customers, in your big move," he shared.
He also highlighted Maya's features and how they can help entrepreneurs handle their finances and their business overall.
"We are providing not only payment services but other digital financial solutions to our partner merchants such as credit, savings, investments, disbursement and other three fintech solutions, which are all embedded in our Maya app and can be easily integrated with the enterprise and financial systems of our customers," he explained.
Continued work with business owners
PayMaya Group President and Maya Bank Co-Founder Shailesh Baidwan vowed to continue working with small and large businesses as Maya continues being their all-in-one growth partner in finance.
"Maya Business will continue to work with our large enterprise partners to drive all their payment acceptance needs. But now we will also be able to provide you with new services like business deposit and payroll disbursements for your employees with Maya Bank," he said.
"For our small and micro-enterprise partners, we will continue to be at the forefront of providing you with QR PH and all other payment needs. Moreover, we will also provide you with working capital loans and access to deposit accounts with Maya Bank to help you make your big move," he added.
Bringing Maya customers and partners closer together, Baidwan hopes for a better future for everyone through the financial services and digital payments company.
"By bringing our Maya customers and Maya Bank to our Maya Business partners – whether it be for payments, deposits or credit – we hope to enable all of us to make a collective big move forward," he shared.
Award-winning partners
Maya Business concluded its rebrand launch through an awards ceremony, giving recognition to the company's key partners who have utilized digital financial services in their respective fields.
The awards were divided into three categories: Growth Leaders, Ecosystem Builders, and Financial Inclusion Heroes.
Growth Leaders are industry partners who have shown great mastery in using digital payments to amplify their business and the industry. These brands and companies have utilized cashless services to great effect – spurring more transaction volume and enabling their business growth at the regional and national levels.
This category was divided into five subcategories: Regional Cashless Payments Leader, National Cashless Payments Leader, National Online Payments Leader, Regional Online Payments Leader and Outstanding Partner for Customer and Partner Enablement.
Ecosystem Builders are those who have embraced the digital economy on all fronts. These brands and companies have integrated digital payments and services into every part of their business, demonstrating enthusiasm and initiative for the latest breakthroughs in technology.
This category was divided into four subcategories: FinServ Ecosystem Leaders, SME Innovators, MSME Champion, QR PH Frontrunner and Outstanding Partner for Innovation and Ecosystem Building.
Meanwhile, the Financial Inclusion Heroes are those who champion the welfare of Filipinos with accessible financial services. These are local and national agencies actively adopting digital solutions to empower their constituents and their day-to-day relationship with money.
Subcategories of this category include Outstanding Partners from different sectors, Barangay Champion, and LEAD Advocate.
Here is the list of winners from each category:
Growth Leaders
National Cashless Payments Leaders:
Araneta Group
UniOil
Coca-Cola
Mercury Group
Petron
Starbucks
Suyen Corporation
Regional Cashless Payments Leaders:
National Online Payments Leaders
Grab
Shopee
Smart Communications Inc.
Regional Online Payments Leaders
Outstanding Partner for Customer And Partner Enablement
Ecosystem Builders
Finserv Ecosystem Leaders
Jollibee
McDonald's
Robinsons
SeaOil
SM
Cardinal Santos Medical Center
Fastek
Public Safety Mutual Benefit Fund, Inc.
Outstanding Partner for Innovation And Ecosystem Building
Spotify
Mastercard
Visa
Razer
Western Union
SME Innovator - Online
SME Innovator - Offline
MSME Champion
GoNegosyo
PLDT Enterprise
PLDT Home
QR PH Frontrunner
Financial Inclusion Heroes
Outstanding Partner for FinLit
Bangko Sentral ng Pilipinas
Outstanding Partner for Digital Commerce Promotion
Department of Trade and Industry
Outstanding Partner for Ease of Doing Business - National Government Agency
Bureau of Internal Revenue
Department of Foreign Affairs
Professional Regulation Commission
Pag-IBIG
Social Security System
Outstanding Partner - Humanitarian
Outstanding Partner - Agriculture
Development Bank of the Philippines
Outstanding Partner - Education
University of the Philippines Systems
Outstanding Partner - Travel & Tourism
Outstanding Partner - Social Welfare
Department of Social Welfare and Development
Outstanding Partner for Ease of Doing Business - Local Government Unit
Taguig City LGU
Caloocan LGU
Barangay Champion
Brgy. Namayan, Mandaluyong City
Lead Advocate
Department of Interior & Local Government
To learn more about Maya Business, visit their official Facebook page at https://www.facebook.com/mayabusinessph/