Celebrate Metrobank's birthday month with these special treats!
September 19, 2023 | 4:00pm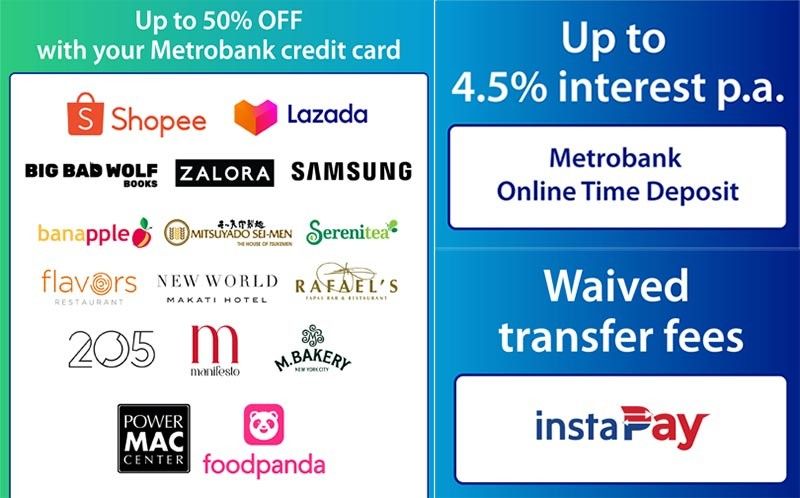 MANILA, Philippines — In gratitude for 61 years of trust and support, Metrobank presents exciting offers for its birthday month. No matter where you are in your financial journey, Metrobank has tailored offers to maximize your money. Enjoy waived fund transfer fees, enticing credit card deals and attractive interest rates to boost your savings throughout September!
For the on-the-go urbanite
Completing your everyday banking transactions online is now made even more convenient with the NEW Metrobank App. As someone who's always out and about, you need a bank partner that lets you do your essential transactions seamlessly—anytime, anywhere.
Just recently, Metrobank introduced new features and offers that will make your on-the-go lifestyle so much easier. Metrobank introduced its QR feature, enabling users to send and receive money in seconds by just scanning or uploading a QR code. And to make fund transfers more convenient, Metrobank is also waiving InstaPay transfer fees for transactions of up to P1,000 until December 31.
Enjoy smart, simple and secure banking at the palm of your hands, with the NEW Metrobank app!
For the beginner investor
Starting your investment journey can be daunting. This is why Metrobank is offering low-risk investment options, to help you ease your way into investing. With Metrobank's Online Time Deposit (OTD), you can make the most out of your money as it grows at a steady interest rate of over 4% p.a.*
This investment option is perfect for beginners—providing guaranteed returns for your hard-earned money, combined with the security and reliability of your trusted bank.
Setting this up is easy. If you're a Metrobank accountholder, make sure that you have a Metrobank Online account, so you can open your OTD from the Bank's online platform. You can visit https://www.metrobank.com.ph/accounts/time-deposit/online-time-deposit to learn more.
If you're not a Metrobank accountholder yet, simply download the Earnest app and open a savings account from there. Afterwards, you can already set up your OTD account on the app. Earnest is available in the Google Playstore and Apple App Store or you can visit www.earnest.ph to learn more.
The process is short and easy and can be done in the comfort of your own home. Now, all that's left to do is to wait for your investment to mature and plan out your goals on how to wisely use your earnings!
For your first investment, let Metrobank do the hard work to grow your money, so you can focus your energy on things that matter to you.
For the deal-hunter
A birthday treat from Metrobank will not be complete without exciting deals exclusive for its cardholders! This month, you can enjoy tons of offers and rewards that will make your shopping and dining experience a whole lot sweeter with your Metrobank credit card in hand.
Special FriDeals for online shopping
Treat yourself before the weekend with FriDeals! Use your Metrobank credit card and the code: MFRIDEALS to enjoy up to 20% OFF when you shop at the following sites every Friday during the promo period:
foodpanda:
Up to 20% OFF for a minimum single-receipt purchase of P600 to P749 until September 29
P150 OFF for a single-receipt purchase of P750 or more until September 29

Lazada:
P250 OFF for a minimum single-receipt spend of P2,500 until December 29

Shopee:
P250 OFF for a minimum single-receipt spend of P2,500 until September 29

ZALORA:
P250 OFF for a minimum single-receipt straight purchase of P2,500 until December 29
Discounts when you dine around the Metro
Satisfy your cravings for multiple cuisines with special discounts of up to 50% when you dine at the following partner establishments:
New World Makati:
50% OFF at Café 1228 for a minimum of two pax until December 21
20% OFF at Jasmine for a minimum spend of P3,000 until December 21
10% OFF at The Lounge with maximum discount of P800 until December 21

Holiday Inn & Suites Makati:
40% OFF on lunch and dinner buffet at Flavors restaurant until Jan. 31, 2024

Manifesto:
20% OFF for a minimum spend of P3,000 until October 31

Rafael's Tapas Bar and Restaurant:
10% OFF for a minimum spend of P2,000 until Feb. 29, 2024
20% OFF for a minimum spend of P5,000 until Feb. 29, 2024

205:
10% OFF on dine-in and take-out until November 30

Serenitea:
15% OFF at select Serenitea branches for a minimum spend P1,500 until Jan. 31, 2024

Mitsuyado Sei-men:
10% OFF for a minimum spend of P1,500 until November 30

Banapple:
10% OFF for a minimum spend of P2,000 until December 31

M Bakery:
FREE small Banana Pudding for a minimum spend of P1,000 until October 31
Flexible payment options and rates for gadget upgrades
Score up to 15% OFF and lighter payment terms of 0% for 24 months when you purchase the latest tech from:
Power Mac:
15% cashback for a P70,000 minimum spend (24 months 0% installment or Shop Now, Pay Later) until September 25
1 raffle entry to win a MacBook Pro 13-inch 256gb M2 2022 for a P3,000 minimum spend (all installment terms) until September 25
Valid for purchases at powermaccenter.com only

Samsung:
Up to 15% OFF for a P75,000 minimum spend (24 months 0% installment) at participating Samsung stores until September 22
Exclusive access and prices at Big Bad Wolf Cebu
Bookworms are in for an exciting treat at the highly anticipated return of Big Bad Wolf Book Sale in Cebu, happening at SM Seaside until October 10.
0% installment on your book haul:
Enjoy flexibility when you pay for your latest book haul! Avail 0% installment for three months for a minimum single-receipt purchase of P3,000 with your Metrobank credit card

Metrobank Exclusive Payment Lanes
Metrobank card holders can enjoy dedicated payment lanes during the sale.

Non-cardholders can easily apply for one at the event. Qualified applicants can score up to 300,000 welcome rewards points or P15,000 in cashback for select cards and amounts of accumulated spend.
Don't have a Metrobank Credit card yet? Visit https://apply.metrobank.com.ph/creditcard to apply for one to enjoy more discounts and rewards from Metrobank.
This September, let Metrobank's birthday treats empower you to reach your goals—wherever you are in your financial journey. Complete everyday transactions on your app, kickstart your investments, and take advantage of exclusive deals to maximize your budget, with the Metrobank offer tailored to your needs.
*Interest depends on the chosen terms and amount of investment
---
Editor's Note: This press release is sponsored by Metrobank. It is published by the Advertising Content Team that is independent from our Editorial Newsroom.
---