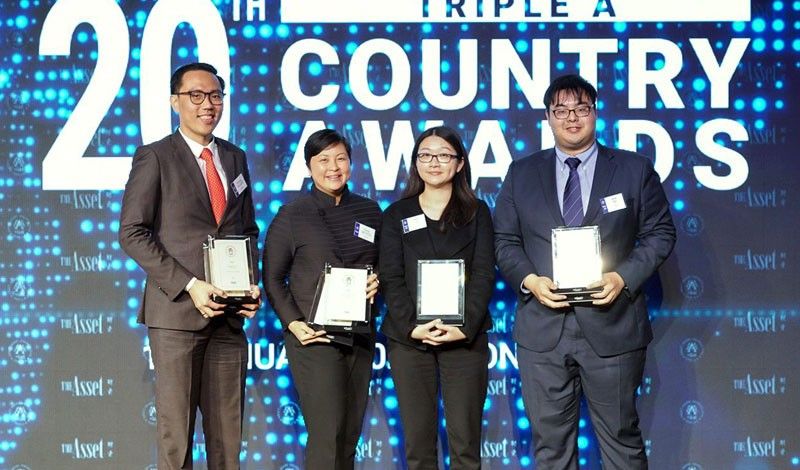 HSBC head of debt capital markets Corrie Purisima (2nd from left) receives the award during The Asset Triple A Country Awards held in Hong Kong last month. She was joined by (from left) HSBC Indonesia vice president for debt capital markets Yohanes Setiawan, director for global banking Helen Wong, and debt capital markets analyst Nicky Lin.
HSBC Philippines is best bond adviser
(The Philippine Star) - February 18, 2020 - 12:00am
MANILA, Philippines — HSBC has once again been named Best Global Bond Adviser in the Philippines – an award the bank has received in 10 out of the last 12 years.
HSBC Philippines also took home trophies for Best Green Bond, Best FIG Bond and Best Retail Bond at The Asset's recent 2019 Country Awards.
"This industry recognition is testament to HSBC's position as the Philippines' leading global bond advisor, as well as our dedication and consistent execution on behalf of our corporate and institutional clients," HSBC president and chief executive officer Graham FitzGerald said.
Aside from being named Best Global Bond Adviser, it also received recognition for three landmark bond deals including Best Green Bond for AC Energy Finance International's $410 million multi-tenor CBI-certified bond; the Best FIG Bond for Philippine National Bank's $750 million fixed rate notes; and Best Retail Bond for China Bank's P30-billion fixed rate retail bond.
"We are grateful for the trust we continue to receive from our partners. This gives us the confidence to always provide relevant, innovative, and tailor-fit financing solutions for our customers," FitzGerald added.
A leading bond house in the Philippines, HSBC has continued to be an arranger for a variety of issuances across debut and repeat issuers, in US dollars and in Philippine pesos for the year 2019. Moreover, HSBC remains the only house structuring all corporate liability management transactions from Philippine accounts.