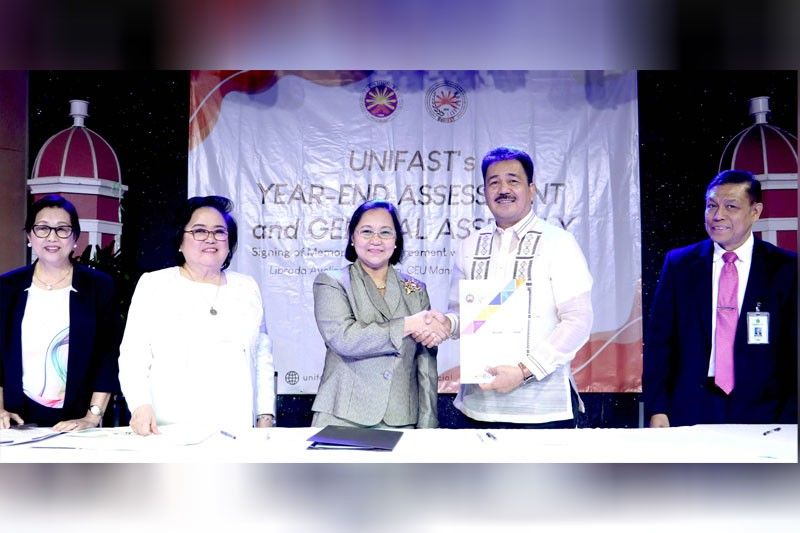 Landbank president and CEO Cecilia Borromeo and CHED and UniFAST governing board chairman J. Prospero de Vera lead the signing of the memorandum of agreement for the tertiary education subsidy program. With them are (from left) Association of Local Colleges and Universities vice president Elena Presnedi, UniFAST OIC executive director Carmelita Yadao-Sison and Landbank branch banking sector OIC Ramon Monteloyola.
Landbank, CHED ink partnership
(The Philippine Star) - January 14, 2020 - 12:00am
MANILA, Philippines — State-run Land Bank of the Philippines has partnered with the Commission on Higher Education and the Unified Student Financial Assistance System for Tertiary Education (UniFAST) to provide efficient and convenient financial support to poor but deserving students.
Landbank president and chief executive officer Cecilia Borromeo and CHED and UniFAST governing board chairman J. Prospero de Vera III have signed the memorandum of agreement (MOA) to co-implement the Tertiary Education Subsidy (TES) Program.
Under the TES Program, more than 400,000 student-grantees from public and private higher education institutions nationwide will be issued Landbank cash cards for their monthly stipends to cover expenses for supplies, transportation, room and board, and other personal and school needs.
The collaboration is aligned with Landbank's continuous commitment to promote financial inclusion and widen access to banking facilities by reaching more underserved Filipinos all over the country.
"Through the use of our Landbank cash cards, students will enjoy the ease and convenience of receiving their monthly allowances via our ATMs and branches nearest them. More importantly, this ensures the safe and efficient delivery of their stipends for school needs and education-related expenses on time and without any delays," Borromeo said.
Student-beneficiaries under the program will be able to access their allowances via Landbank's network of 2,195 ATMs and 409 branches nationwide, as well as point-of-sale facilities.
In addition, student-beneficiaries are qualified to use Landbank's phone banking and online banking facilities and services for easier and faster financial transactions.