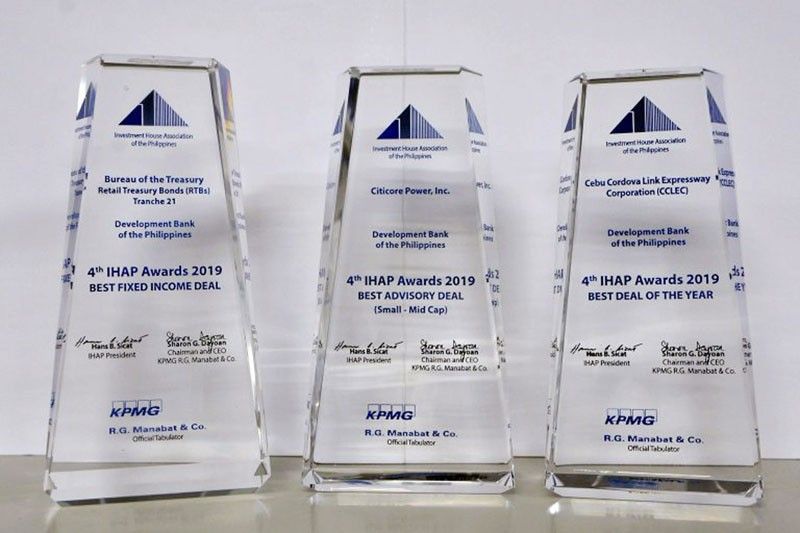 DBP feted for infra deals
(The Philippine Star) - November 19, 2019 - 12:00am
MANILA,Philippines — State-run Development Bank of the Philippines (DBP) won three awards from an association of investment houses for its active participation on critical projects on infrastructure, renewable energy and the latest issuance of retail treasury bonds of the national government.
DBP president and chief executive officer Emmanuel Herbosa said the Investment House Association of the Philippines (IHAP) cited the P19-billion Cebu City-Cordova toll bridge project as best deal of the year, while the 21st RTB issuance and the acquisition of a solar portfolio by Citicore Power Incorporated (CPI) were adjudged as Best Fixed Income and Best Advisory (small – mid cap) deals of 2019.
"We are extremely honored by these awards bestowed by IHAP. DBP is driven to support noteworthy investment transactions for projects that have distinct developmental impacts," Herbosa said.
DBP is the eighth largest bank in the country in terms of assets and provides financing to strategic sectors such as infrastructure and logistics, micro, small and medium enterprises, social services and community development and the environment.
The IHAP Awards is aimed at recognizing outstanding investment banking transactions in the capital markets that exhibited "innovation, excellence in execution and a positive impact to the maker and issuer.