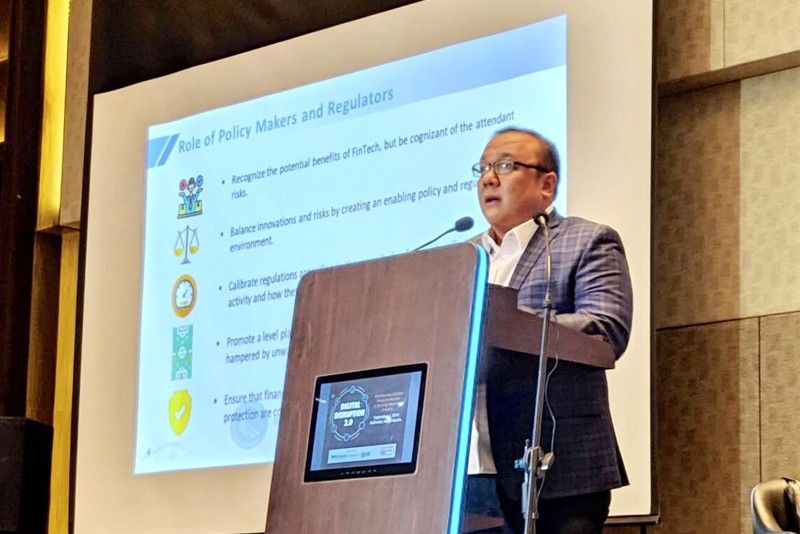 BSP director Melchor Plabasan discussing the role of policy makers and regulators during a forum on digital disruption.
E-money transactions vault 22% to P629 billion
MANILA, Philippines — Electronic money transactions went up by 22.4 percent to P628.9 billion in the first half of the year from P513.8 billion in the same period last year and is expected to further rise as the Bangko Sentral ng Pilipinas (BSP) continues to accredit more electronic money issuers (EMIs).
Melchor Plabasan, director of the BSP's Technology Risk and Innovation Supervision Department, told The STAR more Filipinos are embracing electronics payments.
"At initial glance, the overall growth rate of 22 percent across all types of EMIs seems a little slow. However, dissecting it will reveal encouraging signs on how more Filipinos are embracing electronic payments," he said.
The increase was achieved despite the 19.2 percent decline in the number of inflow and outflow transactions to 234.01 million from January to June this year compared to 289.49 million in the same period last year.
E-money transactions coursed through banks inched up four percent to P459.86 billion from P442.23 million, while those coursed through non-banks more than doubled to P169.02 billion from P71.6 billion.
Plabasan attributed the minimal transaction growth for e-money transactions coursed through banks to the fact that e-money products are competing against other services offered such as debit and credit cards.
On the other hand, Plabasan said there was an enormous 130 percent growth in e-money transactions for non-banks whose core products revolved around e-money instruments.
"As such, the allocated budgets for carefully tailored promotions and money stunts are proving to be on point and well spent," he added.
Last year, value of e-money transactions, both inflows and outflows, increased by 13.2 percent to P1.09 trillion last year from P962.7 billion in 2017 as volume of transactions jumped by 34.4 percent to 524.33 million from 390.15 million.
Plabasan said the BSP's Monetary Board has approved the grant of EMI licenses to Airpay Technologies Philippines Inc., Togetech Inc. and Ecashpay Asia Inc.
The regulator has so far issued EMI licenses to 47 companies, consisting of 30 banks and 17 non-banks. Other non-bank EMIs include ridesharing giant Grab's GPay Network Philippines Inc. SpeedyPay, OmniPay, Metrobank Card Corp., G-Xchange Inc., Alipay Philippines, Infoserve, PayMaya Philippines Inc., True Money Philippines, DCPay Philippines Inc., Wisecard e-Money Philippines Inc. and Starpay Corp.
In 2004, the BSP first used this "test-and-learn" approach to engage e-money pioneers as GCash and Smart Money were allowed to pilot e-money products.
This allowed the BSP to issue the regulatory framework governing the issuance of e-money and the operations of EMIs in March 2009.
Banks continue to take advantage of opportunities from utilizing digital technology in financial transactions.