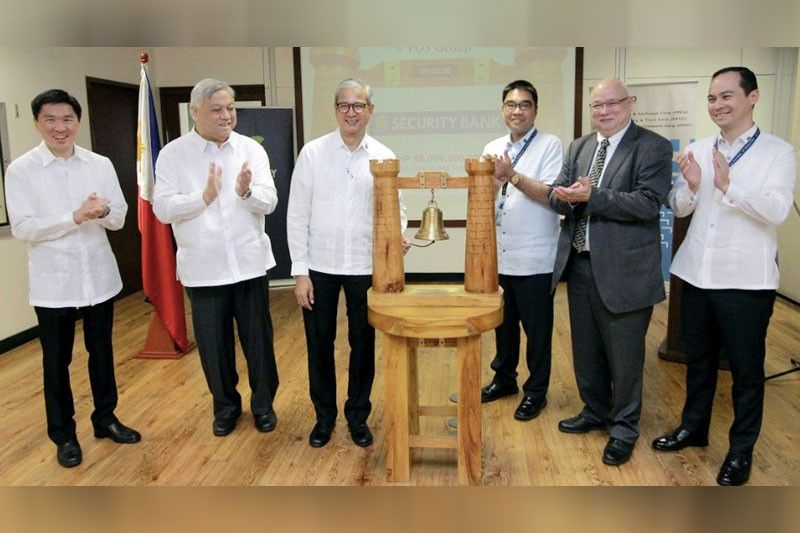 Photo shows (from left) Deutsche Bank Manila head of global markets Michael Chua, Deutsche Bank managing director and chief country officer Enrico Cruz, Security Bank treasurer Raul Martin Pedro, Security Bank senior vice president Orencio Andre Ibarra, PDEx president and COO Antonino Nakpil, and Security Bank head of treasury sales Jim Yap during the listing of Security Bank's P18-billion bonds.
Banks take up a third of P1.2-T bond issues
MANILA, Philippines — The financial sector accounted for the largest share or a third of the P1.19 trillion funds raised via the issuance of bonds and commercial papers over the past few years.
Data from the Philippine Dealing and Exchange Corp. (PDEx) showed banks account for P380.8 billion of the outstanding bonds listed on its platform.
Antonio Nakpil, president and chief operating officer of PDEx, said the financial sector has the largest share by volume of issues among listed instruments.
Nakpil said the value of 15 new listings on the PDEx platform jumped by 124 percent to P185.5 billion from January to June this year.
"All but five of the first semester's listings have been from bank issuers," Nakpil added.
For the first half of the year, data showed banks raised P139.96 billion via the issuance of bonds as well as long term negotiable certificates of deposits (LTNCDs).
BDO Unibank Inc., the country's largest lender owned by the family of the late retail and banking magnate Henry Sy raised the biggest amount with P42.32 billion comprised of P35 billion worth of senior fixed-rate bonds due 2020 and P7.32 billion worth of LTNCDs due 2024.
Metropolitan Bank & Trust Co. followed with P28.75 billion. The second largest bank in terms of assets founded by the late taipan George SK Ty issues P17.5 billion worth of bonds due 2022 as well as P11.25 billion worth of series A bonds due 2021.
Yuchengco-led Rizal Commercial Banking Corp. (RCBC) raised P23 billion via the maiden issuance of ASEAN green bonds due 2020 amounting to P15 billion and the first ever fixed rate ASEAN sustainability bonds due 2021 worth P8 billion.
On the other hand, airline and tobacco magnate Lucio Tan's Philippine National Bank (PNB) was able to raise P22.09 billion via the issuance of bonds due 2021 worth P13.87 billion and LTNCDs due 2024 worth P8.22 billion.
Likewise, Security Bank Corp. issued P18 billion worth of bonds due 2021, while Aboitiz-led Union Bank of the Philippines raised P5.8 billion via the issuance of bonds due 2022.
Moody's Investors Service analyst Tengfu Li said operating expenses of banks would increase due to higher investments in branch expansion as well as information technology infrastructure.
Li said capital consumption by banks would continue to outpace their internal capital generation due to rapid credit growth.
This, he added, would prompt banks to tap both onshore and offshore debt markets for additional funds.