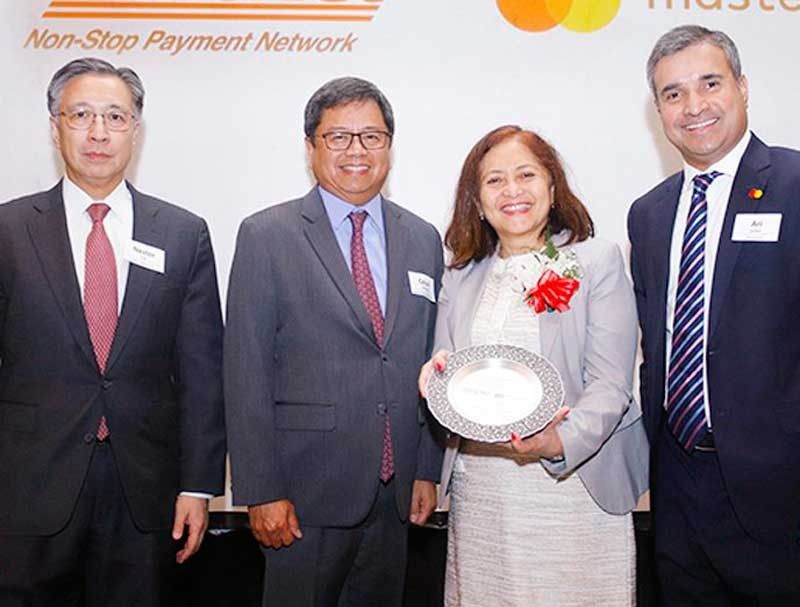 BSP Deputy Governor Chuchi Fonacier (3rd from left) receives a plaque of appreciation from BancNet chairman Nestor Tan, BancNet president Cezar Consing and Mastercard Asia Pacific co-president Ari Sarker.
BancNet taps Mastercard for real-time payments
MANILA, Philippines — BancNet has tapped the expertise and next-generation technology of Mastercard as the Bangko Sentral ng Pilipinas (BSP) continues to ramp up efforts to increase the share of cashless transactions to 20 percent by 2020.
The national clearing switch operator of InstaPay has tapped Mastercard's expertise and the next-generation real-time payments technology of Vocalink – a Mastercard company – to provide users with improved services, better data capabilities, and stronger security features.
BancNet president Cezar Consing said the newly signed agreement supports the BSP's National Retail Payment System (NRPS) that aims to accelerate financial inclusion by growing digital payments in the Philippines.
"BancNet's use of Mastercard and Vocalink's technology will turbocharge InstaPay and lay the foundation for the growth of cashless payments in the Philippines. BancNet is excited to adopt this state-of-the-art technology and to contribute to the digitalization of our country," Consing said.
The partnership will enable BancNet to leapfrog several generations of payments technology and bring the country to the forefront of state-of-the-art innovations in account-based real-time payments.
Under the agreement, Mastercard will operate the infrastructure through a regional payments hub in the Asia-Pacific region. With such an infrastructure, BancNet will be able to offer more seamless and secure services through cutting-edge data analytics and anti-money laundering efforts helping members identify "mule accounts."
In addition, the infrastructure will provide the members more robust cybersecurity tools to ensure safety of the country's rapidly growing digital payments ecosystem.
While InstaPay mainly supports person-to-person payments today, use of the Vocalink technology will extend InstaPay's reach to encompass broader consumer payments, government and commercial payments.
Furthermore, the technology will enable a more intuitive customer experience by allowing fund transfers with the use of easy-to-remember proxies such as mobile numbers and email addresses.
The transaction volume across InstaPay's network jumped by 54 percent in the first quarter of the year, underscoring the speed at which the market is embracing digital transformation.
"With InstaPay, we see greater empowerment of both the public and private sectors. Greater efficiencies of electronic payment channels will also bring about an accelerated velocity of payments, increasing economic activities," BSP Deputy Governor Chuchi Fonacier said
BancNet intends to further develop InstaPay over time to enable users to make cross-border fund transfers securely and cost-effectively due to rising number of overseas Filipino workers.
Mastercard co-president for Asia Pacific Ari Sarker said the company has enduring partnerships with governments and companies in the region.
"The Philippines has a growing tech-savvy population, a flourishing digital economy, and access to an increasingly integrated regional trading network, all of which fuel a wide range of opportunities for digital transformation. Mastercard is excited to be a trusted partner in supporting the government's vision of driving financial inclusion for the Philippines by accelerating digitalization," Sarker said.