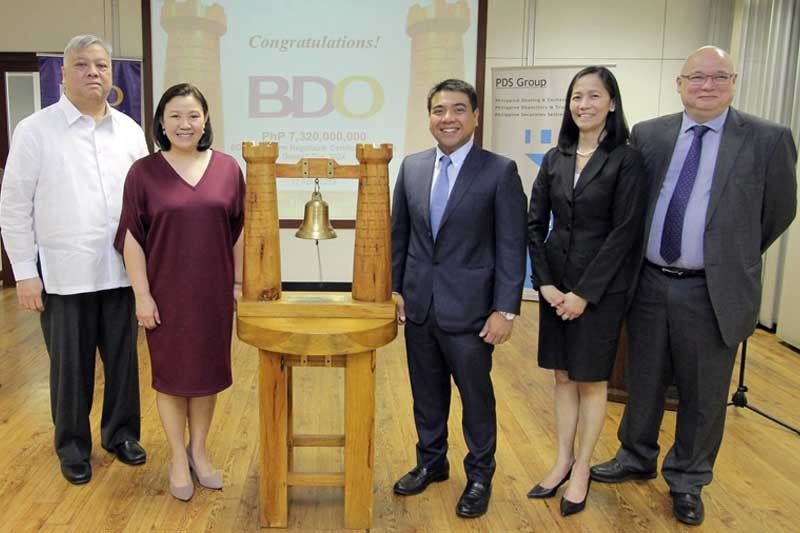 Photo shows (from left) Deutsche Bank AG, Manila Branch chief country officer Enrico Cruz, BDO Private Bank Inc. executive vice president Stella Cabalatungan, BDO Unibank Inc. senior vice president Paolo Magpale, PDS Group officer-in-charge Ma. Theresa Ravalo, and PDEx president and COO Antonino Nakpil during the listing of BDO's P7.22 billion worth of LTNCDs.
Banks raise P83 B from debt securities
MANILA, Philippines — Philippine banks has so far raised P83.04 billion via the issuance of debt securities in the domestic market last year to augment their loan books and at the same time support their respective expansion programs.
BDO Unibank Inc., the country's largest lender, has raised P42.32 billion through the issuance of bonds and long term negotiable certificates of deposits (LTNCDs).
The listed bank owned by the late retail and banking magnate Henry Sy issued P35 billion worth of senior fixed rate bonds due 2020 and P7.32 billion worth of LTNCDs due 2024. The debt papers were listed on the Philippine Dealing and Exchange Corp. (PDEx).
On the other hand, Metropolitan Bank & Trust Co. (Metrobank), the second largest bank in the country founded by the late taipan George SK Ty also raised P17.5 billion through the issuance of fixed rate bonds due 2022.
Rizal Commercial Banking Corp. (RCBC) of the late tycoon Alfonso Yuchengco became the first bank to issue fixed rate ASEAN Green Bonds due 2020 where it raised P15 billion.
On the other hand, Philippine National Bank (PNB) of tobacco and airline magnate Lucio Tan issued P8.22 billion worth of LTNCDs due 2024.
PDEx president and chief operating officer Antonino Nakpil said the banking sector accounted for five of the six listings this year with a total of P 83.04 billion worth of debt instruments out of the P83.82 billion.
Nakpil said financial institutions cornered 29.8 percent or P332 billion of the total outstanding amount of bonds listed on PDEx reaching P1.11 trillion.
BDO has P69.82 billion or a 21 percent share of the listed issues from financial institutions.
"From these positive developments, we can now look to apply the streamlined processes in bank issuances toward the corporate bond sector as well. Work is ongoing to standardize investor forms with the ultimate aim of facilitating the initial public offerings of debt instruments," Nakpil added.
Last year, big banks raised P89.3 billion through the issuance of various debt instruments such as fixed rate bonds, LTNCDs, among others.
Metrobank became the first bank to shift to the issuance of bonds or commercial papers instead of LTNCDs, as pushed by the Bangko Sentral ng Pilipinas (BSP), raising P28 billion followed by Ayala-led Bank of the Philippine Islands (BPI) with P25 billion, and Aboitiz-owned Union Bank of the Philippines with P11 billion.
Banks that issued LTNCDs include BDO with P8.2 billion and sister firm China Banking Corp. with P10.25 billion. East West Banking Corp. with P2.45 billion, Metrobank P8.68 billion and thrift bank arm Philippine Savings Bank with P5.08 billion, Philippine Bank of Communications (PBCom) with P2.9 billion, RCBC with P3.58 billion, Gokongwei-owned Robinsons Bank with P1.78 billion, Security Bank Corp. with P5.78 billion, and UnionBank with P3 billion.
Big banks also raised P250.7 billion by selling shares to existing shareholders via stock rights offering (SRO), while some tapped the offshore debt market.
Metrobank raised P70 billion via a stock rights offer, followed BPI which raised P50 billion, RCBC with P15 billion and BPI with P10 billion.
Big banks also tapped the offshore debt market and raised $1.6 billion or around P88.4 billion. These include BPI with $600 million, UnionBank with $500 million, RCBC with $300 million, and Security Bank with $300 million.