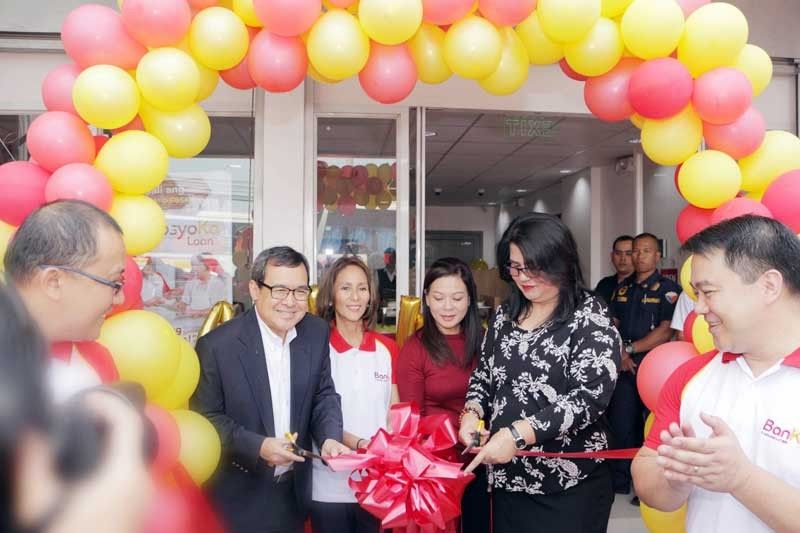 BPI Direct BanKo chairman Simon Paterno led the opening of the bank's 200th branch in Los Baños, Laguna. He is joined by (from left) head of BPI unsecured lending and cards group Marie Josephine Ocampo, BPI chief finance officer Maria Theresa Marcial Javier, and Laguna Provincial Public Employment Service Office manager Mary Jane Concuera.
BPI microfinance arm to double loans to P7 billion
MANILA, Philippines — The microfinance arm of Ayala-led Bank of the Philippine Islands (BPI) is set to more than double its loan disbursements to microenterprises to about P7 billion this year from P3.3 billion last year.
Jerome Minglana, president of BPI Direct BanKo, said the bank is looking at opening 100 additional branches and branch lite units to beef up its existing footprint of 200 branches including the newly opened Los Baños branch.
The bank is looking at servicing the funding needs of 83,000 self employed microentrepreneurs (SEMEs) this year from last year's 45,240 clients.
"After two years, we witnessed how our loans have been very meaningful for these small businesses and grassroots communities. We continue to strengthen our commitment to the SEME market by providing them with better financial options that best fit their needs," Minglana said.
BanKo, has expanded aggressively since 2017. It now covers key provincial areas such as Tuguegarao, Masbate, San Carlos City and Koronadal where unbanked SEMEs could benefit from BanKo's loans.
BanKo promotes financial inclusion by granting access to easy, convenient and affordable loan products to fund the operations and grow the businesses of SEMEs.
BanKo offers the NegosyoKo loan ranging from P25,000 to P300,000, with two to 2.3 percent interest rate per month. Customers can have their loans released within seven banking days upon submission of complete requirements.
Driven to fulfill its mission to provide proper financial service to small business owners, such as bakeries, palengke stalls, carinderias and sari-sari store owners, BanKo continues to address the huge gap in financial solutions by providing a more formal lending platform to the SEME market.
In the 2017 BSP Financial Inclusion Survey, 52.8 million adults out of 68.6 million adults are unbanked, or don't have deposit accounts.
BanKo chairman and segment head of BPI financial products and services Simon Paterno said the bank wants to build a better country for every Filipino.
"Our end goal is to be able to support and capacitize SEMEs financially and help them contribute to the economic growth of the country," Paterno said.
In its digital transformation journey, BanKo is actively creating innovative solutions to cater to the needs of its clients through mobile. It is set to launch its alternative deposit and payment system, with zero maintaining balance, by third quarter of the year.