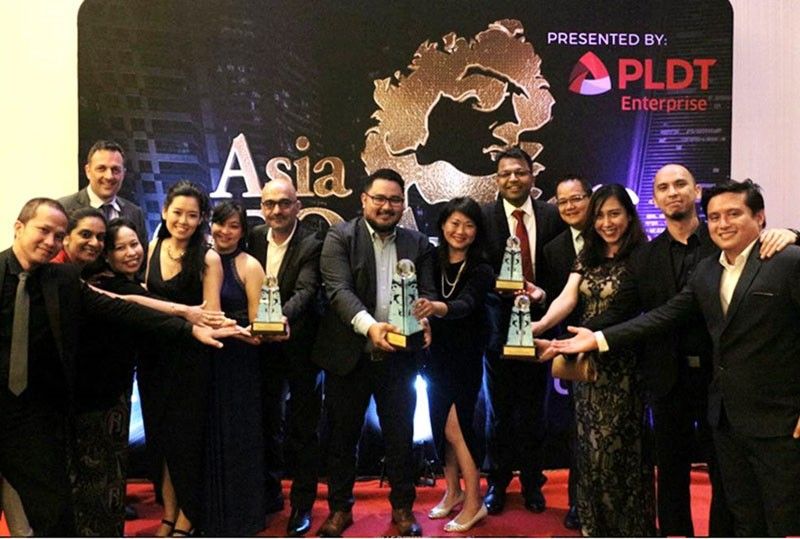 HSBC Global Services Center Philippines won the Asia CEO Green Company of the Year Award in the recent Asia CEO Awards 2018 for its strong leadership and participation in sustainability and environmental protection programs in the Philippines. HSBC GSC Philippines president Belinda Chen (9th from left) is joined by colleagues who were involved in the initiatives and programs implemented in line with the awards.
More expats prefer the Philippines as family destination — HSBC
MANILA, Philippines — The Philippines is becoming more and more popular as an expat destination in Southeast Asia, British banking giant Hong Kong and Shanghai Banking (HSBC) said.
In the latest HSBC Expat Explorer survey, the Philippines scored fairly in terms of being a great expat destination for families and raising children.
About 56 percent of expats said the Philippines has brought them closer to their partner and 64 percent of them found their long-time partner in the Philippines.
Additionally, 56 percent consider raising children in the Philippines less expensive as compared to their home country, with 43 percent even saying that moving here has brought them closer to their children.
Furthermore, 42 percent of the respondents said overall quality of life for their children is better in the Philippines.
Kris Werner, head of retail banking and wealth management at HSBC, said expats seem to unanimously agree that the best thing about living in the Philippines is the Filipino people.
"I am not surprised that more and more expats find the Philippines as a great place for families, raising children and bringing them closer to one another – given the Filipinos' strong family ties. As an expat myself, I feel that I am part of a large family in the Philippines. The way expats feel about everyday life, is what truly makes or breaks the overseas experience," Werner said.
The Philippines has a tropical climate, an emerging economy, and an increasingly influential role in Asia and beyond, all of which make it extremely attractive to people from all around the world.
"Making that first step abroad requires courage, but the rewards are well worth it. If you are thinking of taking the plunge into a new life, there is a lot to consider, whether it's your visa, bank account or where you are going to live. Planning is key so that you can focus on what really matters – meeting new people, discovering a new country and finding a new perspective," Werner said.
On finding accommodation, more than half or 64 percent of surveyed expats in the Philippines said it was easy finding accommodations while relocating.
Likewise, 56 percent of expats agree that they have more disposable income here, with only 20 percent saying they have less, and 24 percent with about the same.
Meantime, 58 percent of expats in the Philippines are able to save more, as compared to being in their home country.
"Some may have more to save and invest but, tax challenges, currency risk and different spending needs all make an expat's money management more demanding," HSBC said.
When asked about ensuring they feel at home, expats in the Philippines considered adapting to the new culture (1st), making new friends (2nd), getting used to the new climate (3rd) and adapting to the local cuisine (4th) as most important.
The latest HSBC Expat Explorer survey showed Singapore was rated the best for the fourth year in a row followed closely by New Zealand, Germany, Canada and Bahrain.