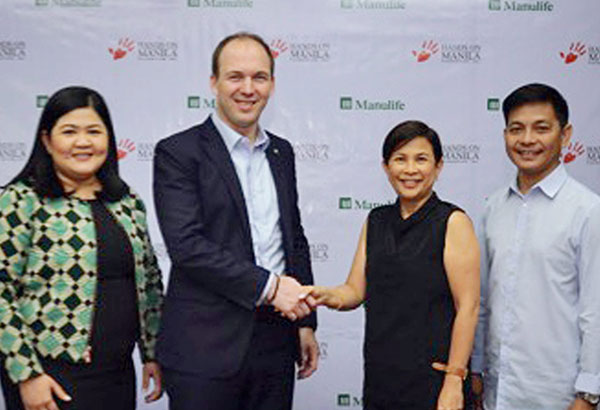 Manulife Philippines chief marketing officer Melissa Henson (from left) together with president and CEO Ryan Charland led the signing of the contract together with Hands on Manila president Gianna Montinola and executive director Emmanuel Marquez Jr.
Manulife to hold financial literacy classes
MANILA, Philippines — Manulife Philippines has tied up with Hands On Manila (HOM) for a series of financial literacy classes for public school students.
Under the Peso Smart, Manulife employees would teach Grade Six students the basics of saving and investing during weekly sessions at local schools.
"We recognize that there is much opportunity to increase financial inclusion in the country, and we believe that the first step is to gain financial literacy. As a financial institution that has been in the Philippines for 110 years, we know that we have a role to play in this," Manulife president and CEO Ryan Charland said.
Citing a study made by S&P in 2014, Charland said only about 25 percent of Filipinos are financially literate. The study also ranked Philippines among the bottom 30 percent countries in the world when it comes to financial literacy.
HOM president Gianna Montinola said Peso Smart's curriculum, which was designed for Grade six students, was the result of the collaboration between Manulife employees and HOM's partner educators.
"We are proud to partner with Manulife Philippines who shares in our mission to help address the country's critical social and educational needs. Peso Smart is a financial literacy curriculum that is simple enough for the young to understand but provides comprehensive learning on managing one's finances. We are confident that Peso Smart will achieve its goal of raising the level of financial literacy, starting with our kids," she said.
Peso Smart will initially be rolled out in Nueve de Febrero elementary school and Plainview elementary school in Mandaluyong, and Pembo elementary school in Makati City.
"Manulife sets out to help people achieve their dreams and aspirations. Teaching children the importance of saving and investing at a young age can help them make the right financial decisions as they get older. Having these financial skills at a young age will help them achieve these goals – not just for themselves, but also for their families," Charland said.
Manulife has expanded its network to 44 branches with 10,255 agents nationwide. It emerged as the sixth largest life insurance firm in the country with a premium income of P16.6 billion last year, 19.25 percent up from the P13.92 billion recorded in 2015.