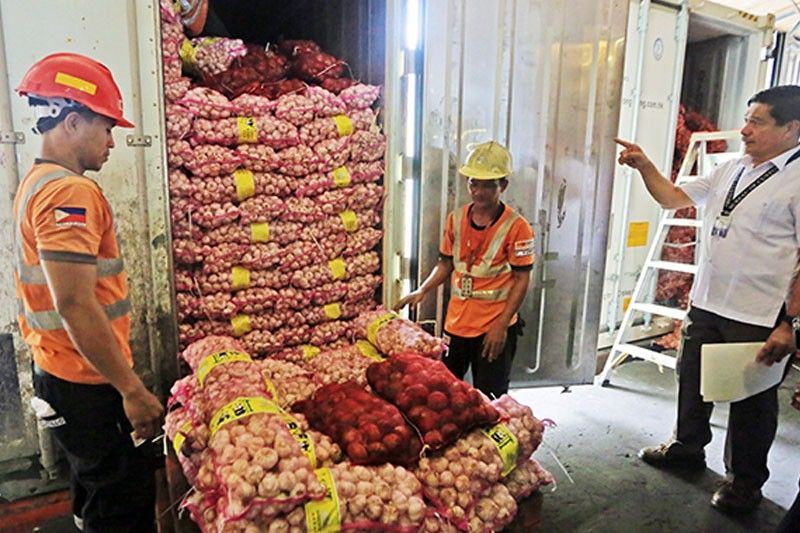 Government tightens monitoring of garlic, onion
MANILA, Philippines — The Department of Agriculture is strengthening the monitoring of local production and importation of onions and garlic in the country to arrest any discrepancy in prices.
"These commodities have always been a major part of the Filipino diet, making the monitoring and evaluation of its local production, importation, food safety and pricing paramount," the DA said.
Last year, local production reached 208,448 metric tons for red and 31,866 MT for yellow onions while importation of yellow onions hit 11,843 MT.
For garlic, output reached 11,750 MT while imports totaled 71,045 MT.
Agriculture Secretary William Dar has ordered all concerned agencies to do their part in closely monitoring and evaluating the two cash crops.
For one, the Office of the Secretary and Policy and Planning were tasked to craft an institutional policy in determining the volume requirement for garlic and onion based on a five-year historical profile on actual imports and local production.
It will also plan, coordinate and provide support and incentives to intensify local supply production aligning it with farmers' transition to high value crops as per the Rice Tariffication Law.
"They will define and operationalize medium to long-term strategy to ensure supply availability and create market opportunities for local farmers to transition to high value commodities and ensure participation of organized farmers' group from major onion and garlic producing provinces, among others," DA said.
The Bureau of Plant Industry (BPI), meanwhile, will regularly monitor, evaluate and provide technical support to the local production through its crop research and production support division including traceability and technical support to ensure reliability of planting materials.
It will also manage the pests and diseases of the crops by surveying and assessing risks in production areas, as well as ensure food safety compliance of local and imported garlic and onion by preventing the entry of any disease.
The DA's Agribusiness and Marketing Assistance Service will lead in the identification, information dissemination, and updating of supply and demand for domestic markets including institutional buyers. It will also conduct regular price advisories in all major public and private markets in the country.
On the other hand, the DA Information and Communication Technology Services has been ordered to establish a dynamic website and other ICT-enabled tools to ensure proactive engagements among stakeholders involved.
The DA regional field offices will also provide information logistics and technical support to BPI for its monitoring activities.
The Philippines will bring in as much as 35,000 metric tons of red onions after prices of the commodity shot up amid low supply in the market.
Dar said guidelines are now in place for the issuance of import clearance for 35,000 MT of red onions. One of the sources of the imports will be from China.
Market analysis done by the BPI showed that there would be a gap of two months where requirements for onions would not be enough.
Red onions are for household consumption while the white ones are normally for institutional use such as restaurants.