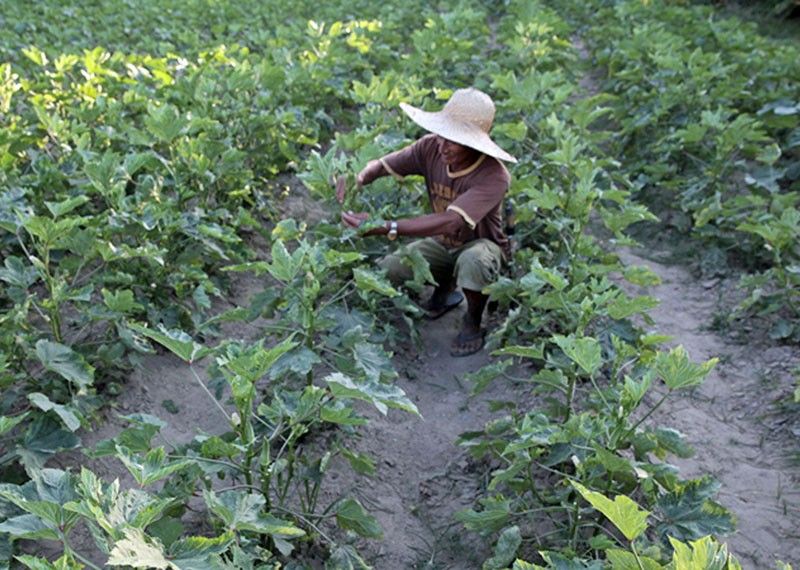 With rice prices expected to drop with the implementation of the Rice Tariffication Law, EastWest Seed is urging farmers to diversify into high value crops such as vegetables in order to augment their income.
File
As rice liberalizes, shift to high-value crops urged
MANILA, Philippines — Tropical vegetable seed producer East-West Seed expects sales to grow this year as it sees more farmers shifting to high value crops given the liberalization of the rice sector.
With rice prices expected to drop with the implementation of the Rice Tariffication Law, EastWest Seed is urging farmers to diversify into high value crops such as vegetables in order to augment their income.
Mary Ann Syoc, East-West Seed public affairs head, said vegetable farming would improve the livelihood of farmers.
East West Seed is the first integrated seed company in the Philippines and remains to be among the largest globally. It develops vegetable varieties that are adapted to tropical markets and growing conditions and boosts farmers' productivity.
Simon Groot, founder of East West Seed, said the firm would continue to expand its presence in the Philippines, particularly in Visayas and Mindanao.
"There are still many pockets of farming that are way behind the times. There are still so many areas that can be brought to higher level of competence," Groot said.
"The geography of the Philippines makes that even more attractive as the many isolated areas in the country have always been traditional in farming," he said.
While the outlook for the local seeds industry remains bright, East West cited the need to increase domestic consumption of vegetables.
Groot said the Philippines has low vegetable consumption. "Unless we ask them to consume more vegetables, then we get more demand," Sayoc said.
East–West Seed continues to push for a 'vegetable revolution' as a sustainable solution to help end world hunger.
"When I first visited Southeast Asia many years ago, it pained me to see so many small farmers struggling to make a living. I sympathize with the farmers' plight and saw a way to break the vicious cycle of poverty and help farmers prosper through diversification into high-value vegetable crops," Groot said.
East–West Seed believes that commercial vegetable breeding is still unknown in the tropics, and many farmers are still having a hard time growing a good crop with the low-quality, poorly adapted seeds they often save from season to season.
With the mission to improve the lives of the poor, especially smallholder farmers, throughout Southeast Asia, Groot founded East-West Seed in the Philippines in 1982 with Filipino seed trader Benito Domingo.
Together with a team of young breeders from Wageningen University in Netherlands and University of the Philippines Los Banos, they started to develop hybrid vegetable varieties in a five-hectare farm in Lipa City, Batangas.
East West Seed was the first to introduce bitter gourd or ampalaya, the first locally developed commercial vegetable hybrid in the Philippines and in all of Southeast Asia.
Other improved vegetable varieties like tomato, eggplant, pumpkin, yard long bean, onion, several brassicas and leafy vegetables like kangkong followed suit.
Through the years, East-West Seed developed vegetable varieties with enhanced disease resistance and significantly higher yields.
With a 65 percent market share in the country, East West has three research and development establishments in Bulacan, Batangas, and Bukidnon.
Globally, EastWest Seed has 14 research and development establishments in six countries and 10 seed processing facilities in seven countries. The company exports to over 60 countries in tropical areas of the world.
Working closely with local and international NGOs, Groot also created East-West Seed's innovative Knowledge Transfer program, which trains tens of thousands of farmers each year in agricultural best practices for vegetable production.
Groot recently won the prestigious World Food Prize, in recognition of his contribution to improving security and nutrition, and creating sustainable economic opportunities for small farmers around the world.
The World Food Prize is an international award that recognizes the achievements of individuals who have advanced human development by improving the quality, quantity or availability of food in the world.
"More than 20 million farmers have given us their trust over the past 37 years. Seeing their smiles after a successful harvest is the only reward I need. For this reason, I dedicate my World Food Prize to them," Groot said.
Groot will formally receive the World Food Prize on Oct. 17 at the Iowa State Capitol in Des Moines.
He also received an honorary Doctor of Laws degree from UP, which has been East West Seed's partner in improving vegetable varieties for farmers and consumers as well.
UP confers the honorary degree upon individuals who have demonstrated "outstanding achievements in their fields and exemplary service to their fellowmen."