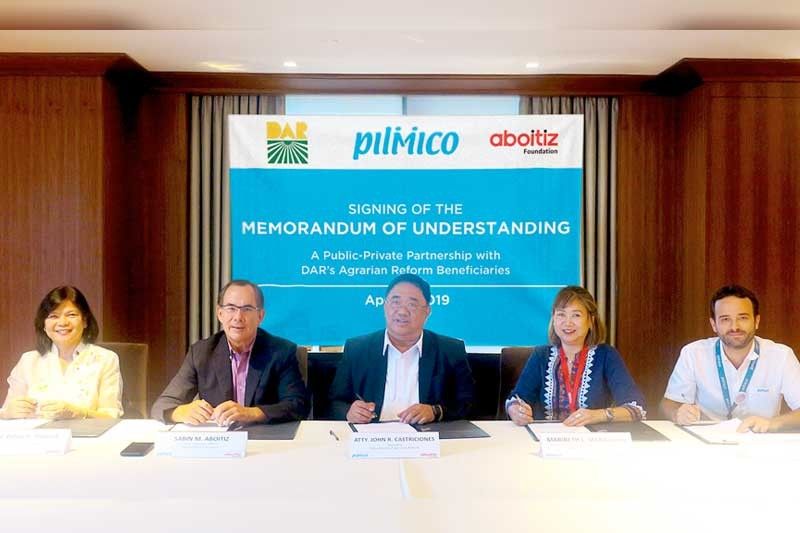 Pilmico president and CEO Sabin Aboitiz (second from left) leads the signing of a Memorandum of Understanding with the Department of Agrarian Reform in promoting sustainable livelihood in the country. Also present were (from left) DAR Undersecretary Emily Padilla, DAR Secretary John Castriciones, Aboitiz Foundation COO Maribeth Marasigan and Pilmico COO Tristan Aboitiz.
Pilmico Foods, DAR renew partnership for agri-livelihood
(The Philippine Star) - April 7, 2019 - 12:00am
MANILA, Philippines — Pilmico Foods Corp., the food unit of the Cebu-based Aboitiz clan, has renewed its partnership with the Department of Agrarian Reform to promote sustainable agriculture.
Following the success of its first year of implementation, the project is seen to continue assisting farmers in increasing their household income through the provision of livelihood packages as well as technical training.
The livelihood packages include piglet dispersal, egg-laying machines, and bakery starter kits which will enable farmers to sustain their livelihood with a quick return on investment.
The agreement will leverage on shared strengths to provide agrarian reform beneficiaries (ARB) an easy-to-manage, sustainable livelihood program while adding new features to the partnership including the creation of a technical working group for proper monitoring, and supplemental interventions to further empower backyard farmers.
Pilmico president and chief executive officer Sabin Aboitiz highlighted the positive results of the partnership, saying the majority of the recipients posted a 20 percent increase in their household income.
"This is a strong indication that our partnership is working and, I believe that the way forward is to continue providing our backyard farmers the chance to learn, earn and improve their lives which eventually drive progress in their respective communities," Aboitiz said.
In 2017, Pilmico provided 51 livelihood packages to ARBs and cooperatives in Camarines Sur, Capiz, Compostela Valley, Pampanga, South Cotabato and Surigao del Norte.
"We welcome these kinds of projects. We are very thankful to Aboitiz because of their involvement in this noble process of equipping our farmers with the resources. This is something that will contribute to the development and peace of our country," said DAR Secretary John Catriciones.