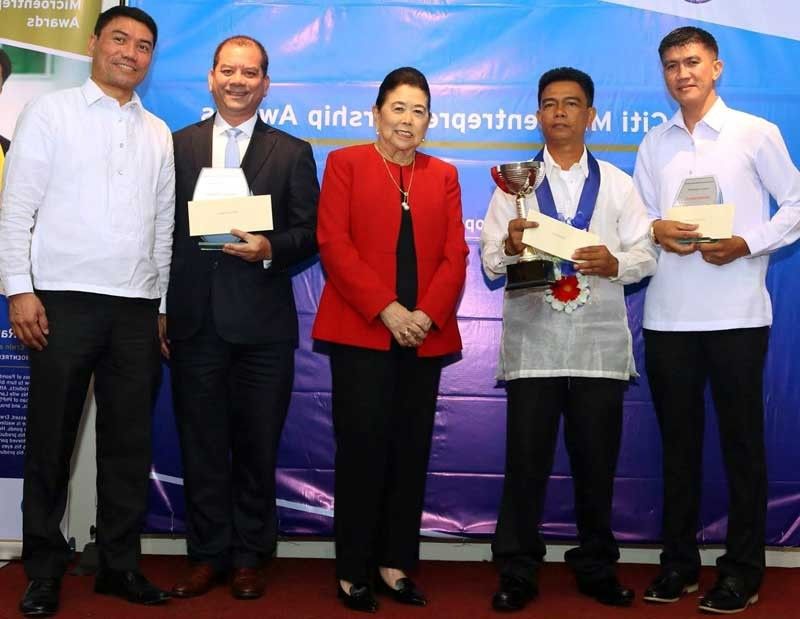 (From right) Rizal Microbank business advisor Giovanne Gonzales, regional awardee Arnold Viado, CMA national selection committee member Marixi Rufino-Prieto, Rizal Commercial Banking Corp. senior vice president for strategic initiatives and RMB vice-chair John Thomas Deveras and RMB president Raymundo Roxas.
Vendor makes fortune from balut
(The Philippine Star) - March 24, 2019 - 12:00am
MANILA, Philippines — Often sold on the streets at night by vendors on foot, balut is easily one of Filipinos most favorite exotic treats.
For Arnold Viado, it is not only a favorite snack. it is also the business that sent his kids to school and had won him the Citi Microentrepreneur Award in 2018.
With hard work and perseverance, what started as a P1,000-capital venture is now a profitable business that employs fellow balut vendors.
Viado and his wife attributed the success of their business to good financial handling and the assistance they received from Rizal Microbank.
"An account officer from the bank visited us and offered us a business loan of P50,000," he said.
Rizal Microbank , the thrift bank arm of the Rizal Commercial Banking Corp.(RCBC), lends largely to agri-businesses and farmers.
Viado is a certificate holder of auto mechanic vocational course but life had something better in store for him as balut vendor.
Last December, Viado was named as one of the nine outstanding Filipino entrepreneurs that were recognized for their innovation and progress as budding business owners.
Launched in 2002, The Citi Microentrepreneurship Awards (CMA) recognizes entrepreneurs who have beaten the odds and lifted themselves and others out of poverty.
The CMA also recognizes the strong support from microfinance institutions as key partners, underscoring the role these organizations play in financial inclusion and enterprise development.