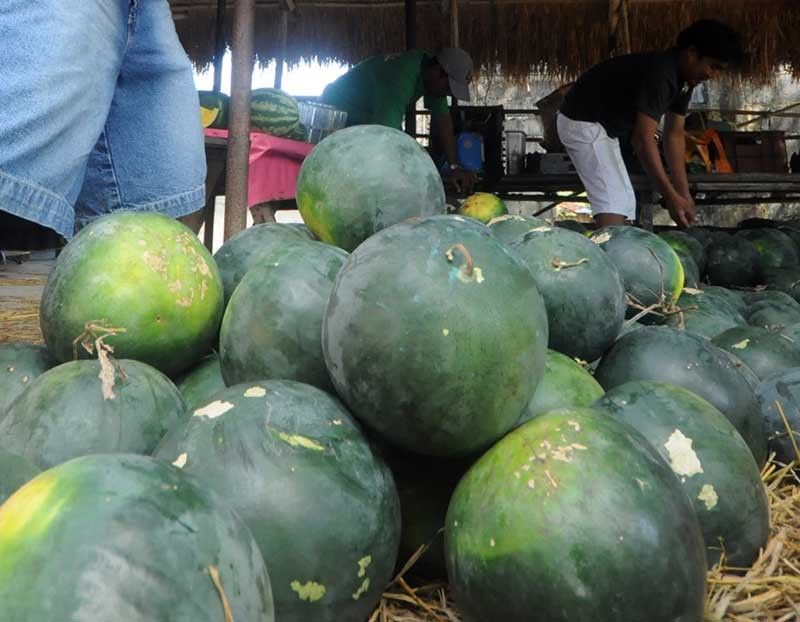 Two men help one another as they arrange their newly-harvested watermelon in a village in Bani, Pangasinan in this file photo.
Cesar Ramirez
Pangasinan town prepares for January 26 Pakwan Festival
Eva Visperas
(The Philippine Star) - January 13, 2019 - 12:00am
BANI, Pangasinan, Philippines — This town -- home of the sweetest, reddest and juiciest watermelons in the country -- will hold its Pakwan Festival on Jan. 26, the biggest ever since its inception six years ago, in a bid to further boost agriculture and local tourism.
Mayor Gwen Palafox-Yamamoto decided to make the Pakwan Festival longer and bigger this year to pay tribute to the farmers and their watermelon produce. It is also in line with their goal to make Pangasinan the Watermelon Capital.
"Since the 1980s, the town has been known as the sweetest, reddest and juiciest watermelon producer in the country as they grow in a land composed mostly of limestones," she said.
Prior to 1986, watermelon production was unheard of in Bani.
A certain Rey Catabay of Bgy. Banog Norte initiated the first commercial planting of watermelon in 1989.
Commercial planting of watermelon spread like wildfire to nearby barangays of Ambabaay and Garrita to Poblacion and other areas.
A decade after, the farmers from lowland Bani earned less than P20 million from planting watermelons.
Yamamoto encouraged the town farmers to form an association so they can better market their produce and protect themselves from non-payment by traders.
She said their watermelons sell fast in Metro Manila and other provinces.
"We are making watermelons in different shapes like square with the help from our Japanese friends," Yamamoto said.
She said the rainy season remains a challenge to watermelon farmers who choose to plant rice instead.
"Too much water during rainy season drowns the watermelon thus prohibits the growth of the fruit", said Yamamoto.
Jeffrey Pamo, a municipal agriculturist, said a total of 150 hectares are devoted to watermelon production in Bani. "All the 27 barangays produce watermelon," he said.
Last year, there were only about 100 hectares planted to watermelons, Pamo added.
Farmers also enjoyed good harvest last year despite the typhoons, he said.
Pamo said watermelons harvested in December to January enjoy the highest price of as much as P55 per kilo, compared to the regular price of P30 to P35 a kilo.
Their best-selling watermelons are the sweet mommy Kaneko type which can be harvested 60 to 65 days after sowing. They are round and black, with a sweet, crispy, deep red flesh. Each fruit,weighing six to eight kilosn have a long shelf life.
Pamo said the watermelon produced in Bani is the best, partly due to good cultural practices, balanced fertilization, soil quality and lesser use of pesticides.
Municipal tourism officer Romel Dulay said aside from helping farmers earn more, more tourists are expected to visit Bani, which is slowly rising through its Pakwan Festival.
Bani prides itself for its beautiful tourist attractions like its beaches, caves, falls and others.