Inflation likely quickened in September
October 2, 2023 | 12:00am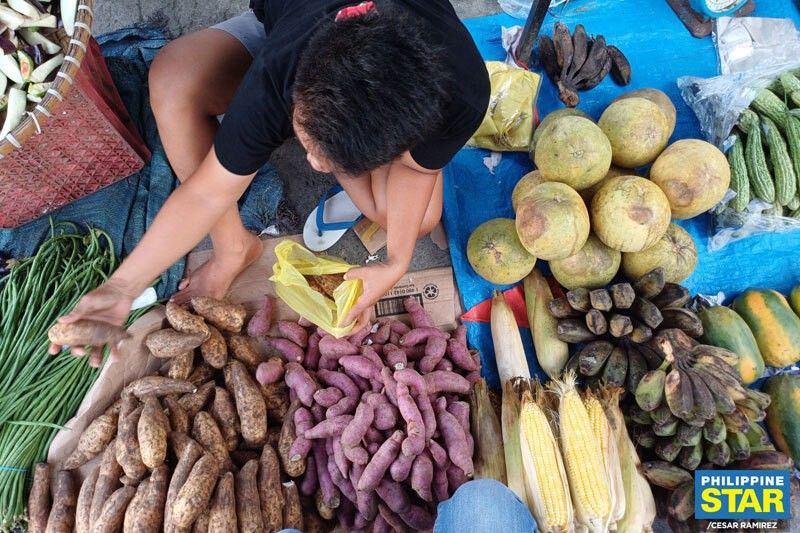 MANILA, Philippines — Most economists believe inflation likely quickened for the second straight month in September after cooling for six straight months from a peak of 8.7 percent in January.
Michael Ricafort, chief economist at Rizal Commercial Banking Corp., said inflation likely accelerated to 5.7 percent in September from 5.3 percent in August.
"Nevertheless, the headline inflation is still expected to ease year-on-year for the coming months, mathematically due to higher base/denominator effects," Ricafort said.
Ricafort sees inflation easing to the four-percent level in the fourth quarter and three percent or even lower in the first quarter of next year.
"The higher base/denominator effects on global crude oil prices could diminish and eventually normalize, especially starting September. That could lead to some risk of re-inflation for the coming months, especially by early 2024 after easing inflation or disinflation trend for most of 2023," Ricafort said.
From January to August, inflation averaged 6.6 percent and exceeded the two to four percent target range of the Bangko Sentral ng Pilipinas (BSP).
ANZ senior Asia strategist Irene Chung also expects inflation quickening further to 5.7 percent in September, driven by higher domestic pump prices and electricity tariffs.
"Inflation would have been even higher if not for the price cap on rice, which came into effect on Sept. 5. Despite the expected increase in headline inflation, we forecast core inflation to continue easing to six percent year-on-year," Chung said.
President Marcos issued Executive Order 39 imposing a cap on rice prices at P41 per kilo for regular milled rice and P45 per kilo for well-milled starting Sept. 5.
Chung pointed out that global oil prices are expected to stay elevated through the rest of the year on the back of tight supply.
"While some effort has been made to stabilize domestic food prices, domestic retail pump prices continue to adjust to global oil price movements. The low oil inventory also implies a faster pass-through in the absence of adequate fiscal controls," she said.
Furthermore, she said the call for another round of transport fare hikes has also become more pronounced in recent months.
ANZ does not see the monthly inflation print falling back to below four percent this year as BSP Governor Eli Remolona Jr. recently floated the possibility of an off-cycle hike before the Nov. 16 rate-setting meeting of the Monetary Board.
"Notably, headline inflation in India, the Philippines and South Korea has rebounded from recent lows. We expect the September CPI (consumer price index) data due next week to show that inflation remains elevated, especially in the Philippines," Chung said.
UnionBank chief economist Ruben Carlo Asuncion said inflation last month likely settled at 5.6 percent, faster than the 5.3 percent recorded in August.
China Bank chief economist Domini Velasquez said headline inflation may have quickened to 5.5 percent in September from 5.3 percent in August, while core inflation further eased to 5.9 percent.
"Prices of some key food commodities remained elevated, particularly fish and fruits. Increases in the cost of fuel and LPG, as well as the weaker peso also added to upward pressures," Velasquez said.
On a positive note, Velasquez said rice and vegetable prices, which were the primary drivers of food inflation in August, eased due to the mandated rice price cap and relatively favorable weather.
Additionally, she said higher electricity rates from major power suppliers like Manila Electric Co. (Meralco) were offset by lower rates in provinces such as Batangas, Pampanga and Bohol.
Despite the uptick in inflation in August and September, Velasquez said inflation is still on track to return to the BSP's two to four percent target range as early as November, barring any new shocks.
China Bank believes the BSP could still extend its hawkish pause and keep its policy rate on hold at 6.25 percent this year, especially if the gross domestic product for the third quarter comes out weaker than anticipated.
"Moreover, recent shocks to inflation were on the supply side which could be addressed by non-monetary measures. However, we are cognizant that another rate hike in November is a live possibility if the peso weakens further given another Fed (US Federal Reserve) rate hike," Velasquez said.
Philippine National Bank economist Alvin Arogo also believes inflation averaged 5.5 percent in September due to the impact of unfavorable weather conditions on food and the sustained rise on crude oil prices.
"As long as inflation will not exceed 5.5 percent in September, our baseline projections still show that the headline print will fall below four percent in the fourth quarter and three percent in the first quarter of next year. However, the risk to this view is elevated due to El Niño, typhoons, oil production cuts, and prolonged Russia-Ukraine war," Arogo said.
Security Bank chief economist Robert Dan Roces expects an uptick in last month's inflation to 5.4 percent with a range of 5.2 percent to 5.6 percent.
"The main factors contributing to this month's inflation are increases in the cost of electricity and food. These sectors have been subject to supply constraints and higher production costs, which have been passed on to consumers," Roces said.
Despite the slight uptick, Roces said inflation is likely to be on a downward path in the coming months due to the decrease in vegetable prices because of better supply conditions, the impact of the price cap on rice and better rice supply with the harvest season, the decline in global rice prices as well as lower prices of goods as Malacañang ordered local government units (LGUs) to stop collecting "pass-through fees" for the transportation of goods across the country.
For his part, ING Bank senior economist Nicholas Mapa said inflation likely eased to 5.1 percent in September.