No respite this month from inflation
December 5, 2022 | 12:00am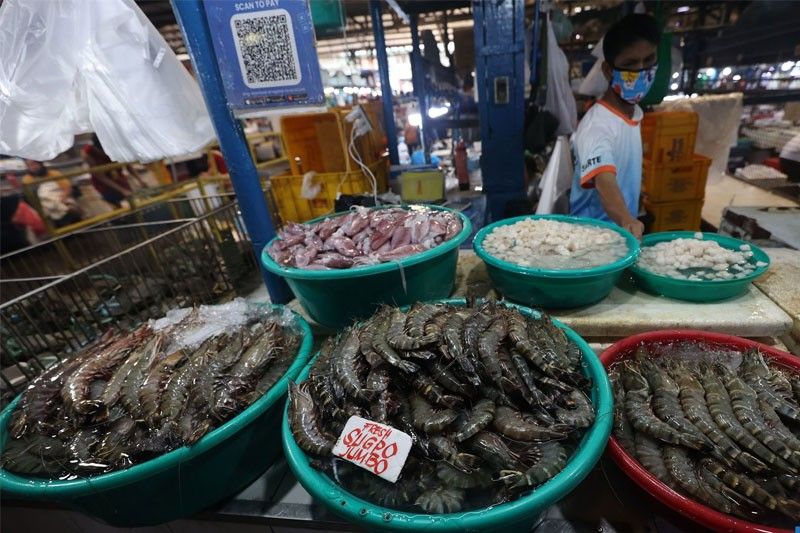 MANILA, Philippines — Inflation quickened last month and is expected to accelerate further to reach its peak this month amid soaring prices of food and holiday goods, a survey of top economists showed.
Nicholas Mapa, senior economist at ING, said inflation likely breached eight percent to hit 8.2 percent in November from a 14-year high of 7.7 percent in October.
He said the extensive crop damage from two recent typhoons pushed headline inflation higher.
Mapa said the upside pressures in November were offset by lower transport costs after fuel prices were brought down throughout the month.
Despite the rise, Mapa said inflation has not yet peaked and is expected to accelerate further this month.
"Inflation to peak in December," he said.
Alvin Arogo, economist at Philippine National Bank, said consumer prices grew faster, with inflation rising to 7.9 percent in November and is likely to further accelerate in December.
"We think inflation will peak in December at 8.1 percent and this should start going down starting January next year," Arogo said.
The PNB economist said the increase in food prices as well as the impact of recent weather disturbances would further push consumer prices up.
"We continue to watch the factors that will likely push inflation, especially the increase in the prices of food products brought about by higher fertilizer prices and typhoon damage," Arogo said.
Security Bank chief economist Robert Dan Roces said inflation last month slightly quickened to 7.8 percent, with a forecast range of 7.6 to eight percent.
"Upward price pressures are expected to have come from higher electricity and LPG prices to affect the utilities basket, as well as agricultural commodities that pushed the food basket index higher on the back of Typhoon Paeng," he said.
On the demand side, Roces added that strong local consumption may have pushed core inflation higher.
Offsetting these upward pressures, Roces said, include the reduction in petroleum and pork prices, the peso appreciation, and base effects.
"Inflation pressures may continue into the peak holiday month of December, and this will remain the key consideration versus the price stability mandate of the Bangko Sentral ng Pilipinas (BSP)," Roces said.
The Security Bank economist expects the BSP to deliver another 50-basis-point interest rate hike this month, bringing the total increase in key policy rates to 350 basis points this year.
"We expect the BSP to hike by 50 bps in its December meeting, with scope to do more in Q1 2023 until inflation cools," Roces said.
China Bank chief economist Domini Velasquez said inflation likely picked up to 7.8 percent in November and range between 7.7 and 7.9 percent in December, as prices of holiday goods are at risk of further peaking.
"We hope the government can monitor and prevent unnecessary price increases this December," she said.
Velasquez said core inflation is still on an uptrend and may peak in the first quarter of 2023.
"Our latest estimate shows core inflation might have jumped to 6.1 percent in November from 5.9 percent in October. This means that secondary round effects continue to drive higher prices overall. Moving forward, we expect inflation to range between 7.7 to 7.9 percent in December, before a slow decline in 2023," Velasquez said.
Michael Ricafort, chief economist at Rizal Commercial Banking Corp., said there is a chance year-on-year inflation could have already topped out in the fourth quarter of this year and start to ease significantly starting the first quarter of next year.
"Inflation could still peak around Q4 2022 at around eight percent and could mathematically ease thereafter, especially in Q1 2023 due to higher base effects as global crude oil prices reached the immediate high in March 2022," he said.
Ricafort said inflation averaged 7.8 percent in November due to the recent storm damage from Tropical Storm Paeng that could have led to some pickup in food prices as well as some seasonal increase in demand and prices of holiday-related products.
According to Ricafort, further local policy rate hikes could still be possible for the coming months, as supported by generally strong economic data and the continued tightening by the US Federal Reserve.
For his part, UnionBank chief economist Ruben Carlo Asuncion said inflation likely eased but remained elevated at 7.5 percent for the month of November.
"We expect November inflation to remain elevated due to upward pressure from food prices due to recent weather disturbances, higher electricity and cooking costs," he said.
Asuncion explained that the easing prices of fuel and other basic commodities may provide downward price pressures.
Asuncion also cited the strengthening of the peso after slumping to an all-time low of 59 to $1 last October.
"Also, the strengthening of the peso may provide respite from imported inflation. Overall, we see November inflation print at 7.5 (percent)," he said.