Haus Talk sizzles on market debut
January 18, 2022 | 12:00am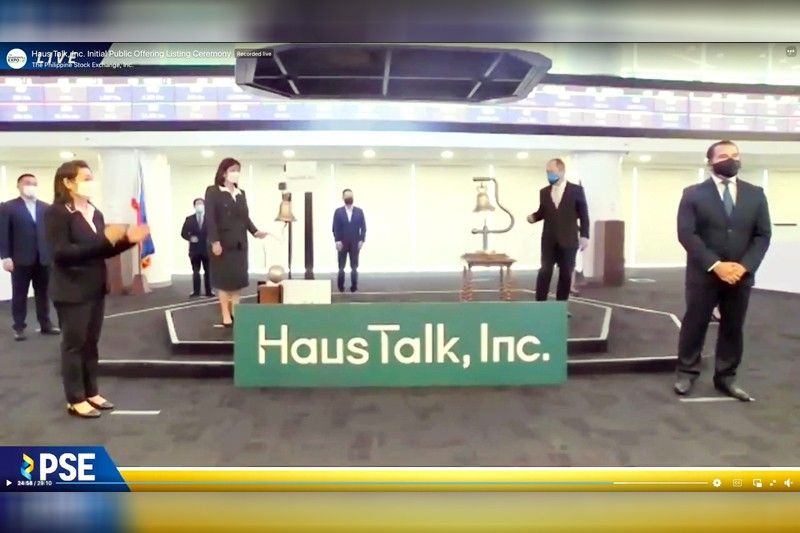 MANILA, Philippines — Haus Talk Inc. (HTI) made a successful stock market debut yesterday, making it the first company to list on the Philippine Stock Exchange this year.
HTI opened at P1.49 per share, reached a high of P1.73 per share and closed at P1.60 per share or 6.67 percent above its initial public offering price of P1.50 per share.
In a press conference after the listing ceremony, company officials said proceeds from the IPO would accelerate Haus Talk's growth and expansion as it aims to help address the housing backlog in the country, which is currently at 6.7 million. HTI raised P750 million from its IPO.
HTI chairman and vice president Terence Madlambayan said the overarching goal of the company is to help enable Filipinos to own a home by providing products that are available to those who have budget constraints.
"We want to grow exponentially," said Ma. Rachel Madlambayan, HTI director and president.
Established and fully managed by the Madlambayan family, HTI's developments cater to the "mid to low-income families who wish to live in affordable gated communities."
HTI said it would continue to focus on the affordable house-and-lot properties, as well as commercial spaces in its developments to benefit the company's communities. Commercial spaces may include laundry, convenience stores, and water refilling stations.
The company plans to expand its coverage and establish its brand in areas where the opportunities in the mid-market segment lie.
MHTI's price points range from P750,000 to P3.5 million. The company is able to keep its price range competitive because it sources its own materials.
Existing developments include Eastview Homes 1 and 2 in Antipolo; Southview Homes 1 and 2, and South Hills in Laguna; and Eastview Homes Marikina, Tradition Square Maceda, Eastview Town Homes Marikina, Tradition Square, and Winn Residences in Metro Manila.
HTI is planning more horizontal developments in Brgy. San Roque (Eastview Homes 3 and Eastview Residences Premiere) and Brgy. Baguyo (Celestis 1 and 2) in Antipolo; and Sta. Rosa (Southview Homes) and San Pedro (Southview Homes Calendola) in Laguna.
The company is also developing projects in Mariveles, Bataan, and Calasiao, Pangasinan.