Inflation falls within target in November
December 5, 2021 | 12:00am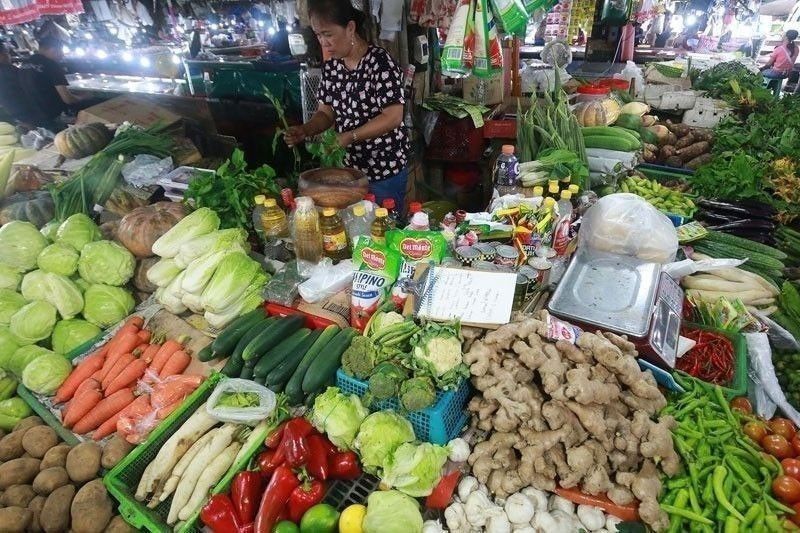 MANILA, Philippines — Economists are convinced inflation eased for the third straight month in November, finally falling within the two to four percent target range of the Bangko Sentral ng Pilipinas (BSP) for the first time this year.
Union Bank chief economist Ruben Carlo Asuncion said inflation last month likely slowed to 3.8 percent, from 4.6 percent in October, due to lower oil prices and weak peso-dollar exchange rate prior to worries about the Omicron variant.
Aside from the high base effect a year ago, Asuncion also cited better local food supply conditions, support from food imports, and improved transport mobility, as well as margin squeeze among producers or distributors of consumer goods for final end-use as the factors behind the faster disinflation last month.
Inflation averaged 4.5 percent from January to October as it stayed above the BSP's target range since January due to supply-side constraints brought about by weather-related disturbances and African swine fever (ASF) outbreak which pushed food prices higher, as well as rising global oil prices.
"This will be the first time since December 2020 that inflation will be warmly embracing the government's two to four percent inflation target," Asuncion said.
Michael Ricafort, chief economist at Rizal Commercial Banking Corp., also expects the consumer price index (CPI) growth for November to settle at 3.8 percent.
"Mathematically, inflation would start to ease by November to December 2021 due to the higher base or denominator effects by then, quantitatively resulting in lower year-on-year inflation, possibly to three percent levels toward the end of 2021," Ricafort said.
He said better weather conditions for the month, after some storm damage in previous months during the typical typhoon season, helped stabilize prices of food and other agricultural products resulting in lower year-on-year inflation data.
Ricafort said the emergence of the Omicron variant could slow the global economic recovery and global oil demand.
"The Omicron variant could also potentially add to the pre-existing disruptions in the global supply chain in terms of tighter travel and quarantine restrictions that could also potentially slow down production, shipping, and other parts of logistics for various products worldwide, thereby extending the elevated inflation and making the latter less transitory," Ricafort said.
Inflation peaked at 4.9 percent in August before easing to 4.8 percent in September and 4.6 percent in October.
Security Bank chief economist Robert Dan Roces said inflation last month settled at 3.9 percent due to favorable base effects with an estimated month-on-month change at +0.4 percent.
Roces explained the month-on-month increment could have been led by the heavily weighted food basket where a 10-basis-point increase may occur with the onset of the holiday season, while utilities are assumed to have gone up by 30 basis points on higher residential electricity rates.
Furthermore, Roces said restaurants and services baskets could have gone up by 150 basis points in November with demand-pull on the back of looser curbs.
"For the months ahead, primary upside risks include global crude and other commodity price movements, while the downside is posed by the Omicron variant. Food remains elevated and susceptible to any supply snags," Roces said.
Security Bank's forecast range is 3.7 to 4.1 percent, slightly narrower than the BSP's forecast range of 3.3 to 4.1 percent for November, with a point inflation projection of 3.7 percent.
Philippine National Bank economist Alvin Arogo said inflation likely settled at the upper end of the BSP's target range at four percent in November due to the higher base effects.
"We assume month-on-month CPI growth will accelerate to an average of 0.46 percent in November-December from 0.15 percent in October and 0.27 percent in 9M21," Arogo said
This, according to Arogo, takes into account the second-round effects of higher oil prices and the adverse impact of potential weather disturbances on food prices.
The PNB economist said the BSP's main focus for this year's monetary stance is the gross domestic product (GDP) data and not inflation.
"As such, the November inflation outturn will likely not play a big role in the policy rate review this December. In our view, the BSP will be comfortable to the start the reverse repurchase hike cycle when the economy is nearer its fourth quarter 2019 level, which we estimate will occur in the fourth quarter of 2022," Arogo said.