BDO profit surges to P21.45 billion in H1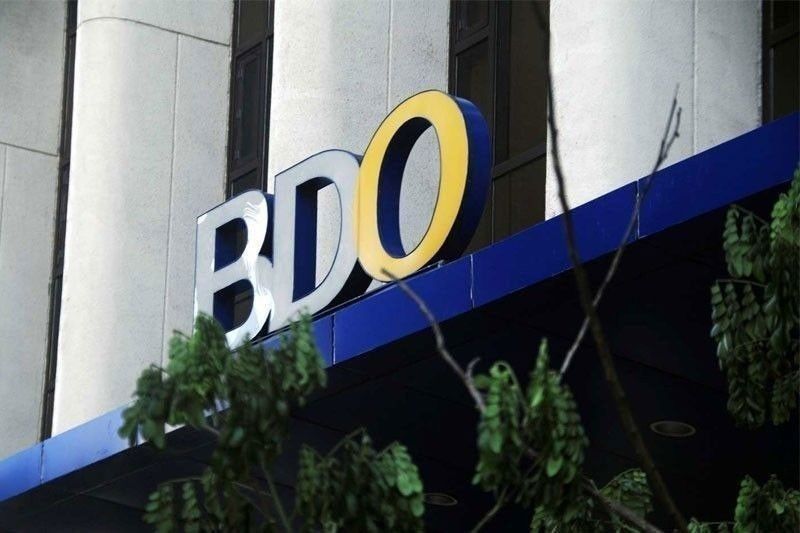 MANILA, Philippines — Earnings of Sy-led BDO Unibank Inc. reached P21.45 billion in the first half, more than five times the P4.25-billion profit recorded in the same period last year as provision for bad debt plunged sharply.
The bank's provisioning for possible delinquencies plunged by 69 percent to P6.93 billion in the first six months from P22.43 billion in the same period last year
From January to June, BDO's net interest income slipped by 2.9 percent to P64.44 billion from last year's P66.39 billion on the back of lower interest earnings from loans and other receivables.
Non-interest earnings went up by 9.2 percent to P29.68 billion from P27.17 billion as fees and commission jumped 20 percent to P13.94 billion from P11.61 billion on improving business activities, while insurance premiums surged by 31.3 percent to P9.23 billion from P7.03 billion on higher BDO Life business volumes.
Foreign exchange gains more than doubled to P1.44 billion in the first semester from P606 million in the same period last year due to strong overseas remittances and customer flows.
This was enough to offset the 86.2 percent drop in trading gains to P579 million from P4.18 billion.
BDO's operating expenses inched up by 4.3 percent to P60.95 billion from P58.42 billion, driven by the 29 percent growth in expenses related to life insurance business.
The listed bank's deposit base inched up by 2.7 percent to P2.68 trillion from January to June compared to P2.61 trillion in the same period last year, while its loan book was flat at P2.3 trillion.
BDO said gross non-performing loan (NPL) ratio stood at 3.1 percent, well below the expected four to five percent, while NPL coverage ratio remained more than adequate at 100 percent.
For the second quarter alone, the net income of BDO amounted to P11.04 billion and reversed the net loss amounting to P4.5 billion booked in the same quarter last year.
The bank's provision for potential bad loans fell by 80.9 percent to P3.85 billion from P20.17 billion.
BDO's asset base inched up by 2.6 percent to P3.46 trillion in end-June from P3.37 trillion in end- December last year, while its total capital base strengthened to P412.7 billion.
This translated to a higher capital adequacy ratio (CAR) of 15 percent and common equity tier 1 (CET1) ratio of 13.9 percent, well above regulatory minimum set by the Bangko Sentral ng Pilipinas (BSP).
The bank's book value per common share rose 12 percent to P92.57 as of end-June compared to P82.28 in end-June last year, while its return on average common equity (ROE) improved to 10.75 percent from 2.27 percent.
"BDO's solid balance sheet, healthy capital position, and sustained earnings performance put the bank in a good position to leverage on the country's economic recovery," the bank said in a statement.