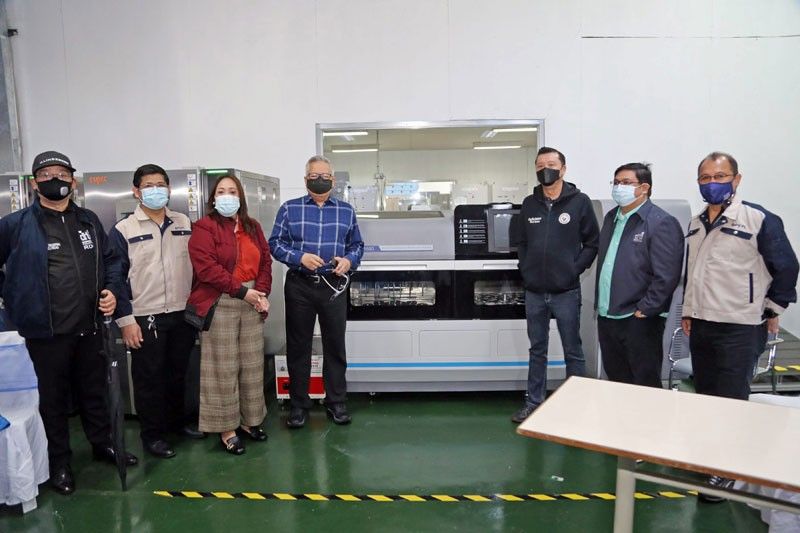 Goverment officials led by (from left) Deputy Speaker Wesley Gatchalian, Trade Secretary Ramon Lopez, BPS director Neil Catajay, Testing Laboratory chief Jay Illescas, Trade Undersecretary Ruth Castelo attended yesterday the inauguration of the Universal Testing Machine for steel bars.
STAR/File
DTI unveils testing lab for steel, ceramic tiles
MANILA, Philippines — The Department of Trade and Industry (DTI) yesterday launched a testing laboratory for steel and ceramic tiles as part of efforts to ensure those being sold in the market meet product standards and are safe.
Speaking at the facility's launch yesterday, Trade Secretary Ramon Lopez said the new testing laboratory in Cavite was made possible through the partnership with the Philippine Iron and Steel Inc. and Ceramic Manufacturers Association Inc. as the government and private sector are working together to ensure standard compliance and consumer safety.
He said the new testing laboratory would bring additional testing capacity with most currently being conducted by third-party private sector labs.
"For one, as our industries rev up once more to boost our economic recovery, these facilities will strengthen our steel and ceramic tiles industries and ensure that only quality and standard compliant construction steel products and ceramic tiles are made available in the local market," he said.
Through greater testing capabilities, he said the country would be able to minimize substandard products in the market.
"This should likewise encourage more investments in more competitive and smart manufacturing operations using modern technologies that will guarantee high quality products at all times," he said.
He said the DTI's Bureau of Philippine Standards (BPS) has made sure it is equipped with the capabilities to test products under the mandatory product certification schemes.
He also said the BPS is looking at setting up more testing facilities for construction materials including cement, hollow blocks, and flat glass.
The lab would also facilitate exports as products tested would no longer require being tested again upon entry to the country of export.
"By conducting product testing as per the relevant Philippine National Standards (or PNS), the BPSTL (testing laboratory) can assist our MSMEs (micro, small and medium enterprises) in developing products whose qualities are on par with the world," Lopez said.