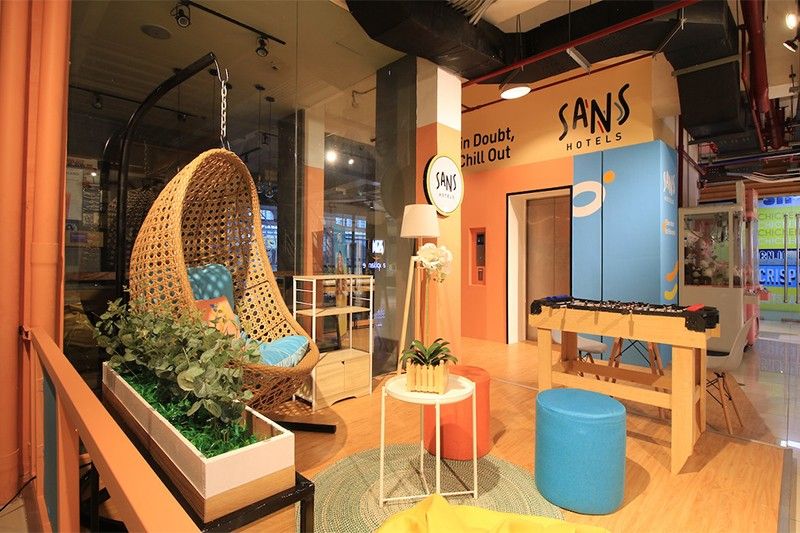 Sans Hotel is a trendy, economy lifestyle hotel brand.
Photo courtesy of RedDoorz
RedDoorz launches new hotel brand to cater to Gen Zs
MANILA, Philippines — RedDoorz, a hotel management company offering affordable, quality, and safe accommodations for everyone, on Tuesday, diversified its offerings and introduced a hotel brand that targets Gen Zs.
Called "Sans Hotels," the hotel management firm said this latest lifestyle economy concept is design-driven and seeks to cater to the travel needs of the youth who were locked down during the pandemic.
Miguel Capistrano, country manager of RedDoorz Philippines, cited that with the prolonged lockdown in the country, several travelers are excited to explore outside their homes. He said this market is called "pent up travel demand."
In view of this, they launched Sans Hotels which is a trendy, economy lifestyle hotel brand that aims to provide vibrant experiences for customers at a low cost.
What makes Sans Hotels different from the regular RedDoorz hotel is that it is a notch higher.
The country manager said the RedDoorz is very basic covering the six guaranteed amenities that the basic travelers need which include airconditioning, hot and cold shower, clean white linen beds, internet, toiletries and cable TV.
On the other hand, Sans Hotels is more colorful and trendier.
"Each hotel has a unique design, theme, and personality that is especially designed for the Gen Zs and millennials market who value the seamless integration of stylish comfort and smart technology," Capistrano said during the launch.
The first Sans Hotel is now open for travelers in Manila and will open more properties in Tagaytay City and Cebu City.
As the country anticipates strong local travel demands amid the gradual reopening of the economy, Department of Tourism (DOT) Director for Tourism Standards and Regulation Virgilio Maguigad said it has been working closely with hotels to drive better business operations.
"We welcome the opening [of Sans Hotels]. It's a vote of confidence. When you are expecting hotels to be closing down, we have here RedDoorz opening Sans Hotels, so it's a vote of confidence for [the] future growth of the industry," Maguigad said.
"The firm has definitely taken advantage of the benefits and opportunities from the DOT's accreditation requirements in order to meet new customer requirements and demands and new travel experiences. With their growing accredited Sans Hotels, we are delighted to witness broader opportunities for hotel owners to weather this pandemic," he also said.
Capistrano said RedDoorz is looking into expanding to new high-in-demand destinations this year as part of the company's goal towards becoming a multi-brand accommodation platform.
"We are excited to grow with local hotel players in high demand cities for the new customer segment - the younger sector who are eager to go out and explore not only for staycations, but even for any kind of safe travels. With RedDoorz' service guarantee that is guarantee and the strict implementation of hygiene and sanitation practices in all our properties, our multi-brand platform offers the owners an opportunity to leverage our footprint, user bases, technology, best practices, other assets, and solid experiences of our regional team," Capistrano said.
He said that even amid the steel reeling pandemic, the three-year-old company, known as Southeast Asia's fastest-growing technology-driven hotel management brand, saw growth possibilities to contribute to boosting the tourism industry's recovery.
RedDoorz said it is "focusing on the digitalization of its consumer and partner assets, and launching tangible & impactful initiatives as it improves its business operations with the help of government partners and other stakeholders"
As It Happens
LATEST UPDATE: July 29, 2021 - 3:04pm
Find the latest travel and tourism news from around the world amid the coronavirus pandemic. Main image by AFP/Romeo Gacad
July 29, 2021 - 3:04pm
Baguio City Mayor Benjamin Magalong says the city, though it has already reached its COVID-19 cases threshold, does not opt to totally shutdown its doors from tourists.
Stricter border control remains to be the best answer (for us), the city mayor says, while citing that COVID-19 transmissions in the city had been churning around 60 a day three weeks ago.
Magalong says "certain testing guidelines for tourists coming from GCQ and MGCQ areas were already put in place as an active defense of the city against surges." But he maintains that Baguio City will strictly bar "visitors from heightened GCQ and MECQ areas" in the country. — The STAR/Artemio Dumlao
July 29, 2021 - 8:39am
France will from August 9 enforce new legislation that will make a health pass compulsory to visit a cafe, board a plane or travel on an inter-city train, the government's spokesman said Wednesday.
The legislation passed by parliament at the weekend has sparked mass protests in France but the government is determined to press ahead and make the health pass a key part of the fight against COVID-19.
A valid health pass is generated by two jabs from a recognized vaccine, a negative coronavirus test or a recent recovery from infection. The legislation also makes vaccination compulsory for health-workers and carers. — AFP
July 24, 2021 - 2:24pm
The Department of Tourism renews call for safe personal travels as the Inter-Agency Task Force for the Management of Emerging Infectious Diseases placed Metro Manila and other areas under a stricter quarantine measure to avoid local transmission of Delta variant of COVID-19.
"Individuals of all ages may still pursue their travel plans, but needless to say, with the threat of the Delta variant, our travelers must practice extra caution and strictly adhere to the rules and guidelines of the LGU of destination," says Tourism Secretary Berna Romulo-Puyat.
"The Department is continuously looking for ways to further help the local tourism industry and its stakeholders get back on its feet as soon as possible but we remind everyone who wishes to travel for leisure to follow the imposed minimum health standards and social distancing measures," she adds.
July 17, 2021 - 2:22pm
English residents who visit France after a July 19 loosening of coronavirus restrictions will still be required to quarantine on returning home even if they are fully vaccinated, the UK government says.
The end of the compulsory quarantine for vaccinated English residents returning from countries on London's "amber" list "will not apply to France following the persistent presence of cases in France of the Beta variant" of COVID-19 first detected in South Africa, the Department of Health says in a statement.
Those arriving from countries on the amber list, which includes other popular European holiday destinations like Italy, Portugal and Spain, currently need to quarantine at home for up to 10 days and submit to two tests. — AFP
July 16, 2021 - 12:09pm
The Eiffel Tower is to reopen to visitors on Friday for the first time in nine months following its longest closure since World War II.
The lifts of the "Iron Lady" are set to whir back into life, transporting tourists to its 300-metre (1,000-foot) summit, ending a long period of inactivity caused by the Covid-19 pandemic.
Daily capacity is set to be restricted to 13,000 people, however, about half of the normal level, in order to respect social distancing. — AFP