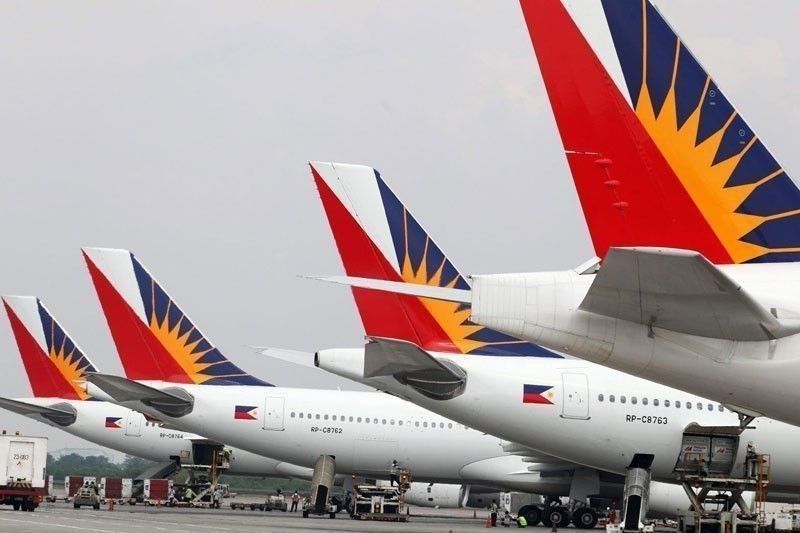 PAL parent PAL Holdings Inc., in a stock exchange filing yesterday, reported a net comprehensive loss of P73 billion in 2020 higher than the P10.2 billion total comprehensive loss the previous year.
The STAR/Edd Gumban, File
PAL incurs loss of P73 billion in 2020
MANILA, Philippines — Flag carrier Philippine Airlines seeks to improve its financial condition and restore its ability to service financial obligations through a financial restructuring plan after it joined major carriers in the region in incurring massive losses last year.
PAL parent PAL Holdings Inc., in a stock exchange filing yesterday, reported a net comprehensive loss of P73 billion in 2020 higher than the P10.2 billion total comprehensive loss the previous year.
The losses last year resulted in capital deficiency attributable to equity holders of the parent company of P74.05 billion.
PAL said the group's operations were severely affected by the worldwide travel restrictions due to the pandemic, which resulted in record losses of over P6.1 trillion in the global airline industry.
Despite reducing expenses by 46 percent year-on-year in 2020, PAL's financials were significantly hit by a 64 percent decline in revenues amounting to P55.26 billion last year.
"The significant decline in revenues was mainly due to the drop in passenger and ancillary revenues as a result of flight cancellations starting March 2020 due to the COVID-19 pandemic," PAL said.
In the first quarter, however, PAL was able to trim its total comprehensive loss to P9.6 billion from P10.72 billion in the same period last year due to lower expenses.
Revenues in the three-month period ending March reached P8.3 billion, 74 percent lower than the P32.07 billion in the first quarter of 2020.
Consolidated total liabilities of the group stood at P296 billion as of end-2020, with current liabilities rising by P93.74 billion to P196.3 billion.
PAL said the decline in revenue and cash inflows has put significant strain on the group's liquidity position and on its compliance with certain loan covenants.
PAL has outstanding long-term obligations worth P32.57 billion in secured loans and P152.03 billion in lease liabilities as of end last year.
"The group has not made principal and/or interest payments due in respect of the above long-term obligations since April 2020, resulting in breach of certain loan covenants and default provisions in the lease and loan agreements. Hence, the balances of the long-term obligations that are deemed due and demandable are classified as current liabilities," it said.
Due to the difficulty in sourcing additional financing, PAL said it is embarking on a financial restructuring plan to ensure the group's business continuity.
"The objective of the financial restructuring plan is to reduce near-term payments of obligations to allow sufficient liquidity to stabilize the financial condition of the group and to restore the ability of the group to service its financial obligations, as restructured, on an ongoing basis," it said.
PAL has engaged financial advisors and legal counsels to assist in the financial restructuring, which includes the ongoing negotiations with its local and foreign bank creditors, as well as aircraft lessors and trade creditors to restructure its existing debts. It is also seeking the refinement and validation of the group's fleet and network strategy.
Also part of the financial restructuring is the consideration to file a pre-negotiated court-rehabilitation in an overseas jurisdiction.
PAL's filing for Chapter 11 bankruptcy protection in the US is seen pushing through this month as negotiations with its lessors continue ahead of the filing, according to travel data and analytics company Cirium.
PAL will also be requiring funding from a major stockholder of up to P24.25 billion, which may involve sourcing of the funds from the government and private financial institutions, estimated to be around P12 billion.
PAL said this is on top of the funds initially committed and provided by its major stockholder amounting to P17.20 billion in various dates from the fourth quarter of 2019 to the first quarter of 2021.
The group will also seek an exit facility amounting to P6 billion.
Lastly, PAL hopes to generate positive monthly operating cash flows this year with the expected gradual recovery in
the travel industry and the effect of the cost containment measures.
"To complete the recovery, PAL management and stakeholders are working on the final stages of a comprehensive restructuring plan that will enable the airline to emerge financially stronger from the current global crisis. We are confident that the restructuring will enable PAL to strengthen its capital structure, meet stakeholder obligations and position the company for long-term success," PAL said.
PAL's fleet as of end 2020 stood at 97, 16 of which are company-owned and 81 of which are under lease. It has a total workforce of 6,238.