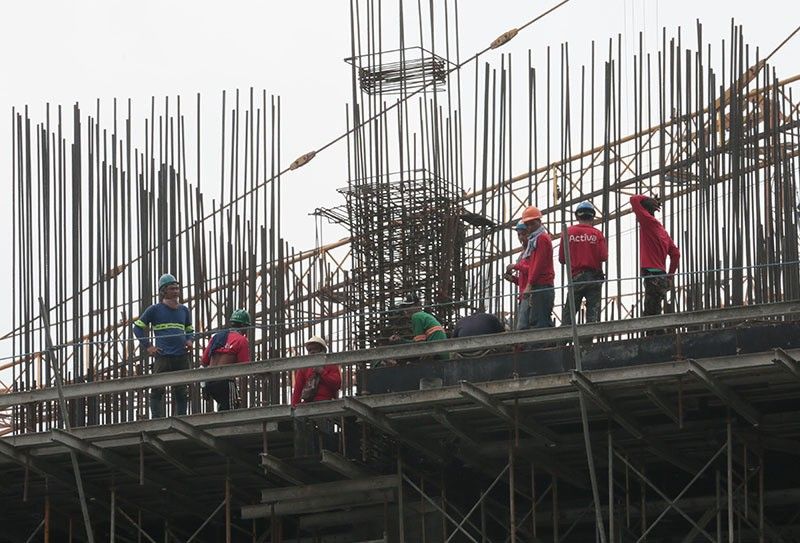 Construction workers at a building in Cubao, Quezon City keep the pace on June 9, 2021 amid the looming rain.
The STAR/Michael Varcas
Construction works down to P80 billion in Q1
MANILA, Philippines — Construction activities remain weak even as the domestic economy is slowly reopening, as building costs during the traditionally active first quarter declined.
Based on the Philippine Statistics Authority's Construction Statistics from Approved Building Permits, the total value of constructions went down by 12 percent to P80 billion during the period from P91 billion in the comparative period in 2020.
The number of construction projects during the January to March period only inched up by one percent to reach 33,627 projects.
The Philippine economy was slowly reopening in most parts of the first quarter only to be placed under the strictest quarantine measure toward the end of March.
Still, the appetite for construction activities has yet to fully resume as worker availability remains limited due to lockdown-related mobility restrictions.
By type of construction, residential projects totaling 23,364 made up 70 percent of the total number of constructions during the period. This type of construction, majority of which were single-type houses, improved 6.2 percent annually.
Total value also increased almost 20 percent to P46.22 billion.
Non-residential projects, mostly commercial buildings, declined 13.5 percent. It comprised 16 percent of the total constructions during the period.
Value of non-residential constructions dipped by 38 percent to P29 billion during the period.
The rest were additions and alterations and repairs of existing structures.
Building activity was still strongest in CALABARZON with 7,288 constructions, accounting for 22 percent of total. It was followed by Ilocos and Central Luzon.
By value, however, the National Capital Region made up 34 percent of total at P27.4 billion. It was followed by CALABARZON with P14.2 billion and Central Luzon with P8.2 billion.
The total floor area of constructions for the quarter was recorded at 6.4 million square meters, which indicated a decline of 23 percent annually.
As the economy reopens, the average cost of construction in the first quarter expanded by 14.3 percent to P11,908 per square meter, with residential buildings being the most expensive at P12,128 per sqm.
Among residential constructions, condominiums had the highest average cost at P20,258 per sqm.
Construction statistics are generated from approved building permits as well as from the demolition and fencing permits collected every month by PSA field personnel from the offices of local building officials.