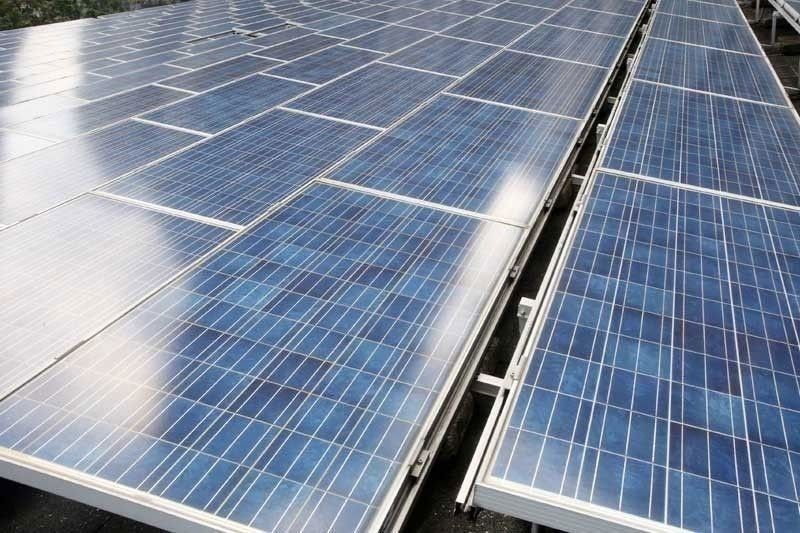 This brings the total fresh capital raised by AC Energy to P27 billion, which will be used to bankroll its 5,000-megawatt renewable energy development by 2025.
STAR/File
AC Energy raises P13 billion from follow-on offering
MANILA, Philippines — AC Energy Corp. (ACEN) raised P13 billion from its follow-on offering (FOO), its third and final fundraising activity this year.
This brings the total fresh capital raised by AC Energy to P27 billion, which will be used to bankroll its 5,000-megawatt (MW) renewable energy (RE) development by 2025.
ACEN said the P13-billion FOO was significantly oversubscribed, driven by the institutional tranche, as high-quality domestic and international institutional investors locked in demand for ACEN and a significant participation from PSE trading participants and retail investors.
It offered 2.01 million common shares at P6.50 per share, consisting of 1.58 million shares sold in a primary offer, 330 million shares sold by AC Energy and Infrastructure Corp. (ACEIC) and Bulacan Power Generation Corp. pursuant to a secondary offer, and an over-subscription of 100 million secondary shares by ACEIC.
The primary shares were listed on the Philippine Stock Exchange (PSE) last May 14, bringing ACEN's total outstanding shares to 21.54 billion, with a market capitalization of over P150 billion.
About 80 percent of the base offer shares was offered to qualified institutional buyers while the remaining 20 percent was placed out to eligible trading participants of the PSE.
"We are delighted with the results of the follow-on offering – a strong vote of confidence in AC Energy's strategy to rapidly expand its renewables business across the region," ACEN chairman Fernando Zobel de Ayala said.
"With a much stronger balance sheet, AC Energy is in an excellent position to roll out the much-needed investments in renewable projects and help accelerate the green-led recovery," he said.
BPI Capital Corp. was the sole global coordinator, underwriter and joint bookrunner of the follow-on offering. CLSA Ltd. and UBS AG Singapore Branch are the international joint bookrunners.
ACEN president and CEO Eric Francia said the company is slated to complete five projects in the country this year -- the 63-MW Gigasol Palauig solar farm in Pangasinan, which started operating last month; the 120-MW Alaminos solar farm also in Pangasinan, which is eyed to start operating within the month; the 150-MW diesel modular generator set power plant in Pililia, Rizal, a joint venture with Marubeni Corp. of Japan; the 4-MW renewable energy laboratory in Mariveles, Bataan; and the 40-MWh Alaminos Battery Energy Storage System (BESS), which will be operational within the third quarter.
In the next six to 12 months, ACEN is looking to construct 1,000 MW of RE projects, half of which are in the Philippines and the remaining half in markets where it is present.
This will put the company more than halfway its 5,000 MW target at 2,900 MW. Currently, ACEN has close to 500 MW of renewables in the Philippines and is set to add 1,400 MW with the infusion of the Ayala group's international power assets in Vietnam, Indonesia, Australia, India and Myanmar.
For this year, the company is spending P12 billion, of which 10 percent has already been spent in the first quarter, partly to start the construction of a 72-MW solar farm in Arayat, Pampanga, a joint venture development with Citicore Solar Energy Corp.
"We started construction in April this year and the target completion is April 2022, just in time for next year's summer," he said.
Meanwhile, bulk of the capex will be rolled out in the second half as more projects near completion and get notices to proceed construction, Francia said.
ACEN has a robust pipeline of 12 gigawatts (GW) of renewable energy projects in the Asia Pacific to meet its five GW target by 2025 and to become the largest listed renewables platform in Southeast Asia.
Its pipeline consists mostly of solar and wind projects being developed organically and with partners.
The largest chunk or around 5,200 MW is in Australia, followed by the Philippines with 3,400 MW, Vietnam with 2,400 MW and in India and other Asia Pacific countries with 900 MW.
In the first quarter, ACEN reported a net income of P829 million, a 54 percent jump year-on-year. Output grew 26 percent from additional operating capacity acquired in the previous year.
"We are very pleased with ACEN's strong first quarter performance which was driven by value accretive acquisitions and improved operating margins. We expect the growth momentum to continue with our aggressive and sustained expansion in the renewables space," Francia said.