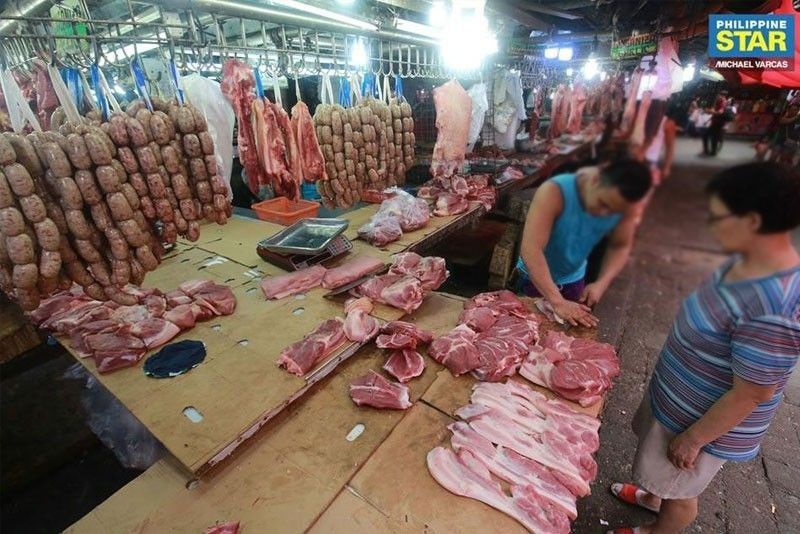 President Duterte yesterday formally signed Executive Order 123, which retained the current most favored nation tariff rates on MDM or separated meat of chicken at five percent.
STAR/Michael Varcas
Lower tariff on MDM to be retained
MANILA, Philippines — Prices of processed meat products are expected to remain stable after the government retained the low tariff rate on imported mechanically deboned meat (MDM), a vital raw material used in meat processing.
President Duterte yesterday formally signed Executive Order 123, which retained the current most favored nation (MFN) tariff rates on MDM or separated meat of chicken at five percent.
The tariff rates reverted back to 40 percent on Jan. 1 as Executive Order 82 lapsed on Dec. 31, 2020.
The tariff retention, a move recommended by the economic managers, aims to keep prices of canned meat products at bay at a time when the country has yet to recover from the pandemic.
The five percent tariff is effective until Dec. 31, 2022.
"There is an urgent need to adopt measures aimed toward mitigating the adverse impacts of the lives of Filipinos in view of the continuing crisis brought about by the pandemic," Duterte said.
"It is necessary for the government to provide an enabling environment that ensures continued supply of essential food products at stable prices, helps businesses recover and sustain their operations, and preserves and create employment opportunities to support the economy in bouncing back," he said.
Agriculture Secretary William Dar said the EO would ensure low-cost processed meat products for consumers.
MDM, a vital raw material used in processing, is a paste-like meat product produced by forcing pureed or ground beef, pork, turkey or chicken, under high pressure through a sieve or similar device to separate the bone from the edible meat tissue.
The Philippine Association of Meat Processors Inc. (PAMPI) welcomed the decision, saying such a move is consistent with the government's well-defined policy to promote the domestic manufacturing sector, generate employment, protect consumers and ensure economic growth.
Since last year, PAMPI has been strongly petitioning for the retention, emphasizing that due to lack of local facilities in separating the meat from the bone, added costs would likely reach 40 percent and this would translate to higher price of finished products.
"Canned products using MDM are among the must items in relief food packs that are produced by our members and distributed by government agencies to our people during national emergencies arising from natural calamities or disease outbreaks," PAMPI president Felix Tiukinhoy said.
While it assured that prices are expected to be stable in the next two years, the Meat Importers and Traders Association (MITA) said it would have been better if the EO would be effective for five years.
"Processors will have to go through this again after two years, expending needlessly valuable energy and resources. A realistic assessment would show that the Philippines will not be able to produce MDM competitively in the next five years," MITA president Jess Cham told The STAR.
While processors and importers rejoice, poultry growers, on the other hand, have lost their battle yet again as raising the tariffs would serve as a form of protection for local growers.
"They just need to be proactive and transparent with data to remove any controversy on the matter," United Broiler Raisers Association president Elias Jose Inciong said in a separate exchange.
The 40 percent tariff on MDM was reduced to five percent in 2021 as a concession to the quantitative restriction on rice imports.
Under Executive Order 23 issued in 2017, the tariff rates on agricultural products including chicken MDM must be brought back to their previous levels once the QR is removed.
However, processors argue that the use of MDM has contributed to the affordability of the protein source especially in challenging times of high inflationary effects caused by a number of uncontrollable factors.
It has been used since the late 1960s in certain meat and meat products such as hotdogs, luncheon meats and sausages and does not compete against table grade meat. – Alexis Romero