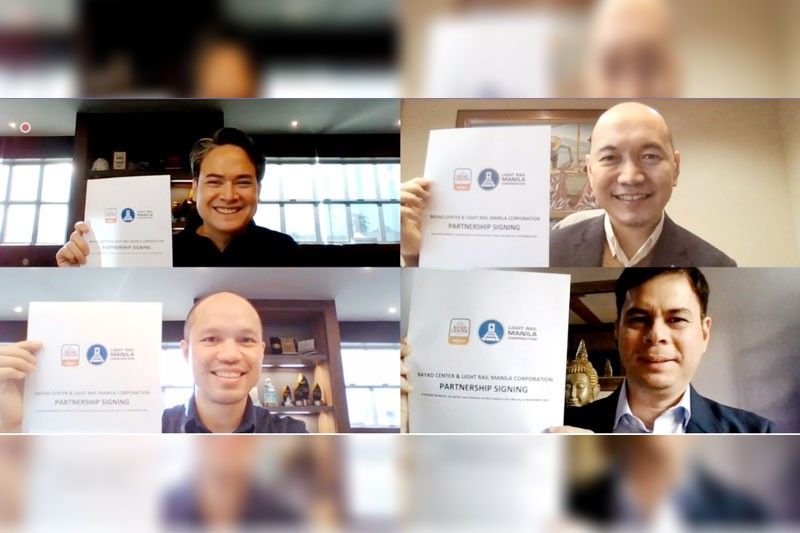 In photo (top from left) LRMC president and CEO Juan Alfonso and CBCI president and CEO Lawrence Ferrer. (Bottom from left) LRMC chief financial officer Marco Duay and CBCI chief commercial and marketing officer Dennis Gatuslao inked the partnership in a virtual signing ceremony.
STAR/ File
LRMC, Bayad Center partner for bills payments
MANILA, Philippines — Light Rail Manila Corp. (LRMC) is bringing bills payment closer to the passengers of LRT-1 with its partnership with Bayad Center.
Passengers traveling through the LRT-1 network will be able to pay their bills for utilities, telecommunications, cable, government contributions, loan payments, travel and airline ticketing companies at various stations.
LRT-1 Balintawak station will serve as the pilot site for the partnership, wherein a ticket booth will be transformed into a Bayad Center lane where commuters can pay their bills.
LRMC said the Bayad Center at Balintawak station would be open to the public by next month.
Bill payments can be made daily from 6 am to 7 pm and only cash payments will be accepted for the meantime, according to LRMC.
"We, at LRMC, are in the business of not only bringing people to their destinations, but also fulfilling our service promise of knowing what people need and connecting them to their needs through reliable, comfortable, and convenient transport system," LRMC president and CEO Juan Alfonso said.
"We are glad to finally launch this initiative as it is in line with our goal to make the LRT-1 network a one-stop shop for our commuters' needs—not just their need to travel through Metro Manila," he said.
LRMC said the plan is to roll out Bayad Center in other major LRT-1 stations such as EDSA, Gil Puyat, and Doroteo Jose, as well as stations close to residential areas in the future.
"We are very pleased to be partnering with LRMC in providing a more convenient payment option to our Filipino commuters. As we add more and more payment touchpoints for the public, this ultimately helps by lessening one's visit to several establishments for errands, minimizing the risk of virus contact," Bayad Center president and CEO Lawrence Ferrer said.
"We are glad that LRMC is one with us in this initiative of providing convenience and protection, especially in these trying times. We look forward to scaling this up in all our train stations soon, as Bayad Center remains committed to making payments easier and safe for our hardworking Filipinos," Ferrer said.
LRMC is a consortium of Metro Pacific Light Rail Corp., AC Infrastructure Holdings Corp., and Macquarie Infrastructure Holdings (Philippines) PTE Ltd.
It is the private operator and maintenance provider of the LRT-1.