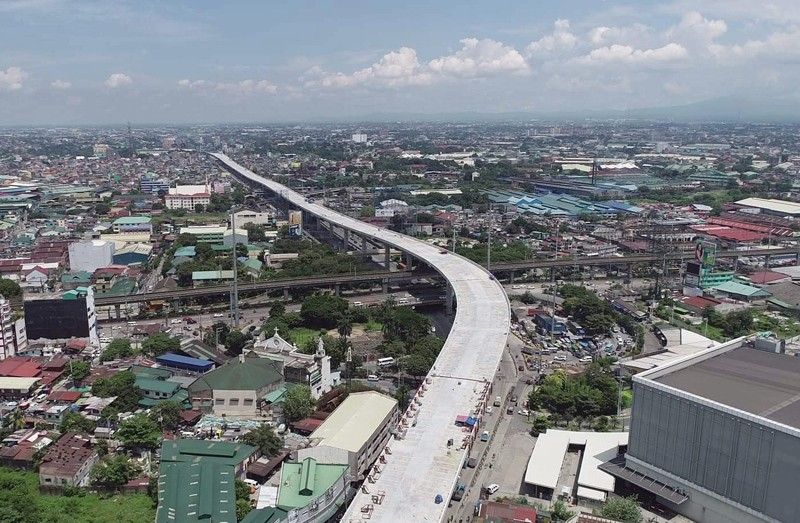 The Skyway Stage 3 section in Quezon City connects the North Luzon Expressway with the rest of the Skyway system and the South Luzon Expressway. Image courtesy of the Department of Public Works and Highways.
STAR/File
Skyway 3 to open for free ahead of holidays in December
MANILA, Philippines — After completing construction ahead of schedule, San Miguel Corp. is all set to open the third extension of Skyway to motorists during a "soft" launch in December.
While the exact date was not yet provided, the opening of the 17.93-kilometer stretch connecting South and North Luzon Expressways will come in time for the holidays, which while likely to be more tempered this year due to the health crisis, will nonetheless bring more cars to the road.
"While we're still doing a few finishing works, we want the public to be able to use Skyway 3 already and benefit from the convenience and ease of travel that it will bring," Ramon Ang, company president and chief operating officer, said in a statement.
A "soft" opening means tollway use will be free for a month, Ang said. The expressway is eyed as alternative to EDSA for motorists coming from north to south and vice versa.
The announcement was made beyond trading hours when shares in San Miguel closed up 1.49% at P101.9 apiece.
While entirely privately funded, and with no state guarantees, Skyway 3 was included under the public works department's flagship projects, which in turn form part of the bigger "Build, Build, Build" infrastructure agenda of the Duterte administration.
Last week, San Miguel announced the company finished the heavy work on building the toll road after 6 years. Following finishing touches, Skyway 3 is expected to open with eight access points that traverse Makati, Manila, San Juan and Quezon City.
Ahead of the full opening, San Miguel has partially opened for free public use the Buendia to Plaza Dilao section of Skyway 3 for over a year now.
"The transportation of goods from north and south Luzon will also be so much easier, faster, and more efficient. This will be a big boost to our economy and support growth throughout the regions," Ang said.
San Miguel, which has diversified its ventures from food and beverage to infrastructure and power, among others, suffered a net loss worth P3.9 billion from January to June this year as the pandemic hit its business.