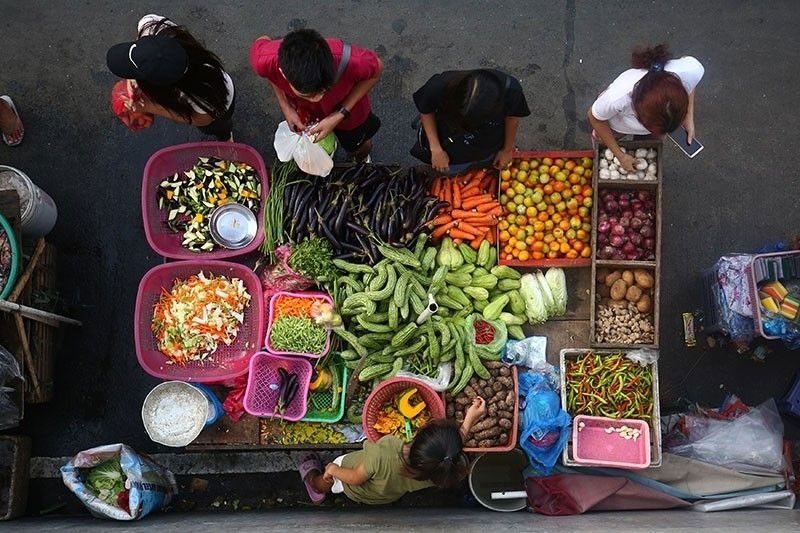 Inflation averaged 2.5 percent in the first half despite accelerating to a three-month high of 2.5 percent in June from 2.1 percent in May.
STAR/Miguel de Guzman, file
Inflation seen steady at 2.5% in July
MANILA, Philippines — Economists expect inflation to remain benign at 2.5 percent in July due to weak demand for goods owing to the coronavirus pandemic.
Ruben Carlo Asuncion, chief economist at Union Bank of the Philippines, said consumption demand remains tepid amid the COVID-19 outbreak.
Global oil prices would also remain subdued, keeping price levels generally tepid, he said.
Union Bank expects inflation to accelerate to 2.8 percent this year after easing to 2.5 percent in 2019 from 5.3 percent in 2018.
Security Bank chief economist Robert Dan Roces also expect July inflation to hit 2.5 percent as limited demand continued to keep the consumer price index in check.
"Forecast range is 2.2 to 2.6 percent. The main drivers for July are gains in food prices and net higher pump prices from last month, adding pressure on transport costs as global crude oil prices recover," Roces said.
Inflation averaged 2.5 percent in the first half despite accelerating to a three-month high of 2.5 percent in June from 2.1 percent in May.
"We think that price pressures generally remain subdued with modified lockdowns still in place in most urban centers, including a tougher community quarantine in Cebu City," Roces said.
The National Capital Region (NCR) was placed under general community quarantine starting June 1 after Luzon was put under the stricter enhanced community quarantine in the middle of March to prevent further spread of the deadly disease.
Security Bank sees inflation averaging 2.2 to 2.4 percent this year, well within the two to four percent target set by the Bangko Sentral ng Pilipinas (BSP).
With key upside risks including the possible strong rebound in global oil prices, Roces said subdued domestic demand in some commodities because of high unemployment would offset some increase in private consumption following more easing of quarantine measures and higher prices of food, including rice.
Latest data from the Philippine Statistics Authority (PSA) showed unemployment rate rose to a record 17.7 percent, accounting for 7.3 million unemployed Filipinos in the labor force in April reflecting the economic fallout due to the shutdown brought about by the COVID-19 pandemic.
ING Bank Manila senior economist Nicholas Mapa said there was a slight uptick in inflation to 2.6 percent in July from 2.5 percent in June.
Mapa said consumption — the backbone of the economic engine – has been knocked out by the pandemic.
The Dutch financial giant sees inflation averaging 2.5 percent in the second quarter before accelerating to 2.6 percent in the third quarter and slowing down to 2.2 percent in the fourth quarter.
The BSP's Department of Economic Research said July inflation likely settled between 2.2 and three percent.
BSP Governor Benjamin Diokno earlier said the relatively benign inflation outlook in the policy horizon provides space for monetary policy adjustments to complement the national government's efforts in mitigating the adverse impact of the COVID-19 public health crisis.