BDO shifts to net loss of P4.5 billion in Q2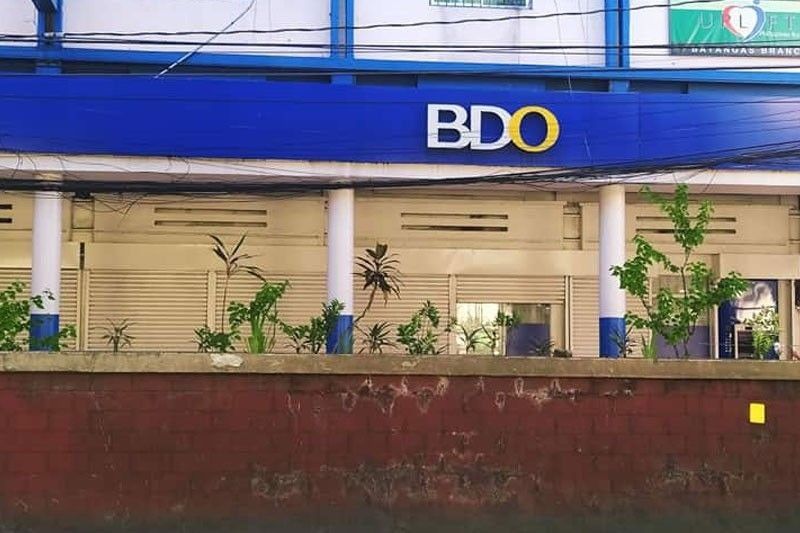 MANILA, Philippines — Sy family-owned BDO Unibank Inc. reported yesterday that it incurred a net loss of P4.5 billion in the second quarter, reversing the net income of P10.39 billion in the same period last year.
The bank's earnings also fell by 78.9 percent to P4.25 billion from January to June compared to last year's P20.14 billion.
"Going forward, BDO believes that its solid balance sheet, sustained business growth, and dedicated team effort will allow the bank to weather the COVID-19 crisis and sustain its long-term performance post pandemic," the bank said in a statement.
The bank said total provisions for bad loans amounted to P22.43 billion, almost 7.5 times last year's P2.99 billion, in anticipation of potential delinquencies due to the COVID-19 pandemic. For the second quarter alone, provisions ballooned to P20.14 billion from only P1.7 billion.
"The provisions are anticipatory in nature, and meant to safeguard the balance sheet," the bank said.
By recognizing the provisions upfront, BDO said it could now focus on growing its business as restrictions are gradually relaxed.
The economy stalled as the entire Luzon was placed under enhanced community quarantine in the middle of March to prevent further spread of the virus. The lockdown was relaxed last June 1 as the National Capital Region was placed under general community quarantine.
The bank said core businesses held up well amid the pandemic, with pre-provision operating income rising by 17 percent in the first half of the year.
It reported a 17 percent increase in net interest income to P66.39 billion from P56.93 billion as customer loans booked a double-digit growth of 11 percent to P2.3 trillion from January to June compared to P2 trillion in the same period last year.
Amid the crisis, BDO's non-performing loan (NPL) ratio picked up to 1.95 percent from 1.2 percent, while its NPL cover declined to 139.4 percent from 163.2 percent.
On the other hand, its deposit base grew by nine percent to P2.6 trillion from P2.4 trillion on the back of the 19 percent rise in current account/savings account deposits.
The bank reported that branch operations have been fully restored from only 45 percent at the start of the lockdown in the middle of March.
Likewise, BDO reported a non-interest income of P24.78 billion in the first half, almost 16 percent lower than last year's P29.51 percent. Fee-based income reached P13.4 billion, while insurance premiums settled at P7 billion.