Life After Lockdown: Banks, businesses try to keep up as more Filipinos go cashless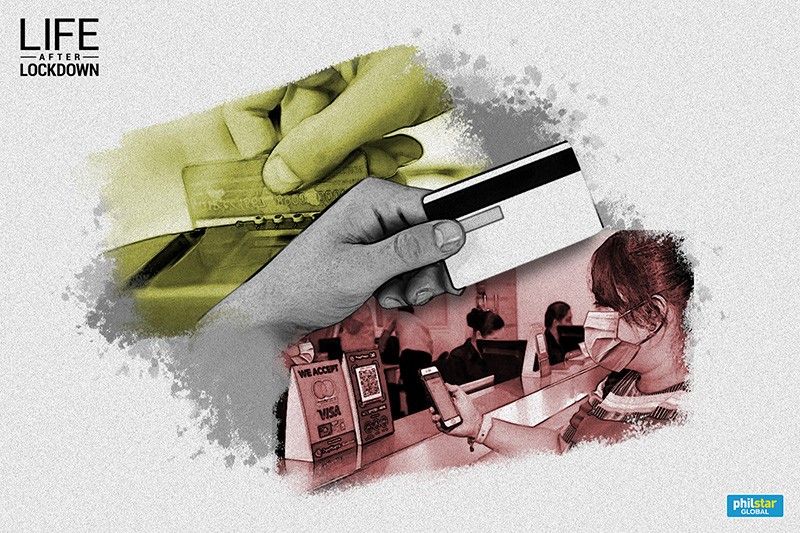 Philstar.com's Life After Lockdown is a compendium of references on Filipinos' shift to a new normalcy during a coronavirus pandemic.
MANILA, Philippines — Contagion fears and lockdowns meant to stem the spread of the new coronavirus are weaning Filipinos off cash, keeping banks and non-bank players busy despite the outbreak.
Driving digital transactions growth: President Rodrigo Duterte on March 17 placed the entire Luzon under an enhanced community quarantine (ECQ), barring half of the country's population from leaving their homes in a desperate bid to avoid more infections. Most areas have already transitioned to a more relaxed general community quarantine (GCQ).
To encourage people to go cashless and help minimize persons-to-persons contacts, the Bangko Sentral ng Pilipinas (BSP) suspended charges on money transfers.
The results: A total of 8.36 million transactions cumulatively worth P43.37 billion were coursed through BSP's Instapay money transfer facility, more than triple the volume from the comparable period a year ago.
In the same period, the volume of fund transfers that went through PESONet rose 9% annually.

After the ECQ was imposed, BDO Unibank Inc., the country's largest bank in terms of asset, saw a +44% spike in daily sign ups on its online banking platform. Meanwhile, Ayala-led Bank of the Philippine Islands reported that 90% of transactions made from March 17 to April 17 were made digitally, up from just 72% before the quarantine was enforced.

The same goes for PLDT Inc.'s PayMaya, which is "seeing growth in digital transactions from previously cash-heavy segments." Globe Telecom Inc.'s GCash, on the other hand, recorded "healthy increases in terms of daily transactions and gross transaction value."
What's next? BSP Governor Benjamin Diokno, who vowed to transform the country into a "cash-lite" society by 2023, is now saying that "specific goal will be achieved much sooner", especially with "social distancing as the norm."
"It is consistent with the thinking that human behavior will change as a result of the pandemic. Face-to-face transactions will not be preferred mode out of fear of contamination," Diokno said.

Players are also one in saying that digital transactions will sustain their growth even after the quarantine.

"More people across age groups are rediscovering the use of mobile wallet for paying bills, online shopping and home delivery services," Ma. Yolanda Crisanto, Globe senior vice president for corporate communications, said.

Separately, Shailesh Baidwan, PayMaya president, said: "A reason why some Filipinos were not yet into cashless transactions before was because they didn't have to. But given this situation, people are now shifting to digital faster because it enables the delivery of basic services."
The roadblock: Concerns still remain on the use of e-money, particularly cases of fraud and missing funds. — Ian Nicolas Cigaral