Trade deficit shrinks to 5-year low as exports, imports plummet the most on record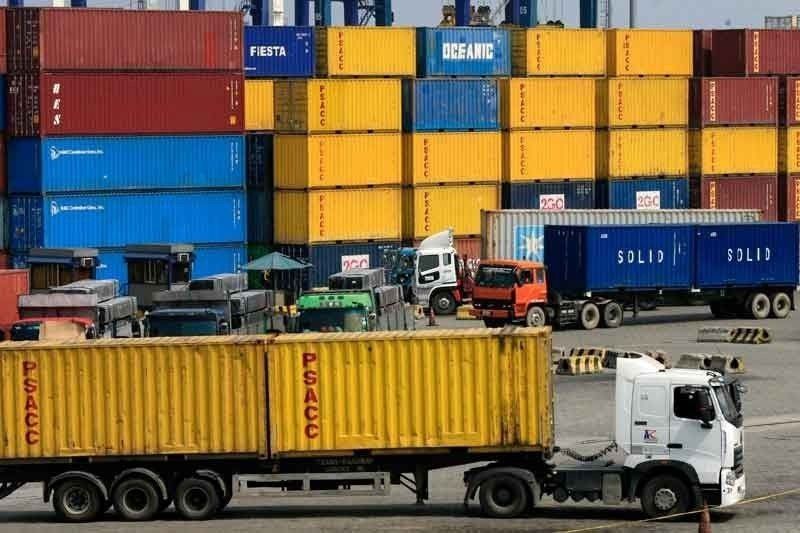 MANILA, Philippines — A record pullback in both imports and exports dramatically shrank the Philippines' trade gap to the lowest in more than five years in April as a shutdown of economies to stem the spread of coronavirus infections inadvertently strangled the flow of goods.
Trade deficit narrowed to $499 million in April, 86.9% down year-on-year and the smallest gap recorded since the $257.18 million posted in March 2015, the Philippine Statistics Authority (PSA) reported on Wednesday.
The trade gap was only the peak of the pandemic's devastating impact on trade. State statisticians recorded a total trade of $6.1 billion in April, the lowest in 11 years or since the global financial crisis. This was facilitated by both merchandise imports and exports plummeting to their worst levels since April and February 2009, respectively.
More specifically, goods exports amounted to $2.8 billion in April, while imports reached $3.3 billion. Outbound and inbound shipments sagged 50.8% and 65.3% year-on-year, respectively, their worst performance on record.
"These declines were definitely because of the non-pharmaceutical interventions (NPIs) in April, implemented to control the spread of COVID-19 in the country," said Ruben Carlo Asuncion, chief economist at Union Bank of the Philippines, referring to lockdowns.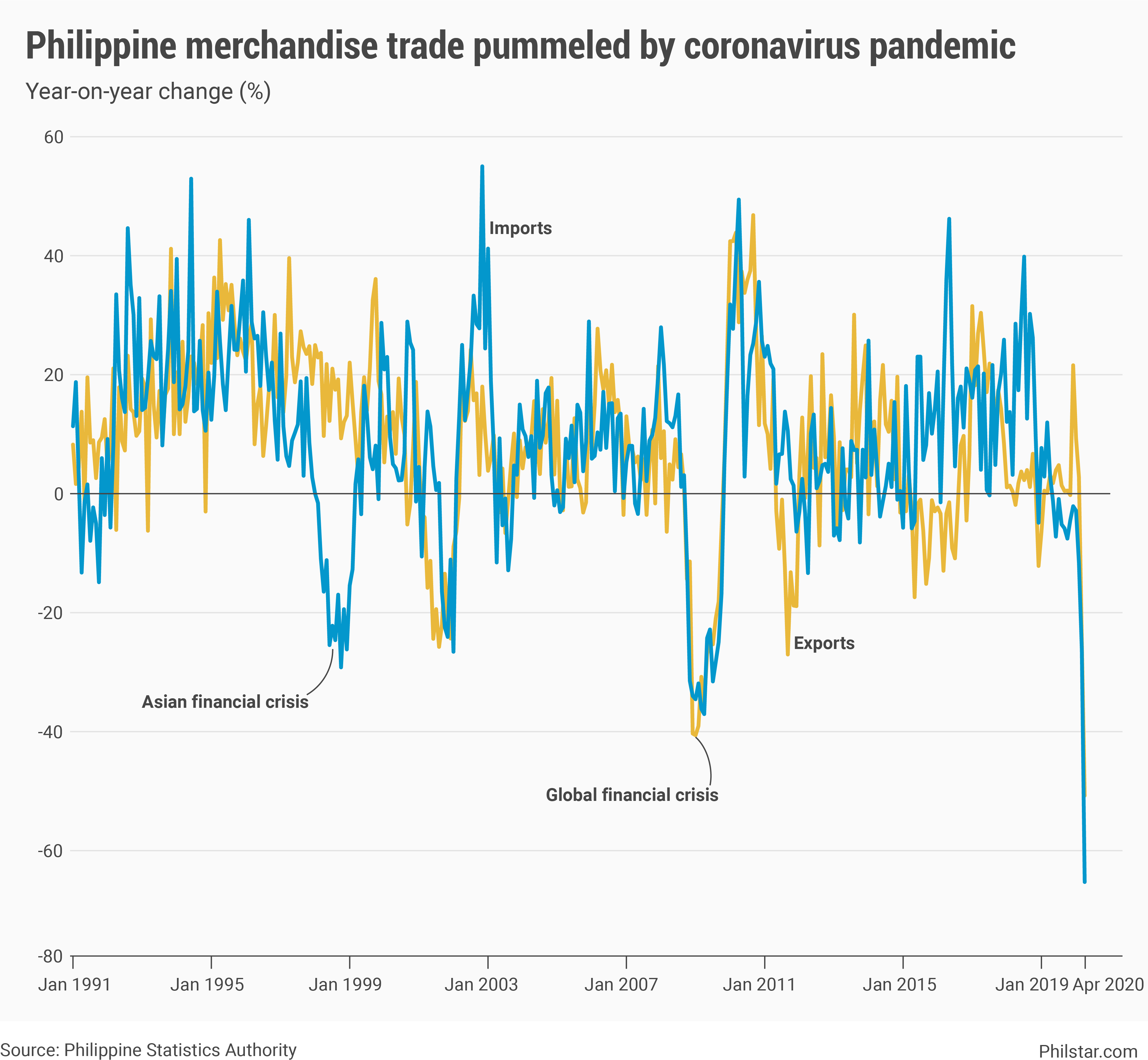 "Aside from the fact that a lot of our major trading partners were also implementing NPIs, China, a significant global trading, was only then starting to lift up economic restrictions, including trade-related ones," Asuncion added. Exports and imports growths fell into negative territory across all trade partners.
Broken down by commodity, electronics exports, which accounted for 57.3% of total shipments in April, nosedived by more than half annually to $1.6 billion. The Philippines is a vital source of chips and other raw materials for electronic products typically assembled in China.
Danilo Lachica, president of Semiconductor and Electronics Industries in the Philippines Foundation Inc., said the industry group would "recast" its 5% growth target for the year next week due and may likely consider a downscaling. For the first four months, the value of electronics exports went down 14.6% year-on-year.
"The industry shut practically down for a couple of weeks in March then resumed to an average of 30% skeletal workforce," Lachica said in a text message.
Recovery still murky
Overall, Sergio Ortiz-Luis, president of the Philippine Exporters Confederation Inc., another industry group, said exporters are likely to experience a challenging year even as quarantine controls, especially in the business center of Metro Manila, were eased starting June 1. The lack of public transport is to blame.
"Many businesses will recover but many will also not bounce back," Ortiz-Luis said in a phone interview. "Even if they put these areas under GCQ (general community quarantine) or MGCQ, that's useless if people can't go to work due to limited operation of public transportation."
Cid Terosa, dean of the University of Asia and the Pacific School of Economics, agreed with the dismal forecast. "I don't see the figures moving to a positive range in the second half of the year," he said in a text message.
As to imports, Emilio Neri Jr., lead economist at Bank of the Philippine Islands, tweeted the "compression" would help explain the peso's strong performance against the dollar over the course of the lockdowns. The peso has traded at P49-level against the greenback over the past three days, the currency's best performance in three years.
With tepid purchases abroad, there is less need to exchange pesos for dollars, and with remittance inflows, put the US unit's strength at bay. In terms of commodity, lower purchases of mineral fuels, down 87.4% year-on-year, and consumer goods, down 76.1% primarily pulled down imports.
The government expects exports and imports to contract 4% and 5.5%, respectively, this year. "It will be better in the second half for the Philippines, but it will still hover around a lower negative range," Terosa said.