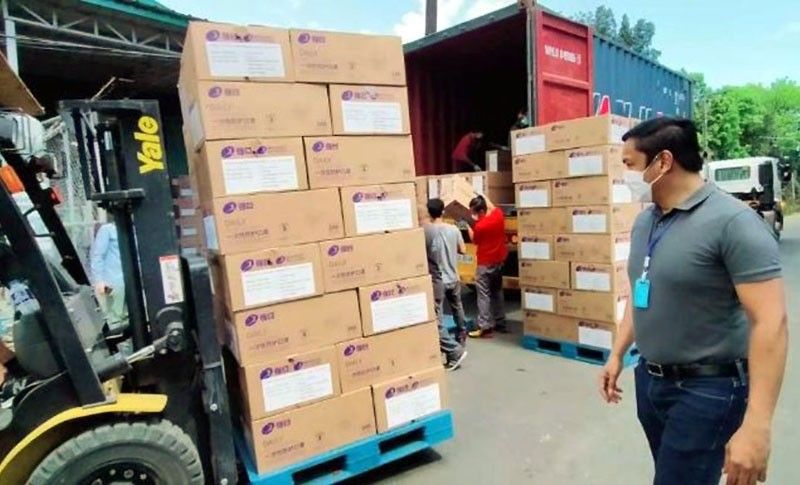 PITC president Dave Almarinez takes delivery of the second batch of surgical masks for the Department of Health.
STAR/File
PITC secures more face masks
MANILA, Philippines — The supply of face masks for health workers in public hospitals is expected to stabilize with the arrival of 1.2 million N88 surgical masks procured by the Philippine International Trading Corp. (PITC) for the Department of Health.
The second batch of masks arrived one week ahead of schedule and completes the two million masks committed by the PITC for the DOH, PITC president Dave Almarinez said in an interview.
The initial batch comprised of 800,000 pieces of face masks.
With the 1.2 million completed, the DOH can now distribute these to the different public hospitals around the country.
"PITC procured the masks for the DOH and delivered earlier than schedule," Almarinez said.
Last month, the Department of Trade and Industry (DTI) ordered attached agency PITC to start sourcing masks from suppliers overseas.
Almarinez said the masks were sourced from China and from a local producer in Bataan to augment the current supply capacity.
PITC was able to secure the supply even if there is a shortage in the supply of N88 surgical mask amid a surge in worldwide demand due to the spread of COVID-19 outside of China.
PITC has been in touch with other countries for supply of masks such as China, India, Pakistan, the US and some from the European Union, although stocks are limited because of the increase in the number of COVID-19 cases worldwide.
There is very limited supply of face masks in the country and suppliers are prioritizing the health workers.
The Inter-Agency Task Force for the Management of Emerging Infectious Diseases has already mandated the use of masks in public.
The Duterte administration has moved to extend the Luzon-wide enhanced community quarantine for two more weeks or up to April 30 as part of efforts to flatten the infection curve.