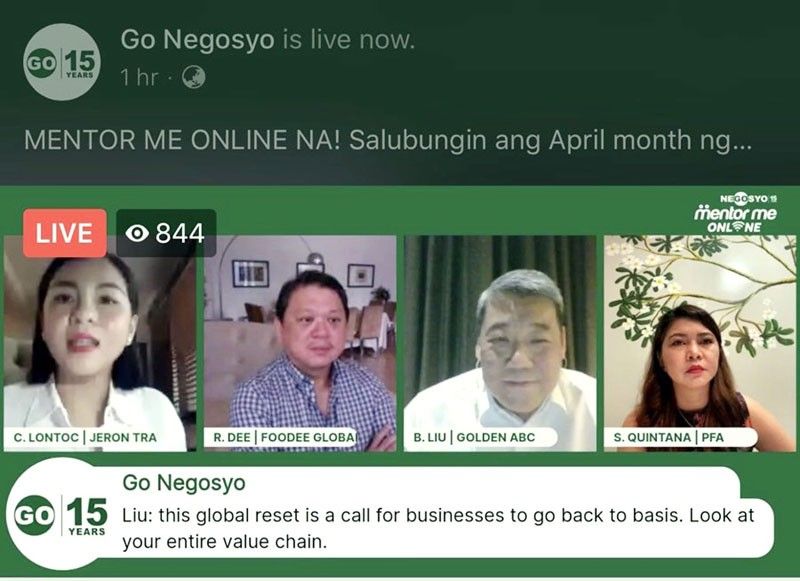 Rikki Dee of Foodee Global, Bernie Liu of Golden ABC, Sherill Quintana of PFA, and Chal Lontoc of Jeron Travel & Tours during a Facebook live session of Go Negosyo Mentor ME Online.
STAR/File
Go Negosyo Mentor ME Online
GO NEGOSYO PILIPINAS ANGAT LAHAT!
-
Joey Concepcion
(The Philippine Star) - April 2, 2020 - 12:00am
From online tutorial sessions to live concerts and educational webinars, all sorts of online efforts are keeping people engaged and busy during the enhanced community quarantine (ECQ). This, I believe, shows the power and potential of digital platforms.
Social media and the different online platforms have not only helped ease the fears and feelings of isolation of the different community, but it has also more importantly become instrumental in mobilizing help and directing efforts where it is needed.
I am glad that public and private agencies are pushing hard to broaden the people's access to various technological platforms in these trying times.
Making use of our own online platforms, Go Negosyo launched Mentor ME Online sessions on Facebook. The online sessions has catered to more than one million followers. Our audiences are a mix of entrepreneurs and owners of micro, small, and medium enterprises (MSMEs) and students.
MSME development has always been at the forefront of our entrepreneurship advocacy. We believe that in order to achieve the inclusive growth that we all aspire for, we need to equip entrepreneurs with the right tools, education, training, and mentorship, most especially in this time of crisis. Never before have we had to deal with such a unique disaster, one that has not only affected the Philippines, but also all countries around the world.
Mentor ME Online sessions, which aim to help industry players in this difficult time, are held every Mondays to Fridays, with morning and afternoon sessions. Topics include how businesses can navigate and survive a crisis, dealing with the disruption of business operations due to the coronavirus disease 2019 or COVID-19, and other important matters such as supply chain management, crisis management, and business continuity planning.
In the previously held sessions, we're proud to have featured top Philippine business executives and Go Negosyo mentors such as Cecilio Pedro of Lamoiyan Corp., Henry Lim Bon Liong of SL Agritech, Bernie Liu of Golden ABC, Sherill Quintana of PFA, Rikki Dee of Foodee Global Concepts, George Barcelon of PCCI, Bing Limjoco of PCCI, Rosemarie Ong of Wilcon Depot, and Tess Dimaculangan of Dimaculangan & Co. CPAs and Philippine Institute of Certified Public Accountants.
In addition, we also had key industry leaders and innovative problem solvers onboard like Angeline Tham of Angkas, Brian Cu of Grab PH, Ray Alimurung of Lazada PH, Rosalind Wee of W Group of Companies, Eric Caeg of AFFI, Rhoda Caliwara of PALSCON, Josiah Go and Chiqui Escareal-Go of Mansmith & Fielders Inc., director Jerry Clavesillas of the Bureau of Small & Medium Enterprises Devt., and others
The sessions were moderated by host/ personality Issa Litton, Chal Chang-Lontoc of Jeron Travel and Tours, RJ Ledesma of Mercato Centrale, and Clarke Nebrao of the Association of Laguna Food Processors.
I am happy that we are garnering huge support and engagement in every session, with more than 17,000 views and hundreds of comments and shares.
Mentorship has been at the core of this program, and we believe that through the guidance of our expert mentors, our entrepreneurs will be able to safely navigate this crisis and steer their businesses to success. Despite the pandemic and ECQ, Go Negosyo will continue to serve MSMEs to the best of our capabilities. Tune in to Go Negosyo's official Facebook page and let us show you how you, too, can bounce back stronger and wiser from this crisis.