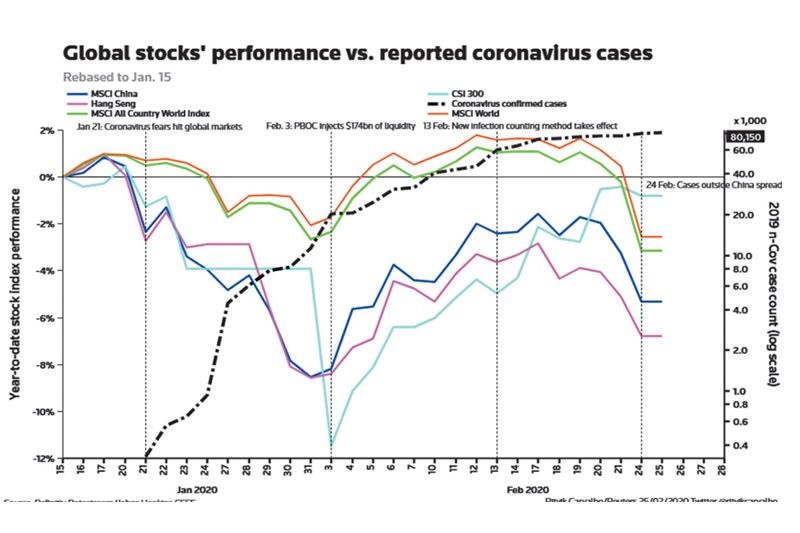 Pandemic fears jolt global markets; PSEi falls below 7,000
Iris Gonzales
(The Philippine Star) - February 27, 2020 - 12:00am
MANILA, Philippines — Global markets took a beating yesterday as fears escalated that the coronavirus disease 2019 (COVID-19) outbreak would worsen into a global pandemic.
Wall Street finally woke up to the damage the outbreak could do, and the jitters that hit US markets spilled across the globe yesterday, including the Philippines.
The benchmark Philippine Stock Exchange index (PSEi) suffered heavy blows and slumped to its biggest single day loss since January 2016, and its lowest close since November 2018 to finish at 6,909.94, down 277.60 or 3.86 percent.
The broader All Shares index also experienced a massive drop, shedding 136.05 points or 3.19 percent to close at 4,129.37.
All the sectoral gauges bled heavily, with industrial, property and holding firms leading the decliners.
Christopher Mangun, an analyst at AAA Securities, pointed out that the PSEi was Asia's worst performer yesterday.
"Investors rushed the exits with double the force as the market remained closed for the holiday on Tuesday," he said.
He said the best option for investors is to stay on the sidelines and wait out the storm.
For his part, Astro del Castillo, managing director at First Grade Finance Inc., said reports of a possible coronavirus pandemic is making the financial markets sick.
"If uncontrolled, economic and financial disruptions will trigger a global crisis. Cash is king nowadays given the uncertainty. Investors will flood to safer investment assets," Del Castillo said.
BDO Capital & Investment Corp. president Ed Francisco said the culprit remains the widespread fears on the coronavirus outbreak.
"It's just the coronavirus. The US market was doing so well, but it took a beating because of virus concerns on earnings," Francisco said.
First Metro Investment Corp. head of research Cristina Ulang said foreign investors were spooked by Wall Street's knee-jerk big time drop due to US authorities warning that the virus could become a global pandemic.
The COVID-19 global outbreak fears hammered the local bourse and its regional peers, Philstocks Financials added.
Francisco said it is best for investors to diversify their portfolio and have cash or fixed income as equities are deemed volatile.
Total value turnover reached P10.1 billion. Foreign selling was at P7.6 billon compared to foreign buying of P4.5 billion for a net foreign selling of P3.1 billion.
Wall Street took a beating as Atlanta-based US Centers for Disease Control and Prevention warned Americans to prepare for the spread of coronavirus.
The S&P 500 and the Dow Jones Industrial Average both shed more than three percent on Tuesday, their fourth straight session of losses, affecting markets elsewhere.
MSCI's broadest index of Asia-Pacific shares outside Japan was down 1.1 percent.
MSCI World, a market cap weighted stock market index of 1,644 stocks from companies throughout the world, has seen its total value fall by $3 trillion to $42.98 trillion over the past four trading sessions, Reuters calculations show.
The World Health Organization, for its part, said the epidemic has peaked in China but is spreading in other countries faster than expected.