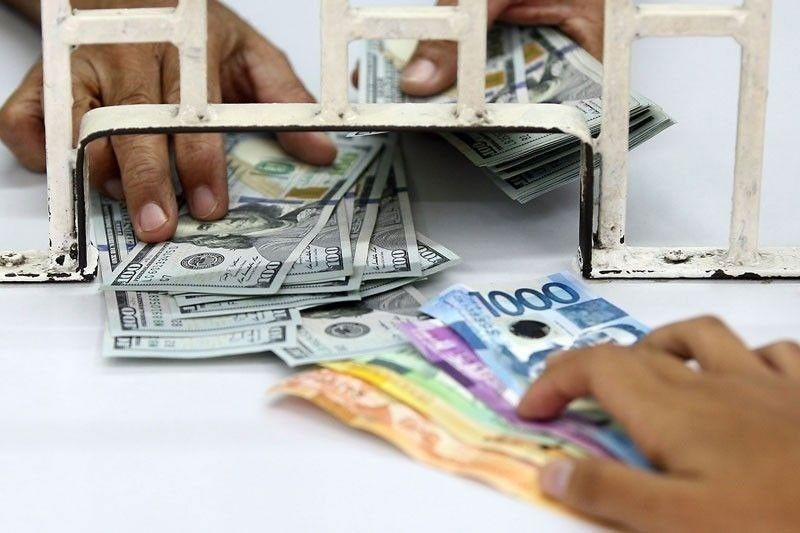 The increase was faster than the lowered projected growth of remittances of three percent for 2019.
STAR/Miguel de Guzman/File
Remittances hit record highs in 2019
MANILA, Philippines — The amount of money sent home by Filipinos abroad hit record levels last year, piling up for six consecutive months going into the Christmas holidays, despite fears of a global recession and rising geopolitical tensions, the Bangko Sentral ng Pilipinas (BSP) reported yesterday.
Data released by the central bank showed personal remittances increased by 3.9 percent to a record high of $33.47 billion last year from $32.21 billion in 2018, while cash remittances coursed through banks went up by 4.1 percent to an all-time high of $30.13 billion from $28.94 billion.
The increase was faster than the lowered projected growth of remittances of three percent for 2019.
"Notwithstanding pockets of political uncertainties across the globe, cash remittances in 2019 remained strong," the BSP said in a statement.
Personal remittances, which consist of cash and non-cash items that flow through both formal or via electronic wire and informal channels such as money or goods carried across borders, have been increasing since July.
The BSP said the sustained growth in personal remittances last year was primarily driven by the 3.5 percent increase in remittances from land-based workers with work contracts of one year or more to $25.6 billion from $24.8 billion.
The regulator also cited the 6.5 percent rise in personal remittances from sea-based and land-based workers with work contracts of less than one year to $ 7.1 billion from $6.7 billion.
For the month of December alone, personal remittances inched up by 1.9 percent to a record monthly high of $3.22 billion from $3.16 billion.
The BSP said personal remittances boosted household income and consumption, accounting for 9.3 percent and 7.8 percent of gross domestic product (GDP) and gross national income (GNI), respectively.
On the other hand, the central bank attributed the steady rise in cash remittances to the 3.5 percent increase in the amount of money sent home by land-based workers to $23.6 billion and the 6.5 percent rise in remittances from sea-based workers to $6.5 billion.
For December alone, cash remittances climbed by 1.9 percent to a record monthly high of $2.9 billion from $2.85 billion in the same month last year.
Data showed remittance inflows were sourced mainly from the US, which accounted for the highest share to total remittances at 37.6 percent, followed by Saudi Arabia, Singapore, Japan, United Arab Emirates, the United Kingdom, Canada, Hong Kong, Germany and Kuwait.
The BSP added inward remittances from Asia booked the biggest increase at 12.3 percent followed by the Americas with 10.6 percent, and Africa with 4.8 percent.
The growth of inflows in these regions, the BSP said, more than made up for the 9.8 percent decline in remittances from the Middle East.
ING Bank Manila senior economist Nicholas Mapa said remittances helped prop consumption and stabilize the country's foreign exchange reserves.
"Remittances provide a steady stream of foreign exchange to help augment the widening trade gap to limit the current account deficit. Together with business process outsourcing receipts, OFW remittance flows also augment domestic wages, translating to potent purchasing power to fund household consumption and even capital formation," Mapa said.
The Philippines has been building up its gross international reserves (GIR) that reached a record high of $87.84 billion in 2019, 10.9 percent higher than the $79.19 billion booked in 2018. The peso gained 3.7 percent to close at 50.635 to $1 last year from 52.58 to $1 in 2018.
Mapa warned 2020 poses a new and real threat to this stable source of foreign exchange flows and peso purchasing power given the reach and nature of the novel coronavirus disease (COVID-19) that could affect both deployment and actual work of Filipinos based abroad.
"Filipinos have found a way to send home remittances throughout the global financial crisis and despite every economic downturn experienced around the globe. 2020 and the COVID-19 virus pose a new challenging landscape for these flows to continue but given the altruistic nature of these flows, we expect remittances to manage to post modest growth from its average three to four percent growth clip per year," Mapa said.