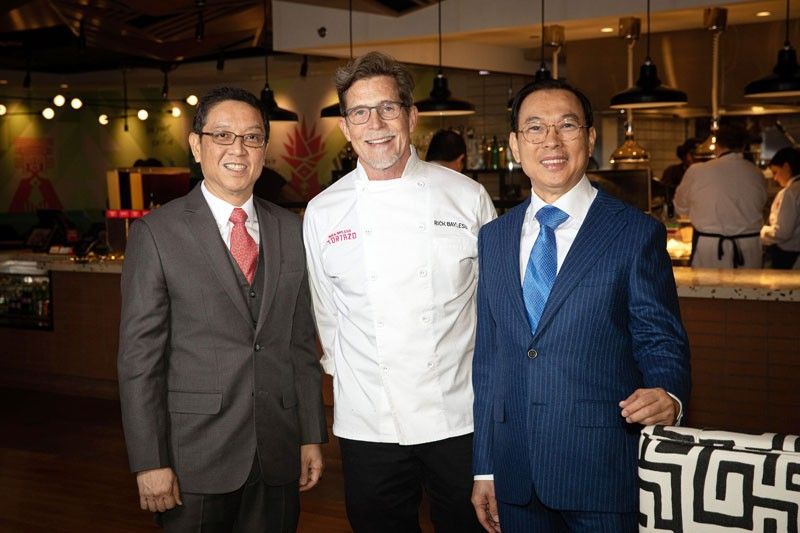 Coming together: With chef Rick Bayless' renowned expertise in Mexican cuisine and Jollibee Foods Corp.'s scalability, the Tortazo brand is poised for further growth and success. In photo are (from left) Ernesto Tanmantiong, CEO, Jollibee Foods Corp., Bayless and Tony Tan Caktiong, chairman and founder, Jollibee Foods Corp.
Jollibee adding 25 new branches in US, Canada
MANILA, Philippines — Fast food giant Jollibee Foods Corp. (JFC) is setting up 25 stores in the US and Canada this year as part of its ongoing expansion overseas.
"We're opening 25 this year in Canada and US for Jollibee," Beth dela Cruz, president of JFC North America - Philippine brands told reporters on the sidelines of the inauguration of Tortazo, the firm's new food concept with renowned chef Rick Bayless.
She said the planned number of stores to be opened this year is the company's biggest in a single year.
Since the start of the year, Jollibee has opened stores in areas including Arizona in the US, Regina in Canada, and Maui in Hawaii.
Dela Cruz said another Jollibee outlet is slated for opening in Houston, Texas next month.
To date, there are 50 Jollibee stores in the US and Canada.
The company's target is to have a total of 250 stores for all its brands in the US and Canada by 2023, Dela Cruz said.
Of the 250 stores, 150 will be located in the US while 100 will be in Canada.
While the number of Filipinos is among the considerations of JFC in selecting a location for Jollibee stores, she said the brand is also attracting non-Filipino customers.
"What we are finding right now is there is a lot of non-Filipinos who actually go to us. Non-Filipinos wouldn't line up on the first week [of store opening] because the lines are like two to four hours wait and then after the line has slowed down a bit, you get the locals," she said.
Dela Cruz said there are some areas where there are more non-Filipino customers than Filipinos like Manhattan.
In terms of bestselling products at Jollibee's US and Canada stores, chicken joy tops the list, followed by peach mango pie and spaghetti.
"But non-Filipinos are saying they like the palabok because it's unique," she said.
Apart from Jollibee, JFC's other brands in the US are Red Ribbon and Chowking.