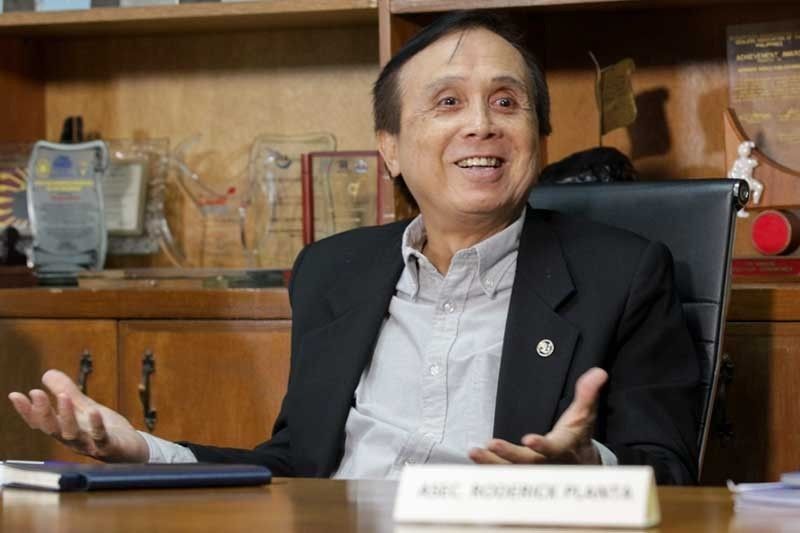 Socioeconomic Planning Secretary and NEDA director general Ernesto Pernia said full year 2019 growth could have been higher by a full percentage point had last year's national budget been passed and enacted on time.
Geremy Pintolo/ File
Economic growth falls below 6%, slowest in 8 years
MANILA, Philippines — Economic growth settled at 5.9 percent in 2019, slightly below the lower end of the government target of six percent for the year, dragged down by the budget impasse that led to delays in the implementation of government programs and projects in the first half, the National Economic and Development Authority (NEDA) said yesterday.
This was also the slowest growth registered in eight years, or since gross domestic product (GDP) expanded by 3.7 percent in 2011. It was also the third consecutive year of economic slowdown under the Duterte administration.
Socioeconomic Planning Secretary and NEDA director general Ernesto Pernia said full year 2019 growth could have been higher by a full percentage point had last year's national budget been passed and enacted on time.
"Our estimate before was a full percentage point was lost because of the delay in the passage of the budget. So if we just use that again, we could have hit close to, if not right smack, seven percent this year," he said in a briefing yesterday.
As 2019 was an election year, a ban on spending on certain government programs and projects was also imposed during the poll season, therefore curbing state spending.
"Therefore, we are thankful that our colleagues in Congress and the Department of Budget and Management ensured the timely passage of the 2020 General Appropriations Act and also approved the validity extension of the 2019 fiscal program until the end of this year," Pernia said.
"We now need to significantly improve the absorptive capacity of government agencies for faster implementation and completion of key social programs and infrastructure projects. We also need to swiftly address issues such as the difficulty in the acquisition of right-of-way, delays in procurement, restrictive auditing rules, and skills shortages," he added.
In the fourth quarter of 2019, GDP growth accelerated to 6.4 percent – the fastest since the first quarter of 2018 – from the revised six percent in the third quarter and 6.3 percent in the last quarter of 2018. This was largely in line with the median market forecast.
Compared with other major economies in Asia that have already released their GDP growth in the fourth quarter, the Philippines likely ranked second to Vietnam that registered a seven percent growth and ahead of China that registered a six percent growth in the fourth quarter.
Growth on the demand side was driven by increased government spending for programs and projects after the slower spending in the first half of the year.
On the expenditure side, growth was driven by government consumption expenditure, constriction, household consumption, and intellectual property products.
On the supply side, faster growth in the services sector offset the weaker growth in industry and agriculture.
Last year, farmers saw production declines in corn, sugar and banana due to delayed planting and harvesting as the El Niño weather phenomenon hit, as well as diminished growth in livestock production due to the African swine fever (ASF) disease.
On the upside, improved output was seen for coconut and the fishing subsector as higher demand in some regions induced some ponds to resume operations. Good weather conditions also allowed better fish catch.
"There are a number of uncertainties that are emerging or will emerge and we still have the current challenges and headwinds that are likely to have an effect on the economy, like the trade tensions, the emergence of Middle east crisis, and weather disturbances," Pernia said.
Moving forward, he said there is a need to manage inflation to boost household consumption by addressing supply shocks especially to agricultural commodities.
He also urged pertinent government agencies to fast-track the release of production support as well as loan and cash assistance programs to the affected farmers and fisherfolk in areas affected by the eruption of Taal Volcano even if Alert Level 4 is still raised over these areas.
"It's better to get started on releasing funds because there's a usual lag from the fund source. So it's better to do it right now," he said.
The rollout of the programs and projects under the Rice Tariffication Law, including seed distribution, farm mechanization and extension services, should be speeded up, as only around 54 percent of Rice Competitiveness Enhancement Fund were obligated and released as of end-2019.
The provision of unconditional cash transfers for rice farmers who were affected by lower palay prices should also be fast-tracked. Assisting farmers to shift to high-value, short-maturing, high-yielding crops should also be made a priority in agriculture.
Pernia noted that disease-control measures amid the continued presence of ASF in the country should also be sustained.
On the external front, the country continues to face challenges resulting from persistent weakness in global growth arising from trade uncertainties, rising geopolitical tensions, and worsening climate-related disasters.
"Therefore, we need to sustain our strong macroeconomic fundamentals to withstand external shocks and promote growth over the medium-term. We should also diversify our products and markets as well as establish and improve new and existing trade relations with strategic partners," Pernia said.
He also urge the passage of industrial policies to enable the country to attract multinational corporations relocating their operations due to trade disputes.