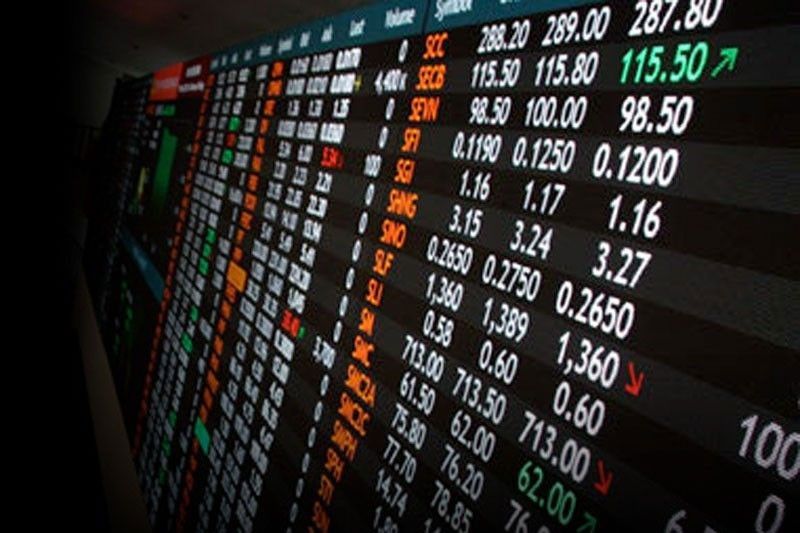 The benchmark Philippine Stock Exchange index, the stock market barometer, ended at 7,552.60, plunging by 169.98 points or 2.20 percent.
STAR/File
PSEi drops as Duterte steps up attack vs big businesses
The stock market opened the week on a sour note yesterday, nosediving to the 7,500 level after the Duterte administration issued a new round of attacks on businesses particularly the latest threat on the Ayala Group.
The benchmark Philippine Stock Exchange index (PSEi), the stock market barometer, ended at 7,552.60, plunging by 169.98 points or 2.20 percent.
Likewise the broader All Shares index slipped by 76.92 points, or 1.69 percent, to settle at 4,474.27.
Most sectoral indexes were down led by the property sector.
The Duterte administration lashed out anew at the Ayala Group, this time threatening to amend Ayala Land Inc.'s contract for the lease of the University of the Philippines-Ayala Technohub along Commonwealth Avenue.
"Heightened regulatory risks amid plans to review the UP-Ayala Technohub project pulled down index heavyweights Ayala Corp. and Ayala Land Inc. by 6.60 percent and seven percent respectively," Philstocks Financials said.
Ayala Corp. shed 6.60 percent to end at P750 per share while Ayala Land Inc. shed seven percent to end at P40.50 per share.
On top of these, President Duterte's relentless focus on the water concessionaires are also dragging market sentiment, traders said.
The president also said that he also wants to file plunder charges against the water concessionaires. Ayala-owned Manila Water is the water concessionaire for the east zone while Pangilinan and Consunji owned Maynilad Water Services Inc. is the west zone concessionaire. Pangilinan-led Metro Pacific Investments Corp. (MPIC), Maynilad's parent firm is a listed company.
Luis Limlingan of Regina Capital said that developments abroad added to the uncertainties.
"Investors fled to safer haven assets after reports that Libya declared force majeure as the country's ongoing civil war ahead of peace talks aimed at ending the conflict met with resistance. Supporters of Khalifa Haftar on Saturday blocked exports at ports under his control, trimming output by about 800,000 barrels a day and forcing the National Oil Corp to declare the ultimatum," he said.
In terms of specific stocks, newcomer Fruitas Holdings defied the market ending higher at P1.68 per share or higher by 4.35 percent.
Universal Robina Corp. meanwhile said the Court of Tax Appeals cancelled its tax liability assessment of P2 billion.
URC was questioning its assessed liability for improperly accumulated earnings tax (IAET) for the year ending on Sept. 30, 2010 worth P2 billion. It was assessed for the alleged deficiency of P2.5 billion, which consists of IAET, income tax, value-added tax, expanded withholding tax, documentary stamp tax, and withholding tax on compensation," URC said.