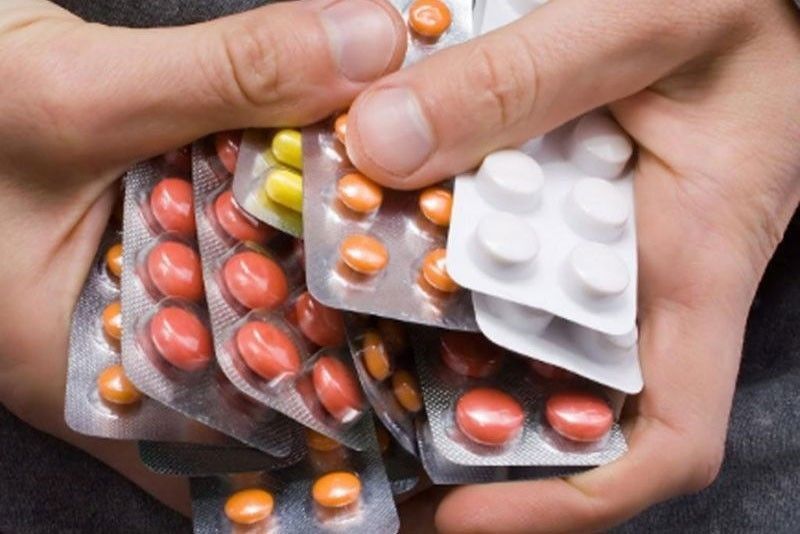 "A Pulse Asia survey showed that 99 percent of Filipinos cannot afford to buy all their prescription medicines. Some 71 percent of respondents said they can only afford to spend less than a thousand pesos for a month's supply of medicines."
file
DEMAND AND SUPPLY
-
Boo Chanco
(The Philippine Star) - December 13, 2019 - 12:00am
As a senior with maintenance prescription drugs to buy regularly, there is the other drug war to fight… the war to keep prices of prescription as low as possible. We have made some progress over the years, but not enough.
A Pulse Asia survey showed that 99 percent of Filipinos cannot afford to buy all their prescription medicines. Some 71 percent of respondents said they can only afford to spend less than a thousand pesos for a month's supply of medicines.
The introduction of generics has helped moderate drug prices. Price control may have helped bring down prices of some drugs, but it also raised generic drug prices as retailers tend to adjust to the higher minimum price set.
Is the solution more price control? Probably some price control would be in order. But we ought to remember that the pharma industry is a complex one and there are so many layers that add up to the retail price we finally pay.
DOH can mandate a maximum drug retail price (MDRP) for the 122 drugs used for such ailments as hypertension, diabetes, and cardiovascular, neonatal and chronic lung diseases as well as major cancers. But who will take the major cut?
Indeed, the local drug manufacturing industry has changed somewhat since Mar Roxas managed to get the Cheaper Medicines Act passed. Even the multinationals went into partnerships with local manufacturers to produce generics. But after over 10 years, we must revisit the situation because there are gaps that must be addressed.
A draft EO was prepared by the DOH which sets retail prices for an expanded list of prescription drugs. In response, the local drug manufacturers offered to sell some of the drugs at half the price to government hospitals and LGUs. They can drastically cut costs through bulk purchasing.
I am told that so far, the industry has received no official response. That's probably because a lot of people are now making money on the system. The change may reduce the money they are now making.
This sounds like the rice cartel problem. The price of rice has gone down drastically at the manufacturer's level (the farmers) but the price at the retail outlets have barely moved. The drug manufacturers are offering to cut prices by half for drugs sold to government. But will the bureaucrats and the drug retail cartel agree to pass on the savings to consumers?
There is the drug marketing structure to consider. Profit margins of the big retailers seem rather hefty. The Philippine Competition Commission should study the virtual cartel at the drug store level.
One may say, there are thousands of drugstores all over the country. But there are only a few chains that really count: Mercury, Watsons and South Star. The prices at the big three are almost identical. PCC must determine if the mark-ups are reasonable.
Doctors normally prescribe the branded ones supposedly because they trust the manufacturers more. They also get points from the manufacturers that go into freebies, including trips abroad to attend medical conferences.
Actually, if patients ask, some of the manufacturers selling branded drugs are also selling generic versions. Consumers must learn to ask to save money on lifetime maintenance drugs.
Medicines bought from drugstores will always be more expensive. We need government to play the role of NFA by directly selling medicines at the lowest possible prices in government hospitals, clinics, and even at the barangay.
No amount of EOs setting price control would be as effective as flooding the market with rack bottom priced prescription drugs at government outlets. Government must take up the offer of the manufacturers to cut prices by 50 percent.
The bureaucrats at the DOH and elsewhere in government down to the LGU level should look beyond their commissions from the drug companies. Everyone must work to make essential prescription drugs more affordable.
Then again, the Cheaper Medicines Law showed us that lower prices may help some of us, but did not really help those who are in poverty. They still cannot afford to buy medicines at the right dosages.
Government will just have to budget enough to get them those medicines for free. Still, having the budget and DOH being able to distribute effectively are two different things. The failure of DOH to distribute the medicines COA found rotting in their warehouses is a mortal sin for which no one has yet been punished.
There is room for government to expand expenditures for health care. Right now, government's share in pharmaceutical expenditures is only 15 percent compared to 91 percent for Thailand and 54 percent for Malaysia.
Indeed, we ought to look at other costs of healthcare. Our out-of-pocket expenditure on healthcare (what we personally spend) is a high 54 percent compared to 12 percent for Thailand and 38 percent for Malaysia.
A DOH document observed that "the high level of out of pocket may lead to financial catastrophe and impoverishment… Majority of patients from both public and private utilize out of pocket during confinement, but it is significantly higher among patients confined in public facilities…
"More than half of the medical expenditure was spent on medicine. However, share of medicine to the total medical expenditure was consistently higher among the poor compared to their richer counterparts."
It gets worse. Most Filipinos don't even get to see a doctor in their lifetimes. There aren't enough government health facilities to cover the country.
Health is wealth, it is often said. No wonder our country is so poor. Even in the urban areas, the poor are not adequately attended to for their health needs.
The drug war we must fight is just partly about prices of medicines. It is also about how to get proper healthcare to all our people.
Boo Chanco's e-mail address is bchanco@gmail.com. Follow him on Twitter @boochanco