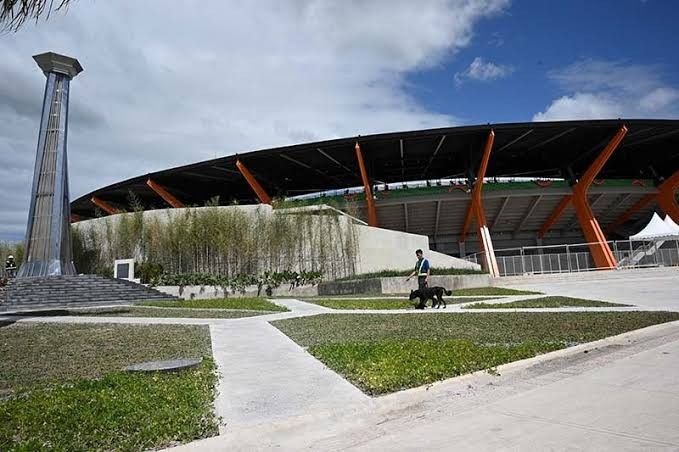 The sports facilities built at New Clark City look good and it is not surprising if some foreign athletes preparing for the Olympics may want to do some of their training there.
AFP/Ted Aljibe
DEMAND AND SUPPLY
-
Boo Chanco
(The Philippine Star) - December 6, 2019 - 12:00am
In a week the SEA Games will be over. Our athletes deserve a big hug from all of us for a marvelous performance. Those gold medals are all the more significant because many of our athletes delivered despite lack of support from government and an almost non-existent sports program.
The sports facilities built at New Clark City look good and it is not surprising if some foreign athletes preparing for the Olympics may want to do some of their training there.
But let us not forget that New Clark City is not about sports facilities. Its original intention was to be a new site for national government offices. It is supposed to be a properly planned city where people can have the space and amenities that we don't have in Metro Manila.
Vince Dizon, BCDA CEO, now says the construction of the sports hub at New Clark was not part of the original proposal submitted by MTD, the Malaysian company that bagged the government contract. MTD had originally offered to build just the National Government Administrative Center (NGAC), Dizon said.
Just as I suspected. A top politician hijacked development plans for Clark to suit his perceived need for showcase sports facilities there.
Now that they have shown what they can do on short notice, BCDA should quickly move to build enough buildings so more government offices can transfer there. The Senate and the Supreme Court should be asked to build their new buildings at Clark and not at crowded BGC.
Moving the nation's seat of government from Metro Manila should now be the priority of the Duterte administration. It is a fantastic Duterte legacy if they get this done.
The Financial Times took note of how Indonesian President Joko Widodo seems determined to move the capital from Jakarta to a location in East Kalimantan province on the island of Borneo by 2024.
According to FT, Widodo has made the plan a priority to relieve overcrowding and congestion in Jakarta and to give an extra boost to an economy that is growing at about five percent a year. Jakarta, like Metro Manila, is terribly congested and is also sinking.
I guess President Widodo and his urban planners have come to the conclusion it would be better to start from scratch and build an entirely new capital city. We have an advantage over Indonesia because we already have a good plan for Clark.
In our case, building a new capital city had long been talked about. But like everything else, our officials think that talking about plans is the same as carrying the plans out. Nothing much happened until Arnel Casanova became BCDA president during the PNoy watch.
It didn't matter to Arnel that PNoy was not the least bit interested in what Arnel then called Clark Green City. Arnel went right ahead and worked the concept plans. He handed over the plans to Vince Dizon when the Duterte administration took office, and Vince proved as driven as Arnel about Clark New City becoming a reality.
Since Vince has proven that he is capable of fast tracking infra projects at Clark — from the new airport terminal to the sports facilities, maybe we can see a good part of national government offices resettled at Clark by 2022.
We need this new capital, given how we made a mess of the current one. It is now hopeless to think we can fix Metro Manila faster than building a new one from scratch.
Besides, there is new technology and this new capital city at Clark will be our first smart city… from communications to transportation.
As Arnel envisioned it, the new capital city will have some 1.12 million residents, 800,000 workers and contribute a gross output of approximately P1.57 trillion per year to the national economy or roughly four percent of the county's GDP.
Arnel explained that he sees a new business center for the country. "The entire city of Clark encompasses 6,500 hectares of land, roughly the size of Manila. The property that we are building upon is 3,500 hectares of land, half of the size of Manila."
Arnel told opengovasia.com "we need a new city, bigger than Manhattan, sitting in a stable part of the Philippines. Clark will burst onto the scene as a new metropolitan destination in the region."
Noting that 10 percent of the country's GDP is dependent on agriculture, Arnel incorporated this element into the construction of the new city.
"We held an international design competition for master planning and architectural firms. The winner for the competition came up with the conceptual plan for Clark. The idea is that this is a green city, almost like a city right in the middle of a farm because this is one of the largest agricultural plains in the region."
Resiliency to natural disasters is also built into the plan. They are making sure that whatever might happen, businesses will be able to continue to run smoothly. "This is the safest place for a city to be, also for data centers and advanced technology infrastructure."
BCDA has also reserved space for two new campuses for the Technological University of the Philippines and the University of the Philippines. They will also try to attract international universities to host campuses within the new city.
As anyone can see, there is much to be excited about the New Clark City outside of the kaldero and the controversies it recently attracted.
And if the BCDA management team of Greg Garcia and Vince Dizon know how to deflect criticisms arising from the SEA Games, they should just go full speed ahead and work to move government offices there within two years.
Metro Manila is hopelessly congested. We might get better ideas and improved productivity from our officials if they are located away from the pollution and noise of Metro Manila.
New Clark City is it. Let's get it done now.
Boo Chanco's e-mail address is bchanco@gmail.com. Follow him on Twitter @boochanco.