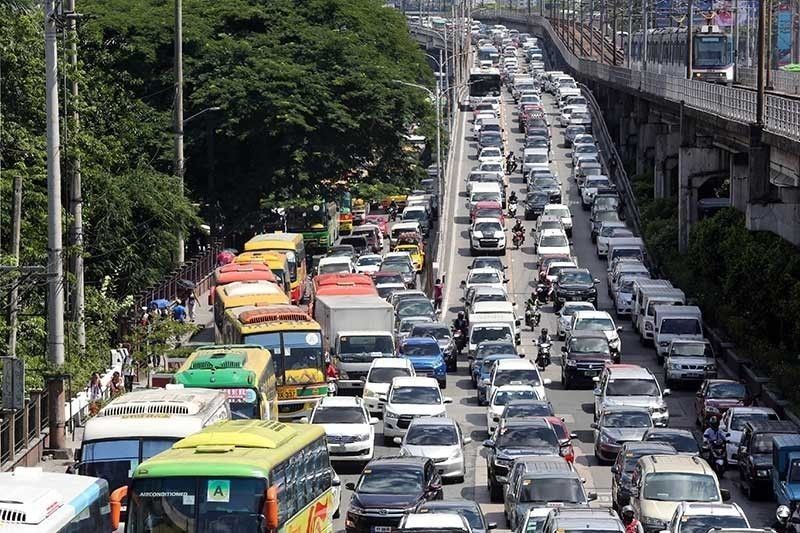 This undated photo shows traffic jam along EDSA.
The STAR/Boy Santos
Traffic and private business
DEMAND AND SUPPLY
-
Boo Chanco
(The Philippine Star) - December 4, 2019 - 12:00am
Makati-based executives, through the Management Association of the Philippines (MAP), urged government to do something about the worsening traffic problem. Unfortunately, the executives suggested nothing new.
In their appeal, MAP pointed out that they are "directly affected because of the employees of its members crying for a solution."
Duh! We are all affected. But the Makati executives seem to think the urgency is mostly about them.
The suggestions offered by MAP focused on just tweaking traffic enforcement here and there. I really expected a whole lot more from the likes of MAP. Their suggestions had been tried at some point or another and no dice. Such a waste of paper and digital space!
For MAP, something more innovative, something groundbreaking is expected. The business sector contributed greatly to the problem through the years. They should offer some sacrifices as part of the solution.
Who sold all those vehicles whose volume increased way beyond the carrying capacity of our streets?
Who built all those central business districts with no regard to adequate public transport within these areas and to these areas? Trying to move from one point in Makati and Bonifacio CBDs is chaotic for pedestrians and for cars.
Who designed those CBDs with no regard to where ordinary employees are supposed to live? Their employees are being forced to live many hours away. Not sustainable!
Property developers, many of them members of MAP, cashed in on selling condos in CBDs all over Metro Manila with no regard to traffic they generate. Imagine up to a thousand families living in those towers in streets not meant to handle such volume.
I get it that, as MAP's complaint pointed out, the cost of our traffic mess is going higher and higher.
"The daily cost of traffic congestion in 2019 is estimated to be P3.4 billion for 13.4 million person trips based on factors such as the value of time lost due to delay, fuel costs, vehicle operating costs, health impact and greenhouse gas emission (or pollution). This translates to P250 per person trip per day, which is around 40 percent of the P600 daily minimum wage in Metro Manila (MM).
"An international firm that is a key player in the global supply chain estimated that transport costs account for 16 percent of total cost of a product that is moved from a manufacturing facility to a retail outlet.
"Anecdotal evidence indicates that transport cost in MM accounts for 25 percent to 29 percent of the cost of a product – probably higher for rice as there are many costs involved from source in the provinces to retail in MM – perhaps as high as 40 percent.
"Thus, a reduction of transport cost to even 25 percent (from 40 percent) would result in a 60 percent reduction in the cost of rice – from P35/kilo to P14/kilo."
I am glad that MAP quantified the costs of the traffic problem. Now, we have a basis to measure cost vs benefit of some measures that may seem drastic but are needed.
Let us face the realities, folks… no amount of traffic law enforcement will make a lasting and discernible difference until the mass transport projects are done.
Too many vehicles, too limited space. Physics. MAP's suggestions are nothing more than moving the deck chairs in the Titanic.
What drastic measures are called for? There are a few obvious ones.
On top of my list is telecommuting. My daughter in the US does that regularly, so does her husband. They have a way of checking if you are working.
I realize our broadband services suck big time. Maybe, large Makati or BGC based companies can have work nodes in Antipolo, Fairview, Cavite or some other areas where a good number of their employees reside.
Of course, not all employees can telecommute. But if some can, the numbers across the metro area should add up. Even without the traffic mess, telecommuting is the way of the future in this digital world.
For those who must work in the central office, we should consider a drastic rearrangement of work schedules. We are there already anyway, as the call centers work around the clock.
Besides, many of our workers are on the road as early as 4 a.m. to get to their offices by 8 a.m. Perhaps if business organizations coordinate a program to rearrange work schedules, we can make the usual rush hours bearable. Productivity will even be enhanced.
We need more affordable dormitories that are walking distance from the CBDs. This is happening now, but for the white collar junior executives with more disposable income. Do this also for rank and file, and subsidized too.
I am sure the property developers can see a business potential in these dormitories-for-all, but hopefully, they can restrain their greed in pricing the rent.
The quick and immediately doable is a shorter work week. But the impact will not be as great as those mentioned earlier.
Long term, the business sector should agree there is wisdom in a government policy to discourage locating offices and businesses in NCR. Denying incentives to offices with NCR addresses is a good step, yet it was met with protests from the property sector.
Trucks moving in and out of Manila ports constitute a major traffic problem. I am not hopeful that the new elevated expressway that now cover the ports will alleviate the problem much.
We need to close down the Manila international ports and move all container cargo handling to Batangas and/or Subic. But will the vested business interests allow that to happen? I doubt it.
There is much that business can do to help relieve the traffic problems we all suffer. Business must be ready to bear some of the pain.
It is easier to blame government for ineptitude because that's true. It is, however, equally true that the business sector is a large contributor to the problem and must be ready to do its part.
Boo Chanco's e-mail address is bchanco@gmail.com. Follow him on Twitter @boochanco