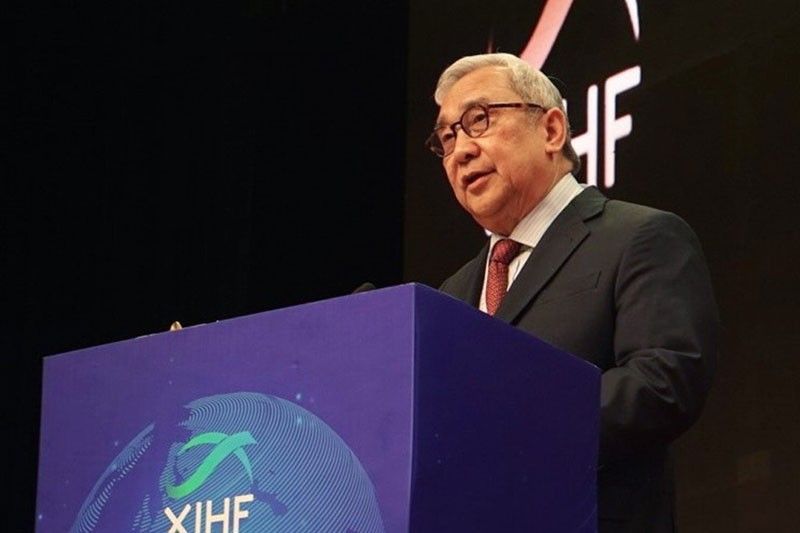 FILIPINO WORLDVIEW
-
Roberto R. Romulo
(The Philippine Star) - October 25, 2019 - 12:00am
Zuellig Family Foundation (ZFF) president Ernesto D. Garilao was recently awarded the 2019 Xiong'An International Health Forum Impact Award, a recognition to an outstanding achievement by an established professional in improving global health. The Xiong An International Health Forum was co-founded by the Shenzhen World Health Foundation and various prestigious Chinese organizations with the support of UNICEF, Columbia University and the Kofi Anan Foundation. The forum serves as a platform for "dialogues and opinion exchanges among top professionals and experts from medical sciences, global health-relating industries, finance and concerned research institutions."
"He was nominated by National University of Singapore Associate Professor Audrey Chia for the effectiveness of the foundation's Health Change Model (HCM) in empowering elected local political chief executives to assume responsibility for improving their health systems, services, and indicators. The foundation's HCM was cited for the growth of its use from nine to 72 municipalities between 2009 and 2012, and its emphasis on the use of metrics to determine effectiveness of an intervention. This performance subsequently led former secretary of Health Enrique Ona to spearhead a partnership between the Department of Health and ZFF. This and partnerships with academic institutions allowed the scale up of HCM. After two years of HCM, there were dramatic decreases in maternal deaths in the pilot areas. From 2013 to 2019 the foundation's performance has been impressive: 797 municipalities and 26 provinces have undergone the same HCM experience." Embedded in those statistics were 3,301 leaders trained and 155 faculty members from 11 academic partners.
The above was a direct quotation from the recent press release. That award recognizes Ernie for his exemplary role in ZFF. However, it does not describe his achievements in multiple careers. From 1978 to 1992, he was the executive director of the Philippine Business for Social Progress, an NGO committed to "Helping People Help Themselves" supported by the top business leaders who contributed a percentage of their income for corporate social responsibility. I joined PBSP in 1983 as president of IBM Philippines and it was the first time that I was exposed to Ernie's dedication and commitment to helping the poor. On a daily basis, he and his staff worked in deprived areas of the Philippines which exposed many to physical threats and some were killed.
In 1992, we were together again in the Cabinet of former president Fidel V. Ramos. He was appointed the secretary of agrarian reform and vice chair of the Social Reform Council. He remained in the Ramos Cabinet until 1998. A google search will indicate how many court cases were filed as he fought for the farmers deprived of their land by the rich. His next job was as a faculty member in AIM and as associate dean of AIM's Center for Development Management. Later, he became the founding executive director of the AIM Mirant Center for Bridging Societal Divides. In 2008, I convinced him to join me in the foundation. Throughout his whole career, he always "tended to his own knitting" meaning he never deviated from his commitment to the deprived.
He is an AB graduate of the Ateneo de Manila and in 1982, he earned a Master in Management from AIM. As an Eisenhower fellow in 1988, he earned a master's degree from the Harvard Kennedy School of Government. Last year, he was one of the recipients of the David Rockefeller Bridging Leadership Award from Synergos Institute. The first honoree was David Rockefeller, for whom the award was subsequently named. Past awardees were Aga Khan, Sir Richard Branson, former president Nelson Mandela and Bill Gates.
It is my hope that I have given a more precise, albeit succinct, portrayal of Ernesto Garilao. Many of us believe that it was his ability to convey the depth and brilliance of his thoughts in a humble and non-threatening manner which makes him a "standout" amongst his friends and associates.
Last September, I turned over the chairmanship to Ernie. Typically, he announced "I don't have the stature of my predecessor, I will just have to work harder". Ernie, your own stature speaks for itself and I have been honored and privileged working beside you. As chairman (emeritus) and on behalf of the foundation and the Zuellig family, we are confident the future will add even more luster to your accomplishments which will accordingly redound to the benefit of the foundation.