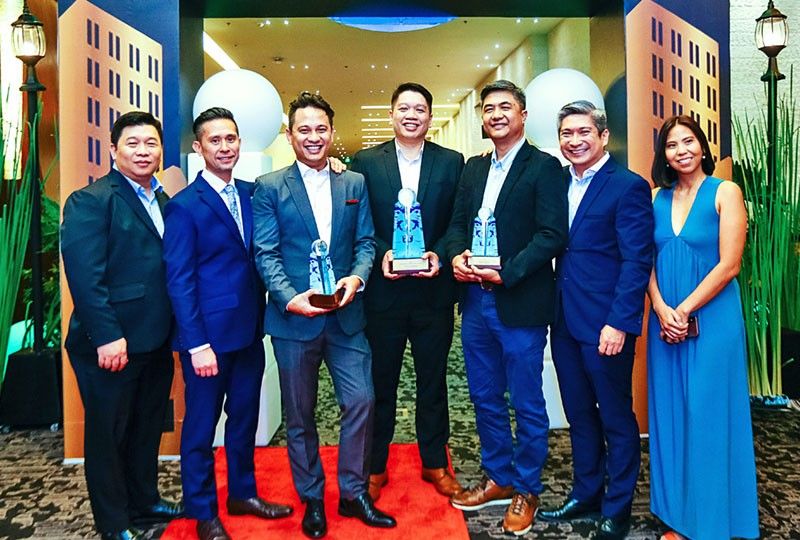 PAYMAYA NAMED MOST INNOVATIVE COMPANY: PayMaya Philippines was recognized at the Asia CEO Awards 2019 as the Most Innovative Company of the Year for its relentless drive to spread financial inclusion in the country through it game-changing platforms. PayMaya was also named as one of the finalists for the Technology Company of the Year category. The awards were received by PayMaya executives (from left): head of enterprise IT Ulysses Naguit; chief product officer Mitch Padua; head of growth and brand marketing Raymund Villanueva; business head for government sector Marvin Santos; head of enterprise business Mar Lazaro; head of wallets business Kenneth Palacios and enterprise sales head Rhea Matute.
PayMaya now accepted for Apple services in Philippines
MANILA, Philippines — PayMaya has become the first mobile wallet in the country to be made available as a payment method for Apple services.
PayMaya Philippines Inc., the digital financial services arm of PLDT's Voyager Innovations, said yesterday that the digital wallet could now be used to pay for Apple services in the country.
This means that customers can use their PayMaya account to pay for App Store, Apple Music, Apple TV app, and iTunes Store purchases, and iCloud storage, among others.
The addition of PayMaya as an Apple ID payment method offers a new way to pay for Apple services without needing a credit card and allows for easy, one-tap purchasing from all Apple devices.
"Having PayMaya as a payment option for Apple purchases brings immense convenience for Filipinos who are looking to unlock even more possibilities with their Apple devices, especially for those who have little to no access to a credit card or other financial products. We're excited for the many ways PayMaya can help owners of Apple devices fulfill their digital purchase needs in the Philippines," PayMaya president Shailesh Baidwan said.
PayMaya said it does not share customers' bank information with Apple, making it simple and private.
Customers can manage their Apple ID payment information in settings on iPhone, iPad and iPod touch, or on their Mac or PC.
PayMaya is the only digital financial services company in the country that offers integrated consumer and merchant payment solutions with the widest on-ground branch network.
As the fintech arm of Voyager Innovations, the company is backed by telco giant PLDT, KKR, Tencent, World Bank's IFC, and the IFC Emerging Asia Fund.
PayMaya is expected to have 80,000 merchant partners by year end.
It is the first to give millions of Filipinos an e-wallet that allows them to pay cashless transactions at any time of the day, anywhere in the world, and from any device.
PayMaya is currently processing over P200 billion worth of transactions annually, and expects to expand the amount by five times to P1 trillion by 2023.